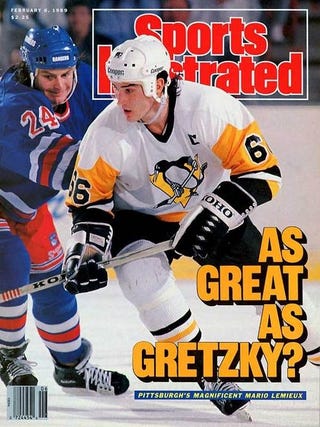 Steel City patron saint Mario Lemieux and shady creepster Ron Burkle, co-owners of the Pittsburgh Penguins, approached the Pittsburgh Pirates with an "unsolicited offer" to buy the MLB team, according to the Post-Gazette. Yinzers, cross your fingers.
Citing "sources on the Penguins' side," The Post-Gazette's Dejan Kovacevic reports that Lemieux and Burkle met in person with Pirates management several months ago and offered an undisclosed amount for the struggling franchise. (Last year, Forbes Magazine appraised the team's value at $288 million; only the Florida Marlins were cheaper.)
Pirates owner Bob Nutting, who has slowly consolidated his ownership stake over recent years and whose laudatory Wikipedia page appears to have been penned by some sort of Smithers figure, denied that the team is or ever was for sale. Kovacevic offers a clue as to perhaps maybe possibly why: with a halfassed $35.6 million payroll that "could be the lowest in the majors," the Pirates have "acknowledged being profitable the past six years."
Needless to say, they've also had losing seasons those past six years. And the eleven years before that.
Lemieux, of course, is the modern Midas whose tenure as team owner has coincided with the team's financial turnaround, lottery win, and ultimate Stanley Cup Victory. And while the Pirates insist, lamely, that "the purpose of the meeting was about another matter," sources on the Penguins side stress that Lemieux and Burkle are serious about following up.
One possibility, according to a source, is that a joint ownership of the Penguins and Pirates could create a business "synergy" that would allow one to pick up the other in tough times, and vice versa. It would help, the source added, that the NHL and MLB seasons have little overlap and that the teams currently have the same local television rights-holder in FSN Pittsburgh.
Ah, synergy, anthem of investment bankers worldwide. And, you know, the time is certainly right for some cross-sport promotions. We've also got Grandpa Laird fondling Charlsie House and Bode Miller targeting some tennis success. Three's a trend.
"Lemieux, Penguins co-owner offer to buy Pirates" [Pittsburgh Post-Gazette]