Men's Health recently put out a list of the best work bags for men, and then went so far as to rudely suggest that backpacks are a bad way to haul your stuff to and from work every day. Sure, there's nothing wrong with a leather portfolio or a posh messenger bag. Especially if you wear a suit every day, travel from meeting to meeting by Lincoln Town Car, and want to send the message that you can and will buy and sell anyone in this town, dammit! What a life! For the rest of us, a backpack is a much more practical carry-all. The backpack is an enemy only to elitists, and so long as you follow a few rules to keep you from looking like a high-schooler or a schlub, it's totally fine. Ideal, even!
There are plenty of stylish clothing brands that carry backpacks for just this reason. Herschel Supply makes a classic street-ready camping backpack that's the most bang for your buck. Fjallraven is a high-quality Swedish brand of a similar aesthetic, but it also sells passable knapsacks loved by coffee-nerd types, starting around $100 and up. Aldo has more dressed-up options that look expensive, but are mostly under a hundred bucks, while old-faithful J. Crew has good-quality bags that have a timeless look (though you'll pay a little more for that timelessness).
If you want something really nice, lasting, and made of leather, here's a $450 backpack from Frye. If you give a shit about designers, here's one from a guy named Marc Jacobs. You don't have to get so spendy, though— just think classic. You get the idea: simple and understated. So long as you're not slinging an overstuffed bag over one shoulder or carrying around your sneakers all day, you'll probably avoid looking like a college student and command the respect you and your bag deserve.
Here's an example of a good backpack that a certain anonymous Deadspin staff writer brings to work almost every day:
G/O Media may get a commission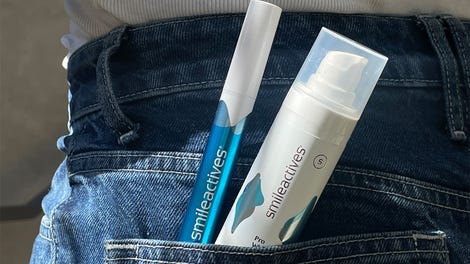 58% off
Whitening Powerhouse Pen & Gel Duo
Image via Herschel Supply Co.
There is, however, a WRONG way to wear a backpack. Under no circumstances should a backpack you're bringing to work look like something worn by a teenager who takes their fashion cues from Jaden Smith's Instagram feed. These backpacks are not ideal for signaling to your stuffy coworkers and office peers that you're ready for business.
This, for example, is a backpack you should never bring to a corporate work environment, unless you work at Vice, or whatever firm is responsible for naming new Pokémon characters.
When you're buying a new backpack, consider that it should be compact and space-efficient—like the trunk of a sedan, not an SUV. It should have enough room to fit your laptop and any other personal effects you need throughout the day at work and the commute before/after, but you don't want to come into the office looking like a pack animal. If it looks tired and overly worn, if it's the same one you've had since you were a teenager wearing cargo shorts and flip-flops out in public, or if it still has your monogram on it from 7th grade, it's time to treat yourself to a new one.
It goes without saying that the backpack you choose to wear out in the world should not be the same one you go camping with or carry to the gym, either. You're in a confined space with other people, and it probably smells. Otherwise, you're in the clear. Don't let anyone tell you different.
First and last image via Getty