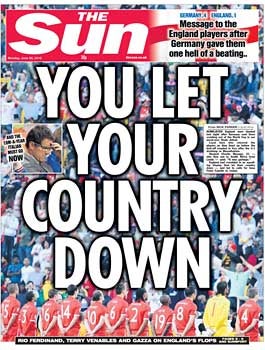 In sports, everyone is a winner—some people just win better than others. Like the editors of The Sun, who...well, just look.
A long time ago, in another life, I used to work for the New York Post. Say what you will about the paper and the broken down souls who toil there, but they fully subscribe to the idea that a memorable headline is the paper's birthright, and the most important part of any story.
It was the editors who would come up with headlines, and no matter how much other work they had, no matter the impending deadlines, they would always find a few minutes to toss ideas back and forth. (My own contribution: "Tragic Kingdom," for a boy being killed on a Disney World ride.)
That being said, I'm willing to wager that half-formed ideas for the front pages of their papers for this very occasion have been tossed around in London newsrooms for the last four years. The morning after England are knocked out of the World Cup (and for all the bluster and hype, no one in England realistically believed they would do anything other than bow out at some point) is one of the most-read editions of the paper, and to compete with all the other dire covers, something special is called for.
Well, The Sun clearly wins, with "You Let Your Country Down." Jesus. Now it's not even about soccer, or sport. It's apparently about patriotism, and the Three Lions have failed St. George's Cross.
Close but no cigar for the Daily Mail, who hearken back to Churchill:"If the Few had defended as badly as England we'd all be speaking German now."
So what did the New York Post go with yesterday morning, after our own side crashed out of the tournament? Simple, to the point, quintessentially American sour grapes:
This sport is stupid anyway."