Being a Division I college football coach is hard. You get paid millions of dollars, you get to bully your post-adolescent free labor into doing whatever you want them to do, and you get painted as a demigod by football-obsessed towns and campuses. It's a tough gig.
You know what makes it really tough, though? When you leave one high-paying coaching job in favor of an even more lucrative coaching job, and then you can't sell your old, ridiculously lavish mansion at market value. It's just the pits!
From the Wall Street Journal:
When Rich Rodriguez and his wife, Rita, moved to an 8,500-square-foot, five-bedroom home in Saline, Mich., where they lived when Mr. Rodriguez was head coach at the University of Michigan, they had to make sure the rocks next to the swimming pool could hold the weight of football players. "If there are rocks, they'll jump off them," Mrs. Rodriguez says.

They listed the Saline home after Mr. Rodriguez was named head coach at the University of Arizona. It took about nine months to close at $1.3 million, about $200,000 less than they bought it for in 2007. Mrs. Rodriguez says she looks at the loss as part of the cost of having a house meant for entertaining. "You want to be able to feel you've done everything you can do to make the program successful," she says. They now live in a 8,900-square-foot home in Tucson, Ariz.

After former Arkansas Razorbacks coach Bobby Petrino was fired in April, he took a $550,000 loss on his Fayetteville, Ark., home. The 8,740-square-foot house, with six bedrooms, six full bathrooms, a bar, a wine cellar, a butler's pantry, an outdoor kitchen, a putting green and a batting cage, all on 2 acres, went for $1.7 million in June.
Ugh. Whose a guy gotta blow around here to get his palace of excess sold at market value? And why aren't these homes selling, anyway? What are all of the other rich people holding out for?
Making the process harder is the fact that college coaches tend to have big homes—often the biggest in their college towns. The head coach's house is a campus attraction, used to entertain players, recruits, alumni and boosters. That means swimming pools, putting greens, basketball courts, rec rooms, home theaters and large wet bars.
G/O Media may get a commission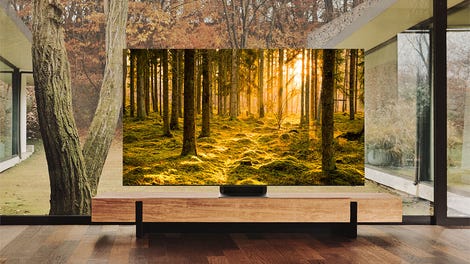 Up to 40% off
Samsung Smart TVs
Ain't that some shit? When you're a successful college football coach, your house eventually becomes too badass to sell. Luckily, some realtors have strategies for working around this problem:
JoAnn Barrett, the agent in Ann Arbor, Mich., who sold Mr. Rodriguez's house, took photos strategically to avoid showing too much sports memorabilia. And she asked her clients to get rid of the especially big furniture, since "big furniture makes houses look smaller."
Big furniture, bitchin' pools, and rad batting cages—all things that conspire to make life difficult for some of the richest men in sports.