So, much grumbling today over the latest blasphemy in Chicago: Owner Sam Zell says he "wouldn't hesitate" to sell the naming rights to Wrigley Field. Of course our friend Mariotti is all in a sweaty panic over this, which kind of makes me think it might be a good idea. But then I'm not a Cubs fan. Here's a great take on the issue from Rumors and Rants.
From the Sun-Times:
"Wrigley is an obvious world-wide icon and Wrigley Field is world-wide known. But, in the world of economics, when I bought the Tribune, I didn't get a discount because I wasn't going to use the naming rights that field represents," Zell said in an interview on the CNBC program "Squawk Box." "Perhaps the Wrigley Co. will decide that, after getting it for free for so long, that it's time to pay for it."
Zell then chased reporters off his lawn with a rake.
Speaking as a Giants' fan who watches the team change its stadium name every season, I'm numb to this. But for you Cubs' fans, here's the inevitable petition site to save the Wrigley Field name.
G/O Media may get a commission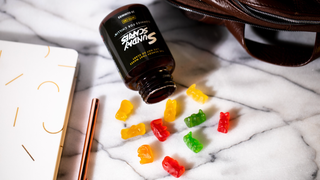 10mg CBD Gummies (22-Count)
The Tribune Vs. Chicago [Chicago Sun-Times]
Zell Says He Won't Hesitate To Sell Wrigley Field Naming Rights [Chicago Sun-Times]
Go To Zell, Assface [Rumors And Rants]
Save Wrigley Field [Care2 Petition Site]