The trade-deadline acquisition of Lance Stephenson represented a wager by the Grizzlies that he was misused and underused, that they would be the ones to figure out how best to deploy him effectively, something no one's been able to figure out since the Pacers.
It starts with minutes: Stephenson had his best season when he was starting and getting 35 minutes a game in Indiana, but the Hornets quickly relegated him to rotation duties, while the Clippers could not for the life of them decide if he belonged in the starting five or off the bench, and at what position: they used him everywhere from point guard to power forward, and they used him sparingly, averaging under 16 minutes a night before his trade. The Grizzlies, despite their deeply weird roster, can promise more playing time, with a better-defined role, and they're counting on that consistency, plus the incentives of a contract year, translating to a revival for the mercurial swingman. (And hot damn, do I dislike using the word "mercurial," which is loaded and over-broad and attempts to cram a career's worth of backstory, including things as far-ranging as legal troubles and dogged practices, to into a single overused word, but then again terms don't become hoary if readers don't know exactly what they represent, and what's the point of language if not to efficiently convey meaning?)
Early returns are not discouraging. In two games, including last night's 128-119 win over the Lakers, Stephenson is averaging 23 minutes, 12 points, 3.5 boards, and 1.5 assists.
But who cares about any of that. Watch this:
G/O Media may get a commission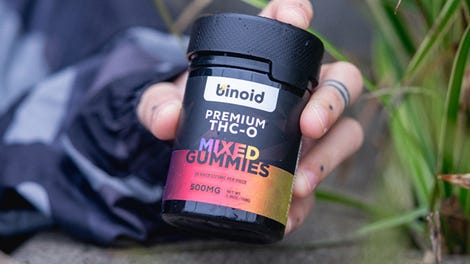 25% Off + Free Shipping
Binoid THC-O Gummies
---
Contact the author at barryp@deadspin.com.