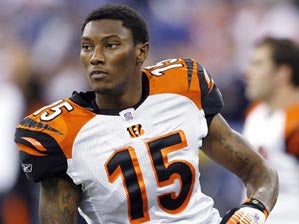 Cincinnati Bengals wide receiver Chris Henry was just reinstated to the NFL after an eight-game suspension. That's good. Police are already investigating him for another incident. That's bad.
Police were called to the parking garage of Newport on the Levee Tuesday night, on reports of a pair of disorderly customers. Investigators say Bengals wide receiver Chris Henry and another man, Alston Desious Dyneal fought with a valet parking attendant after they tried to park their car without paying.

An argument allegedly ensued, with Henry reportedly saying "don't you know who I am." Levee Security was called, but the pair left. The report says both Henry and Alston were banned from the Levee and were asked to leave. No one has been arrested.
Yes. Henry said, "don't you know who I am?" Yes, Chris. Oh, how we do.
Chris Henry Accused in Newport [700wlw]