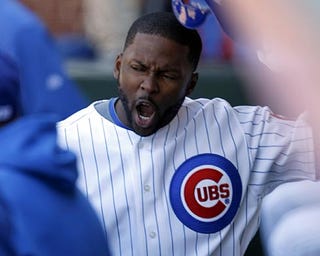 A tipster writes: "I'm following the Cubs/Cards game on ESPN and the play ticker said that Milton Bradley just got ejected. Haha. I have no idea what happened but I hope it's hilarious."
And to think we just learned how cool, calm and collected he is. From the Chicago Tribune:
Bradley, pinch-hitting for pitcher Aaron Heilman, took a called third strike on a 3-2 pitch with the bases loaded and the game tied at 4-4. The ball seemed to break inside at the last second, but plate umpire Larry Vanover called it a strike and immediately heard the wrath of Bradley. Vanover quickly ejected the outfielder, who was making his first appearance at Wrigley in a Cubs uniform after missing the first two home games with a groin injury.

The crowd went wild, after Bradley showed the kind of intensity the Cubs wanted to see from him after signing him to a three-year, $30 million contract. Bradley is now 1-for-18 as a Cub after hitting .460 in the spring.
Annnd ... Cardinals win, 7-4. Welcome to the Milton Bradley era!
Milton Bradley Ejected in Cubs Debut At Wrigley Field [Chicago Tribune]