Every year, WrestleMania weekend gets bigger. Not on the WWE side, to be clear—the promotion's biggest event is about as big as it always is. It's everything else, all the many non-WWE wrestling events that are, at least for the most hardcore fans, now as big a draw as or bigger than pro wrestling's biggest show of the year.

Last year, for WrestleMania's second stop in Orlando, the sum of all that action was a weekend that was probably too big, with dozens upon dozens of events scattered all over the metro area, to the point that fans and wrestlers alike were burnt out. This year, WrestleMania returns to New Orleans just four years after the last trip to the Big Easy; a comparable number of events, albeit limited to a few central hubs for the most part, will compete with the WWE's big show. A month out, this looks the biggest weekend yet for the non-WWE side of things, both in terms of match-ups and ticket sales.

There is, perhaps more than ever, something for everyone: Matt Riddle's Bloodsport, an MMA-themed event from Game Changer Wrestling produced by the former UFC fighter turned indie wrestling superstar, kicks everything off on Thursday afternoon. The biggest indie show of the weekend, the WrestleCon Supershow full of new matches featuring huge names from around the world, will happen in prime time that night, while Beyond Wrestling has an all-intergender card at midnight. Mexico's The Crash has an afternoon show on Friday, as do the United Kingdom's Revolution Pro and PROGRESS, with the latter also running Saturday. Joey Janela's Spring Break II, another GCW show, gets a midnight slot on Friday, with a ridiculous selection of bouts headlined by Janela's bout with fellow daredevil/Japanese legend/actual Japanese legislator The Great Sasuke. Combat Zone Wrestling will roll out its ultraviolent death match brand of wrestling on Saturday afternoon opposite the annual all-women's show from Shimmer, which is running their historic 100th card. Ring of Honor, the former indie gone corporate, will run their biggest show ever on Saturday night, and Kaiju Big Battel follows up at midnight with their annual monster fights. That is a lot, but it's not even close to everything.
In fact, that all just scratches the surface: There are numerous other wrestling cards, plus non-wrestling events from WrestleCon (the convention proper), ROH (the Festival of Honor), MLW (the annual WaleMania party/concert), Jim Ross and Paul Heyman doing their one man shows, Bruce Prichard and Conrad Thompson doing a live podcast, and others. Plus, of course, WWE will have their annual Fan Axxess convention all weekend, as well as the Hall of Fame ceremony on Friday, the NXT card on Saturday, WrestleMania itself on Sunday, and then the raucous post-Mania editions of Raw and SmackDown on Monday and Tuesday.
For news value as well as sheer size, Ring of Honor's show is likely the biggest non-WWE show of the weekend. With over 4,600 tickets sold as of last week, it's already far and away the biggest show in company history. While the UNO Lakefront Arena is theoretically being set up for somewhere in the high-5,000s, it would not be shocking at all if more of the building is opened up. The main event of Kenny Omega vs. Cody Rhodes is probably the biggest non-WWE singles match possible right now, and there is the sense that the Lakefront Arena event is a dry run for the Rhodes and Young Bucks-produced "All In" show coming in September, with a goal of drawing 10,000 fans. Omega-Cody is also the first singles match in a major feud at the top of shows promoted by ROH ally New Japan Pro Wrestling, where Omega is the top foreign star, which is a major show of solidarity from the more successful Japanese group. While wrestling tickets are largely an advance sale item these days outside of Mexico, it feels inevitable that the ROH show will become a "happening" and do huge walk-up business.
G/O Media may get a commission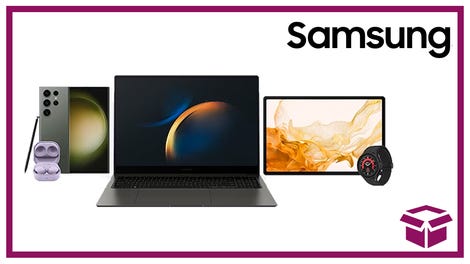 24 hour deals
Discover Samsung - Daily Deal
It's hard to think of a promotion that has earned it more. ROH had a big a role as any company in starting the new WrestleMania tradition of non-WWE companies piggy-backing off of the business's biggest show of the year. In 2004, WrestleMania's return to New York City after a decade, ROH ran in nearby Elizabeth, New Jersey and drew what was then their biggest crowd in history. Before, such events were only occasional, like the Weekend of Champions fan convention that ran during SummerSlam weekend in NYC in 1991. That, or they were less centralized, like the Japanese tourist group that came to the west to take in American wrestling the week before SummerSlam in the early 1990s. ROH booker/matchmaker Gabe Sapolsky eventually getting fired and subsequently starting the rival Dragon Gate USA and Evolve promotions also helped expand the weekend, as did the arrival of WrestleCon in 2013. A production of Highspots, a wrestling merchandise company, WrestleCon initially cooperated with the Sapolsky-led groups before splitting shortly after the convention. Now, WrestleCon has its own set of shows—this year, they're within walking distance of almost everything else—while WWN, the parent company of Evolve, has its own More Than Mania weekend which, in 2018, will be held near the New Orleans airport. Of course, there are also other indie groups, usually local promotions, that don't associate with either event.
At this point it's clear that what fans want to see during WrestleMania weekend each year is new matches, preferably ones they never could have imagined themselves, as well as international stars who rarely appear in the U.S. The first Spring Break show last year, which had more buzz than any other both going into and coming out of the weekend, was particularly instructive in this regard. Built largely off of a ridiculous promo video, it was headlined by Janela (who had earned the match with a wish granted by Scott Hall as a magical genie) vs. Marty Jannetty, Matt Riddle vs. Dan Severn, and a battle royal dubbed "The Clusterfuck" with a gaggle of guest stars advertised. This year, it's a potent mix of weird/new and potential match quality, with Janela-Sasuke augmented by German star WALTER vs. '90s WWE star Quebecer Pieere and current indie standout David Starr vs. indie legend Mike Quackenbush as part of the latter's retirement tour. And the second Clusterfuck, naturally. Last year, it put Janela over the top as an in demand indie name, and this year, it will likely cement his spot there.

That delirious and happily overstuffed aesthetic, as well as Janela's increased name value, has seemingly rubbed off on everyone else, with the Janela vs. luchador Penta el 0M match at WrestleCon Supershow standing out as just one example. (It's especially notable because that show advertises few matches and relies heavily on surprises.) Revolution Pro is likely to be another beneficiary, as their method of pitting indie stars against NJPW's top attractions is unique to the U.S. even if they do it regularly in England. Add it up and it looks a lot like the end of generically good indie wrestling and the beginning of a stranger and more diverse moment. All of which is to say that WrestleMania weekend looks colorful as hell this year. If you love pro wrestling, you will regret it if you don't take the trip to New Orleans.
---
David Bixenspan is a freelance writer from Brooklyn, NY who co-hosts the Between The Sheets podcast every Monday at BetweenTheSheetsPod.com and everywhere else that podcasts are available. You can follow him on Twitter at @davidbix and view his portfolio at Clippings.me/davidbix