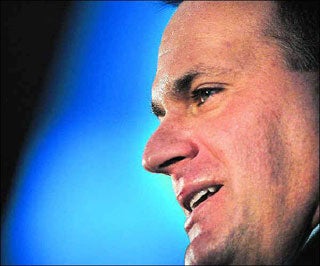 There's been a wave of sympathy for Michigan in the past year, and I for one hoped they were going to find a good solid coach from the lower ranks to bring up, like Ohio State did with Jim Tressel. That didn't happen, and my sympathy swung to West Virginia for losing their fabled coach Rich Rodriguez. And the Detroit Free Press depicted how WV has treated not only Rich Rodriguez, but his family. Now my sympathy remains in limbo until a worthy football state comes forth to claim it.
They also mention a crazy theory put out there by certain Mountaineering nutjobs:
The level of vitriol has surprised even Rodriguez, whose guilt and empathy are slowly turning into defiance. What irks him the most is a theory bubbling from the hollers to the Capitol to the campus bars in Morgantown. A theory that suggested he threw the Dec. 1 game against Pittsburgh — the school's traditional season-ending rival — to avoid a berth in the national championship game.

[I]f the school lost, the theory went, Rodriguez would be free to pursue the Michigan job, because no coach would walk away from a championship game.
I remember watching that game, but I didn't see Coach Rodriguez bend Pat White's finger back even once. Then again I wasn't watching that closely.
The Freep continues on to discuss a heated meeting between Rodriguez and the WVU president, how his brother's kids are being threatened at school, and how embedded the football program was with the entire state of West Virginia. In short, I really hope these two meet in a BCS game next year.
How and Why Rich Rodriguez Left West Virginia For Michigan [Detroit Free Press]