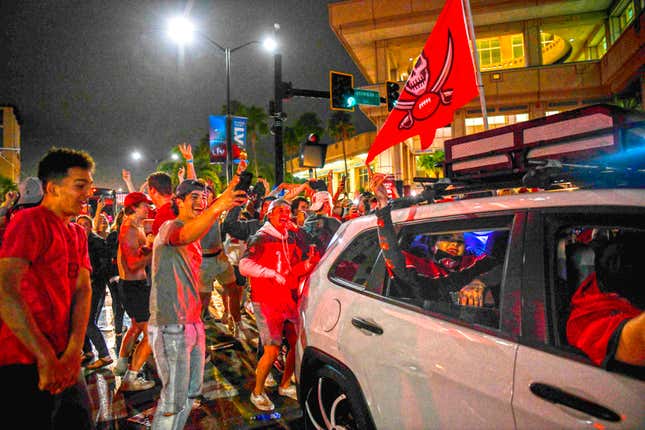 This is becoming as common as another Tom Brady Super Bowl win.

Last night, after the Buccaneers won their first Super Bowl since 2003, fans took to the streets to celebrate the championship. This is the part where I remind you that the COVID-19 pandemic is still around and a public health threat to everyone — including those who celebrated last night.
Best Division in the NFL in 2022? | Agree to Disagree
Tampa Bay could be the first city to host a Super Bowl and a superspreader event on the same day.
Here are some scenes of Florida people last night.
I can find Waldo before I spot a mask.
This isn't the first time a team championship has led to thousands of maskless people in the streets. A few months ago, Los Angeles health officials correlated alarming rates of COVID spread to Lakers and Dodgers celebrations. And in January, Bama fans packed the streets of Tuscaloosa after the Tide rolled over THE Ohio State University in the CFP championship game.
Last week, Dr. Fauci went on NBC's Today to warn Americans about Super Bowl gatherings and celebrations. "Every time we do have something like this, there always is a spike, be it a holiday, Christmas, New Year's, Thanksgiving," he told Savannah Guthrie. "Enjoy the game. Watch it on television, but do it with the immediate members of your family, the people in your household. As much fun as it is to get together in a big Super Bowl party, now is not the time to do that."
Clearly, the recommendation by the nation's top infectious-disease doctor made too much sense for some.
After the celebrations subsided, Tampa Bay Mayor Jane Castor expressed disappointment in her constituents who blatantly disregarded the city's COVID protocols.
"It's a little frustrating because we've worked so hard in cooperation with the NFL and the county...putting the executive order in place that masks had to be worn in specific areas that we knew groups would be congregating," she said. "Yes, we did see some videos, did see some individuals that weren't wearing a mask. At this point in dealing with COVID-19, there is a level of frustration when you see that."
While there is a mask mandate in effect for the city of Tampa Bay, the state of Florida has not issued a statewide mask requirement. Apparently, wearing a piece of cloth over one's mouth and nose, to keep others safe, restricts too much freedom.
We won't know for a few days, maybe weeks, whether the Super Bowl caused a super spread. I hope Tampa doesn't have an outbreak. But when a team wins and thousands flock to the streets without any protection, what else do we think will happen?
At some point, when we get to the other side of this, we will all look back at the role sports played in prolonging this pandemic. It won't be anything to celebrate.