On Saturday, Juan Manuel Marquez will step into the ring for a third time against Manny Pacquiao. This time around, Marquez—who's moving up in weight for the fight—has a new physique. He has retained the services of Angel Hernandez, the strength and conditioning coach who has been working with Jamaican sprinter Usain Bolt. Hernandez has been an omnipresent figure on 24/7, and Marquez's new bulk has been noted by viewers.
Then, last week, a bombshell came from BALCO founder Victor Conte. Angel Hernandez is the person formerly known as Angel "Memo" Heredia. Heredia, with a BALCO connection of his own, has been training both Marquez and Bolt under an assumed name.
In the US government's 2008 case against track coach Trevor Graham, stemming from the BALCO scandal, Memo Heredia was labeled "Source A." He didn't get that designation because he came first alphabetically. Heredia was the prosecution's star witness, and he gave up comprehensive documentation showing PED use by stars like Marion Jones, Tim Montgomery, Justin Gatlin and C.J. Hunter. But Heredia wasn't just a random eyewitness; he was caught dead to rights as a steroid dealer and user, and testified to save his own skin.
In 2005 federal investigators confronted Heredia with evidence of money laundering and drug trafficking, and offered him a deal: Tell what you know or we'll go after you. He gave up everyone he worked with in US Track and Field, and despite claims he wasn't offered immunity, he has escaped prosecution himself. Graham was convicted of perjury and banned from the sport for life.
From a New York Times profile during the trial:
Mr. Heredia, a former Mexican national discus champion, is a secretive figure on the track circuit who describes himself as a chemist, scientist and nutritionist. The son of a chemist, Mr. Heredia received an undergraduate degree in kinesiology from Texas A&M in Kingsville, records show.

He said he used family connections to pharmacies and labs in Mexico to help his business. For years, Mr. Heredia said, he helped his clients flout the rules and easily avoided detection. Substances like human growth hormone and the blood booster erythropoietin, or EPO, are still virtually impossible to detect, and "it is still easy to use testosterone" with fast-acting creams, he said.

"You combine all these things - boom! - you get amazing results," Mr. Heredia said.
He would know. A 2009 German documentary shows Heredia purchasing banned drugs from pharmacies in Mexico City, and injecting himself in the stomach with PEDs. By then, the Trevor Graham trial was over, the government had no further need for him, and Heredia was free to get on with his life. It wouldn't be long before he signed on with Bolt and then Marquez.
G/O Media may get a commission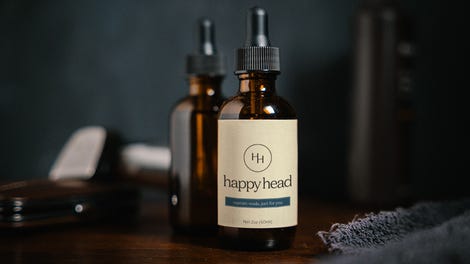 No one knows why Conte, who's worked with Zab Judah in recent years, decided to get involved. But he's set the narrative for the final run-up to the fight. Hernandez/Heredia has gone on the defensive, explaining away his name change on 24/7.
"My name is this. My name is very long. My first name is Angel. I have a middle name, which is Guillermo. But in Mexico, they use 'Memo,' which is my nickname. Heredia, for some people, it's very difficult for them to catch up. You can ask anybody here in the media sometimes they call me Heredia. Dr. Heredia. For some reason, I told you guys Hernandez, and it was easier for you guys to write it down."
The whole thing is a mess. Conte is feuding with Pacquiao coach Alex Ariza, due to leftover bad blood from Judah's fight against Amir Khan (another Ariza guy) in July. Ariza is insinuating things about Marquez's association with Hernandez. ("I don't know how they're training him, and I don't know why Marquez got so big so fast.") Hernandez is threatening a defamation lawsuit against Ariza, but not against Conte.
Marquez's reputation is unlikely to take a hit, because steroid use in boxing sadly isn't a big issue unless it's holding up a Mayweather fight. Boxing ostensibly has some of the toughest testing procedures, so if someone's doping, the presumption is that it will come out after the bout.
"I've always been in favor of a clean sport," Hernandez said. "Let's submit to blood, urine, or fecal tests. Alex, I think the only person here who has doubts are you and Manny, because in the past people have solicited proof a thousand times to give blood and urine tests, and you have never wanted to do them."
Of course Hernandez knows better than most that the drugs are always a step ahead of the testing. So Marquez, or Pacquiao, or both could be dirty, and most likely we'd be none the wiser. In the sports where athletes' physiques stand the most to gain from steroids' benefits, it's easier to ignore the problem altogether than to get into messy rows like this one.
The more lasting drama will be in the world of sprinting. Usain Bolt, by dint of what we know about doping in track and his otherwordly performance in 2008, has already come under scrutiny. Carl Lewis questioned whether Bolt's times could be achieved naturally, as did a German sprinter who couldn't keep up with the Jamaican. So now he finds himself a year from the London Games, and he's training with a known steroid dealer and snitch who changed his name to avoid the spotlight. The Marquez-Pacquiao beef will be over this weekend, but Bolt's got eight months of answering questions about Angel Hernandez, né Heredia.