There is a strange, mysterious story unfolding involving Patriots Pro Bowl DE Chandler Jones, police, a hospital visit, an officer's apparent reference to drugs, and the unusual deletion of police dispatch records once the media started sniffing around. Let's try to sort out what we know so far.
The best sports movies according to Toheeb Jimoh
The Boston Herald broke the story yesterday. At 7:42 a.m. Sunday morning, they reported, Jones arrived at the Foxboro, Mass., police station. He was evaluated there, and taken to a nearby hospital after 8 a.m. The Herald was stonewalled (and apparently, outright lied to) by Foxboro police chief Edward T. O'Leary, and no more details were immediately forthcoming.
Overnight, Heavy.com obtained audio from police and fire dispatch. You can listen to it here, and fast-forward through the dead air:
G/O Media may get a commission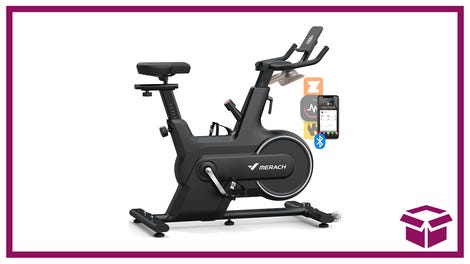 14% off + Coupon
Merach Indoor Cycling Bike
The dispatcher described Jones, upon his arrival at the police station (he apparently walked), as a "confused party," and summoned medics to treat him. He was then transported to Norwood Hospital; there is a reference to "ALS," or advanced life support, which is not necessarily as dire as it sounds.
One officer was dispatched to a nearby home, apparently Jones's. That officer radios back to dispatch:
"I got his keys off the kitchen table, I was able to lock the front door. If you want to just pass along to the fire, he was definitely involved with Class D delta before this happened, just so they know."
Class D is likely a reference to a schedule of drugs, with marijuana probably the most common. The full list of Massachusetts Class D drugs can be found here.
A particularly fascinating angle in this story is the response by Foxboro police chief Edward O'Leary. When the Herald contacted O'Leary for comment on Monday afternoon, he claimed that his department had had no interaction with Jones. This was not true. Five officers had been present as Jones was evaluated in the parking lot of the police station, and one was dispatched to his house.

Then the Herald received Foxboro PD dispatch records—which had been modified to remove information. That deletion took place after the Herald had first called O'Leary. Though O'Leary claimed it was standard procedure to protect medical information, he said he couldn't recall another instance of dispatch records being altered.
O'Leary then attempted to explain why he had earlier told the Herald that Foxboro PD hadn't had any contact with Jones on Sunday.
When asked whether he had misspoken in his earlier conversation with the Herald, O'Leary said, "No, because it was a medical call. I didn't look at it as a police-specific call."
Theories of a cover-up are only fueled by the fact that O'Leary is in charge of Gillette Stadium security. There are plenty of not-necessarily-contradictory rumors out there, and Foxboro PD's attempts to squash this story are only going to keep them flying.
Whatever happened with Jones, it was apparently not that serious. He was treated and released at the hospital, and took part in Patriots practice the next day. The Patriots' top pass rusher is expected to start in New England's divisional playoff game against the Chiefs.