By the time Northern Ireland's Rory McIlroy won the 96th PGA Championship on Sunday, his second major in as many months and fourth overall, the man whose mantle he seems poised to assume had long since left the property. In 36 holes at Valhalla Golf Club, near Louisville, an ailing Tiger Woods scarcely threatened par, much less the leaders, missing the cut by five strokes. But perhaps the most surprising aspect of his disastrous performance was that few would have expected anything more out of him.
Is Texas or Florida State a bigger national title contender? | Agree to Disagree
As Woods's layoffs and losses pile up, each new start takes on the sense of an ending. He missed the Masters in April and the U.S. Open in June following a microdiscectomy for a pinched nerve in his back, and the six years since his last major championship victory have also seen him sidelined for spans of eight months (left knee, June 2008-February 2009); four months (tabloid scandal, December 2009-April 2010); and three months (left knee, May-August 2011). Yesterday, in an announcement posted on his website, Woods removed himself from contention for a Ryder Cup captain's pick, reporting that he will not to return to competition until his own World Challenge tournament in early December.
It's sad to write, but so far in 2014 the greatest golfer of his generation has entered eight events, finished four, and placed no higher than a tie for 25th. We always knew, I suppose, that Woods's dominant career would not go on forever, but the end of his reign atop the sport has never seemed so imminent.
What was Tigermania, anyway? It was, at the start, just another word—the name bestowed on a media frenzy that briefly overtook the Thai press in February 1997. Two months before his historic Masters victory inaugurated an Age of Tiger that only now is approaching its close, Woods traveled to Thailand, his mother's birthplace, for the Asian Honda Classic. "Five national television channels covered his midnight arrival live," according to the Agence France-Presse, "and newspapers gave him front-page treatment with banner headlines proclaiming 'Celebrated Homecoming.' Not even President Bill Clinton and Queen Elizabeth II, who carried out state visits last year, got that kind of coverage." He received a royal decoration and a $480,000 appearance fee. Someone in the government even floated the idea of offering him Thai citizenship.
But in the years since, years that correspond closely with my own life as a fan, "Tigermania" has come to encompass a set of assumptions about Woods, sports, and stardom that goes beyond the size of his galleries or the quality of his play. The received wisdom has it that Woods is not only a transcendent figure but also a transformative one, an athlete whose otherworldly talents opened golf to the masses, and thus brought about a seismic shift in the sport.
Transcendent and transformative are not synonyms, however. Indeed, conversations with golfing insiders and a closer look at data related to television ratings, tournament purses, participation, and equipment sales reveal a more complicated picture of Tigermania's causes and consequences. Woods's singular brilliance was not the sole factor in professional golf's lucrative boom of the past two decades, nor has his iconic presence benefitted all sectors of the sport equally. The modest reality of Woods's influence hardly lives up to the mythos that surrounds him, and as golf stands on the cusp of a future after Tiger, the time has come to reckon with the difference.
---
In the beginning, Tiger said, "Hello, world," and Nike saw that it was good. Fresh off winning his third consecutive U.S. Amateur title, in an instant-classic 38-hole final, Woods announced his decision to turn professional at the 1996 Greater Milwaukee Open with words that seemed charmingly wide-eyed. But when his grinning, halting, "Well, I guess 'Hello, world,' huh?" became the biographical highlight reel of Nike's "Hello World" ad campaign, which debuted the following day, Woods proved himself a master of the media as well as of the links. Nike, which signed Woods to a $40-million, five-year contract that summer, carefully deployed Tiger's "transformative" brand from the first—"There are still golf courses in the U.S. I am not allowed to play because of the color of my skin," the television spot noted—and his father, Earl, sold this "Chosen One" narrative to anyone willing to buy it: "Tiger will do more than any other man in history," the elder Woods told Sports Illustrated in 1996, "to change the course of humanity." (Nike declined a request for comment.)
Nike's second Woods campaign, developed by the advertising agency Wieden + Kennedy, similarly framed him as the standard bearer for a new generation of golfers (and, by extension, consumers), set to fuel participation and profit for decades to come. "I Am Tiger Woods" resembled nothing so closely as a music video, featuring a racially and ethnically diverse series of boys and girls on city streets and ragged municipal courses coolly reciting the titular tagline. The company's star endorser, the ads implied, would be an entree into untapped markets and progressive social change. But rather than revive a moribund, lily-white sport, as the narrative shaped by Nike and promulgated in the media might suggest, Woods's turn as golf's leading man seems to have had less influence on participation than the prosperity of the late Clinton era. In fact, according to data reported by the U.S. Census Bureau, it was another country club pursuit with American stars that witnessed the more significant surge in popularity during the early years of "Tigermania." Between 1995 and 2000—at the height of the rivalry between Andre Agassi and Pete Sampras, and concurrent with the professional debut of the Williams sisters—the number of recreational tennis players increased 28.5%, from nearly 18 million to nearly 23 million, while the number of recreational golfers increased only seven percent, from 23.7 million to 25.4 million. Recreational golf's growth after Tiger burst onto the scene was not especially remarkable even by the sport's own standards. Compared with the three-percent increase in participation between 1990 and 1995, the actual "Tiger effect" fell short of the rapturous expectations: Woods was a prodigy, not a prophet.
Greg Nathan, Senior Vice President of the National Golf Foundation, a nonprofit trade association that delivers market research to more than 4,000 member courses, clubs, and businesses, agrees with this assessment of Woods's contribution to amateur participation.
"Tiger Woods' effect on recreational golf has been marginal," Nathan wrote in an email. "People play golf because they like the activity, not because Tiger is an all-time great golfer, a compelling personality and global sports icon."
Rand Jerris, Managing Director of Public Affairs for the United States Golf Association, cautions that participation data is a blunt instrument for assessing the state of the sport, stressing the need to focus instead on cost, time, access to the game, and environmental sustainability in order to make the golf product as consumer-friendly as possible.
"It is a much more complicated... system than simply focusing on participation," Jerris said. "Committed golfers are more excited about golf, they're actually playing more golf, than they ever have in the past."
Of course, from the time he first slipped on the green jacket in 1997, to the peak of his dominance in 2000-2001—a period in which he won four consecutive major championships, the so-called " Tiger Slam"—to the saga of his last major triumph, at the 2008 U.S. Open, Woods did in fact bring significant attention to the sport.
"It's not an original idea on my part, but I wholeheartedly agree with this: golf had always been a niche sport, golf had never been a mainstream sport, and he made it a mainstream sport," Jason Sobel, Senior Writer for GolfChannel.com, told me. "There have been some things in the Tiger Woods era that have happened, with regards to popularity of the game and drawing in the masses, that may never happen again."
When examined closely, though, the relationship between popularity and participation, which remains one of the top-line metrics tracked by the sport's leading organizations despite Jerris's counsel, seems to depend mainly on broader economic indicators. The 54% jump in golf equipment sales between 1990 and 2001, for example, when revenues approached four billion dollars, mirrored the 46.5% increase in consumer expenditures on all sporting goods products during the same period, according to Census Bureau data. Even if we attribute the entirety of the difference to "Tigermania," Woods's impact on the recreational game appears, if not insubstantial, far less important than it has often been made out to be.
---
The theoretical prospect of a sudden collapse in the sport's appeal, along with a string of disappointing reports on course closures, corporate earnings, and participation declines, has led to recent predictions of "the coming Tiger crash." The fact is, though, that recreational golf has already returned to Earth from the stratosphere of the early 2000s. In 2005, which World Golf Foundation CEO Steve Mona described as the "high water mark," 30 million golfers played nearly 500 million rounds and spent approximately $5.2 billion on golf equipment and apparel. By 2011, 25.7 million golfers (-14%) played 463.1 million rounds (-7%) and spent $5.1 billion.
"Golf participation has stabilized at 25 million after a period of erosion exaggerated by the recession," Nathan wrote in a follow-up email critical of the media's "pendulum of negativity" with regard to golf. "The overwhelming majority of those participants are solidly committed and will be retained... People who are committed to golf don't just quit the game." He added that the sport must become "more approachable, more inviting, less stuffy, and more fun" in order to attract the 25 million non-golfers who describe themselves as "very" or "somewhat" interested in playing golf.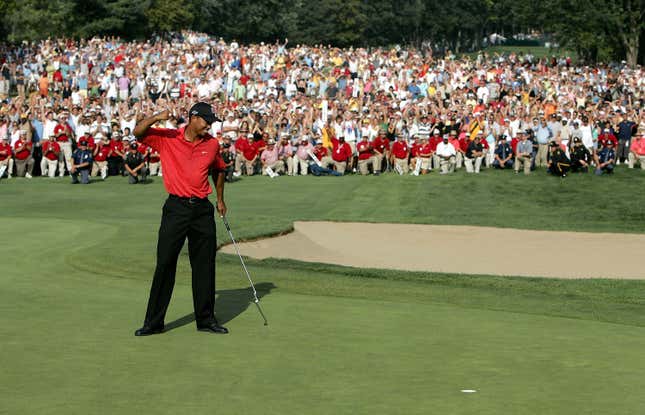 Tiger Woods, 2006.
---
Economics are important, and upswings or downturns in three key sectors— employment, home values, and investment portfolios—are an indicator of golf's success, Mona told me. In this, he echoed the USGA's Jerris, who emphasized that the sport's fortunes have fluctuated with the broader economy since the Roaring Twenties gave way to the Great Depression.
"Here's what we know from 100 years of data about golf," he said. "The only real metric that matters in determining participation in the game is household income."
While Jerris, Mona, and Ted Bishop, president of the PGA of America, all described golf's exclusivity as a "misperception"—80% of golf courses in the United States are accessible to the public, and the median green fee is an affordable $26—income, and therefore class status, is a workable proxy if you're trying to determine whether golf appeals to someone. This may explain why the sport's rarefied image remains so tenacious, even among regular players.
According to one source, a TaylorMade employee familiar with HackGolf—an online platform launched this year by the equipment manufacturer and the PGA of America, which invites the public to comment on golf's frustrations and offer possible solutions—70 to 75% of the site's 2,500 users identify as avid golfers. Of these, one of the most frequent complaints is that golf is elitist and expensive. (Among users who identify as non-golfers, the intimidation factor—learning the swing, the rules, the etiquette, and the proper apparel—constitutes the most significant hurdle.) Despite predictions that Woods was poised to "democratize" the sport, the past two decades have witnessed little change in golf's negative associations, as the governing ranks roll out yet another fleet of initiatives designed to solve the problem.
"There's a disconnect," Sobel noted, between recreational golf's "niche" status and professional golf's "mainstream" popularity.
"With Tiger Woods sidelined for now, I think we're seeing more a correction to the norm," he said. "If we lose a few percentage points of people who play golf, or lose a few courses that close each year... First of all, that's not losing everything, hardly. There's always going to be an industry there. Secondly, I just don't see how it correlates with watching golf on the most elite level. They're not one and the same."
The PGA of America's Ted Bishop concurs.
"You've got two types of golf in this country: you've got golf at the elite level, and you've got golf at the recreational level," he said. "There's certainly a lot of overlap between the two, but there's a lot of people who watch golf at the elite level that don't play golf, unfortunately."
---
In retrospect, predictions of a revolution in the sport's recreational ranks, orchestrated by Nike's stylish ad campaigns and echoed in reports like the Philadelphia Inquirer's, from 1997— "Tigermania: Is Golf Prepared for This Flood? Already, An Influx of New Faces Has Begun"—seem hasty at best.
Following Nike's lead, golf industry leaders and the sport's governing bodies vigorously pursued new participants with programs designed to expand the game among underrepresented demographics, including youth, people of color, and women. In a sport which held one of its premier men's events, the PGA Championship, at Shoal Creek Country Club in Birmingham, Ala., as recently as 1990—where, founder Hall Thompson told the city's Post-Herald newspaper that summer, "We don't discriminate in every other area except blacks"—the commitment to minority outreach that accompanied Woods's stardom amounted to a substantial improvement. (After the Southern Christian Leadership Conference planned to picket the tournament and corporate sponsors threatened to withdraw more than $2 million in television advertising, the club admitted local black businessman Louis Willie, Jr. as an honorary member.)
Among the initiatives that cite diversity as a central piece of golf's success is The First Tee, founded in 1997 to introduce kids and teens to the sport by providing instruction, golf course access, and youth development. Since then, according to PGA Tour executive vice president of communications Ty Votaw, The First Tee has served more than 5 million young people, and the Tour has initiated a $100 million campaign to increase that number to 15 million total by 2017. However, while 49% of participants in The First Tee are from minority groups, the World Golf Foundation's Steve Mona said that broader measures of minority participation have yet to reflect this fact.
"I firmly believe that you will begin to see the results of The First Tee manifest themselves," Mona told me. "We haven't seen it, and, again, income is the biggest indication of participation in golf, more than ethnicity and gender... We want golf to look like America looks. Are we there? No, we're not. Are we making strides to get there? Yes, we are."
Edward S. Wanambwa, senior editor of African American Golfer's Digest, believes that diversity efforts have fallen short when it comes to disrupting golf's traditional barriers to entry.
"To a certain level, it's still a good ol' boy sport, and women specifically have been left on the fringe," Wanambwa told me. "African Americans probably play more than people realize, but they're playing at the muni, at the public golf course. There's a certain mindset in the powers that be in golf that, 'We want to keep a certain person away from the golf course. We want to keep that pedigree.' I think that the governing bodies could do more to grow the game."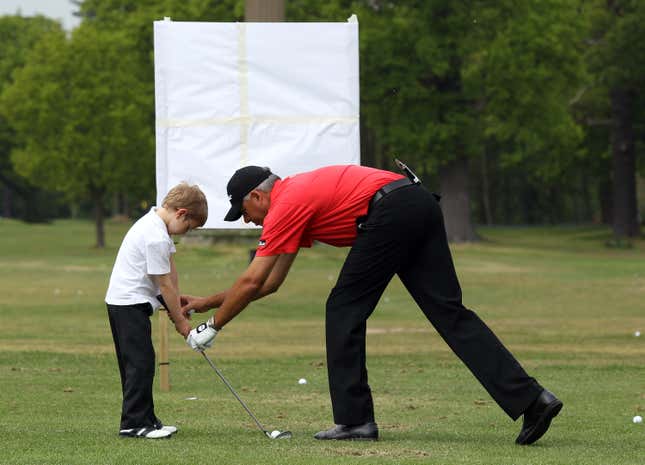 A youngster learns from Jon Yarwood, 2010
---
Symbolically at least, Woods's unique background actually has helped attract interest from those too often "left on the fringe" of the sport, according to Wanambwa.
"I go out to the golf course, and I see black golfers with all Nike clubs, Tiger Woods hats," he noted. "He's still a source of pride, he's still a source of hope, because he's the only thing that we've had."
But with regard to quantitative indicators, Woods's impact on minority participation in golf, even during the relatively prosperous years when "Tigermania" ostensibly flourished, was no more impressive than his impact on overall participation. NGF statistics from 1997, as reported by USA Today, reveal that African Americans then comprised approximately three percent of the total golfing population, with Asian Americans an additional three percent. By 2003, when the Diversity Task Force of Golf 20/20, an industry growth initiative, commissioned the NGF to compile another study of minority golf participation, African Americans constituted six percent of the total and Asian Americans four percent. (Latinos, unmentioned in the 1997 data cited by USA Today, made up between four and five percent of the total golfing population in 2003.) Far from "transformative," Woods's effect on participation among those most often excluded from golf has been, at best, middling—in part, Wanambwa suggested, because Woods has long chosen the safety of a micromanaged public image over the risks of engaging tough questions about the structural economic and racial factors that continue to limit diversity in the sport.
"Tiger, to me, doesn't identify himself as an African American," he said. "I'm not sure whether it was a Nike thing, when he came out with the term 'Cablinasian' [Woods's label for his mixed racial/ethnic background]. It's the fact that Tiger doesn't embrace it. He's not going to take a stand on any controversial issue that faces African Americans ... I feel that he's fallen short of being able to throw the rope back over the fence and pull in another minority golfer."
Indeed, from the outset, the soaring poetry of "Hello, World" and "I Am Tiger Woods" sat uncomfortably alongside the utilitarian prose of the profit motive. Presentations on "Marketing to the Emerging Fan Base" and "The Diversity Task Force" given at Golf 20/20 annual conferences in 2002 and 2003, respectively, described untapped minority interest in the game in terms of black "spending power" and "brand loyal" Hispanics, of "quantifying the opportunity" presented by the "best customer upside," of "marketing strategies," "diversity targets," and "managed growth."
"Payback," as the Diversity Task Force summarized its findings, "will be significant."
A 2010 study by the National Golf Foundation, the most recent data available, suggests otherwise, counting just 1.4 million African American (5%), 1.1 million Asian American (4%), and 3.2 million Hispanic American golfers (12%), or 5.7 million total (21%), among an overall golfing population of 27.1 million. (According to NGF Dashboard, "comparisons between the 2010 study and the 2003 study are invalid" because of methodological differences, but the 2003 study was explicitly designed "to establish rates and baselines" by which diversity initiatives could be measured.) Whether or not you consider Woods duty-bound to do more for minorities in golf, whether or not you are unsettled by the executive director of The First Tee, the U.S. regional marketing manager of Nike Golf, and several other prominent figures in the game attaching their names to a PowerPoint in which "diversity" is largely a matter of dollars and cents, the fact remains that golf has failed to fulfill the democratizing promise of "Tigermania" as imagined in the late 1990s.
"You really haven't seen any increase in diversity participation since [Woods] came to the forefront, which is really disconcerting," the PGA of America's Ted Bishop said.
Far removed from the halcyon days of Earl Woods's prediction that his son would "do more than any other man in history to change the course of humanity," Nike's approach to marketing Tiger has narrowed to the space between his ears. With total minority participation in golf seemingly stalled, the bold promise that we all might be Tiger Woods appears scarcely more credible than one of Earl's messianic visions. A flaw in the data, a missed opportunity, a consequence of combining grassroots development efforts with corporate newspeak, or all of the above: The "transformative" moment, such as it was, may well have passed, and we're reduced to wondering if even Tiger Woods can be Tiger Woods. Upon his return from a four-month post-scandal layoff in 2010, Nike released a 33-second black-and-white spot apparently designed to resuscitate his image through repentance. As the famed golfer stares into the camera, his stoic, burdened face suggesting the passage of time more forcefully than any victory montage, Earl, who died in 2006, speaks as if from beyond the grave. "I want to find out what your thinking was. I want to find out what your feelings are," he intones. "Did you learn anything?"
---
When asked why he robbed banks, Depression-era criminal "Slick Willie" Sutton famously replied, "Because that's where the money is." In golf, the closest equivalent to a vault filled with cash is a Tiger Woods lead on Masters Sunday. All 10 of the highest-rated final round telecasts in golf's major championships since 1977 have occurred at The Masters, and of these Woods was the winner in the top two: his 12-stroke victory in 1997 attracted fully 14.1% of all households with a television in the United States, and his completion of the Tiger Slam in 2001 drew 13%. (He finished tied for fourth, fifth, and tied for sixth in three of the others.) In truth, then, what we really mean by the term "Tigermania" is not an influx of golfers but an infusion of money. For the networks, the sport's leading organizations, and for the infinitesimal fraction of players who succeed at the professional game's highest levels, the confluence of Woods's star power with the expanding economic footprint of sports television has brought a massive financial windfall—one that appears poised to outlast the presence of Tiger himself.
Though parsing the niceties of Nielsen ratings is more complicated than it may appear, viewership numbers bear out the notion that Woods is the foremost driver of interest in golf on television. Take the mean number of Saturday and Sunday viewers of weekend Masters telecasts since 1977, compiled from Nielsen data by the website TV by the Numbers. In the 14 years before Woods's 1995 debut (1981-1994), CBS' coverage averaged 9.4 million viewers; in the 14 years after (1995-2008), Woods's non-victories averaged 10.6 million; Woods's four wins averaged 13.5 million. Similarly, his U.S. Open win in 2000, in which he led by one, six, 10, and 15 strokes after each round, drew a four-day average of 8.24 million viewers, higher than any playing of the tournament since 1987. Nor is the "Tiger Effect" limited to the majors. When Nielsen compared weekend ratings from Woods' 2007 tournament appearances to the same tournaments in 2008, while Woods recovered from season-ending knee surgery, the average decline in millions of viewers was 46.8%.
When Woods plays, and especially when he's in contention, he clearly provides a significant boost to golf's TV ratings. Even so, it's easy to overstate his purportedly enormous individual importance—and the purportedly dismal consequences of his absence—by focusing on year-to-year comparisons rather than long-term trends. Viewership of golf's marquee tournaments has decreased less, over time, than analogous events in other sports. For example, the weekend average of 8.6 million viewers for this year's Masters, the lowest since 1993, constituted a seemingly precipitous 54% decline from the tournament's 1997 peak. But the declines from most-watched to least-watched World Series (1995, 2012 —56%), NBA Finals (1998, 2007 — 68%), and Stanley Cup Finals (1997, 2007 — 72%) in roughly the same period are even worse. (Only the Super Bowl, a media juggernaut of almost nonsensical proportions, appears immune to the vagaries of competition.)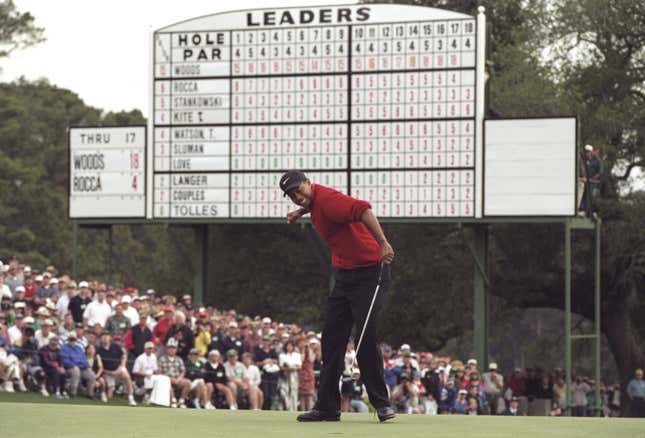 Tiger Woods wins the Masters, 1997
---
More importantly, the overall downward trend in television viewership among golf, baseball, basketball, and hockey since the late 1990s suggests that both celebrations of "Tigermania" and lamentations of its demise are shortsighted. Remember, Woods came to prominence in a cultural landscape that now seems prehistoric. In 1997, E.R. was the top show in primetime, weekday circulation of the printed New York Times was 1.1 million (it's now less than 700,000), and just 36% percent of adults used the Internet. In that less fractured media context, an athlete of such skill and charisma as Woods or Michael Jordan might attract what could sincerely be called "mass appeal," but the phenomenon of the "transcendent" sports figure, much less the "transformative" one, has since become increasingly rare. It is not to deny Woods's greatness to say that his star power was a necessary but insufficient condition for "Tigermania" to take hold. As much as he made the boom in golf on television, the boom in golf on television made him.
Though the sport is unlikely ever to replicate the circumstances that turned Woods's finest hours into ratings bonanzas, GolfChannel.com's Jason Sobel notes that golf, which has endured periodic transitions between major figures since the days of Bobby Jones, may already be in the process of discovering Woods's successor.
"You may be seeing the beginning of the next great player in the game, and you just don't know it yet," he said, using the example of Hideki Matsuyama, the 22-year-old Japanese who won The Memorial Tournament in May. "It takes time to grow superstars in the game... It doesn't matter how the Tour markets its players. Sure, they can make the younger players look hip and cool, but what it really comes down to is winning."
The PGA Tour's Ty Votaw agrees that men's professional golf will discover the next household name, though no one is likely to match Woods's appeal.
"Every ten to fifteen years, a new face emerges on the same basis that captures the imagination of the public to varying degrees," Votaw said. "No one's done it more than Tiger, admittedly."
Ratings, which are key to the television rights contracts negotiated periodically by the networks, the PGA Tour, and each of the four major championships, translate into earnings—and the Tiger years have been a time of plenty. From a $300 million, four-year agreement before 1997, PGA Tour Commissioner Tim Finchem landed a $2.95 billion contract for 2007-2012, and the current nine-year deal is reportedly even more remunerative. Last year, in a move that sparked controversy, the United States Golf Association ditched longtime partners ESPN and NBC to ink a 12-year, $1.1 billion agreement with FOX Sports—which has never televised golf—to broadcast the U.S. Open and other USGA events beginning in 2015.
While Votaw acknowledges that Woods's presence in a given tournament spikes interest, he challenges the suggestion that the golfer is the sole arbiter of the Tour's success in recent years.
"No one is bigger than the game itself," Votaw said, citing substantial growth in prize money and charitable giving at tournaments Woods rarely or never plays. "The sport itself is in a very good position in terms of sponsorship, in terms of consistent television viewership, and in terms of attendance."
No one at the networks is going to be reduced to robbing to eat, either: when it comes to non-majors, at least, the PGA Tour sells 65%-75% of the advertising to their sponsors, with broadcasters responsible for the rest. According to a New York Times report from 2010, before the PGA Tour's most recent network television deal, ad revenues for golf on network television amounted to $621.6 million in 2008, and a recession-affected $557.9 million in 2009. (Both CBS Sports and FOX Sports declined my request for an interview, a representative for the latter saying that it was "premature" to comment with the details of FOX's golf coverage yet to be determined.)
Revenues from television rights profoundly shape the financial health of golf's leading organizations. In 2011, tax-exempt PGA Tour revenues amounted to $973 million, while championships accounted for 75% of the PGA of America's total revenues for 2012 and 73% of the USGA's total revenues for 2013.
"When you consider the fact that the PGA of America exists for all of our members and apprentices, but we can't exist without our spectator championships, the fact that Tiger Woods is a four-time PGA Champion and multiple Ryder Cup team member is very important," Bishop told me on this point. "From a competitive standpoint, he's been the man."
Among those profiting most handsomely are the sport's top male professionals. PGA Tour purses, which are determined by television rights and title sponsorships, were already on the rise before Woods's professional debut, increasing from a combined $46.3 million to nearly $70 million in 1996, then skyrocketed to more than $279 million by 2012. Endorsement contracts, licensing fees, and other off-course earnings have followed suit. In 1996, the ranking golfer on Forbes' annual list of highest-paid athletes was Arnold Palmer, in eighth place with $15.1 million in earnings; no other golfers made the top 20. On the magazine's most recent list, from 2013, three golfers featured in the top 21: Woods (first place, $78.1 million), Phil Mickelson (seventh place, $48.7 million), and Northern Ireland's Rory McIlroy (21st, $29.6 million).
"The overwhelming majority of recreational golf is not a reflection of the super-elite lifestyle or what most folks see on TV every weekend on the PGA TOUR," the National Golf Foundation's Greg Nathan wrote in an email.
The effect of the Great Recession makes it somewhat difficult to separate structural changes from cyclical booms and busts, but the 2011 Golf Economy Report, produced by SRI International for the World Golf Foundation and Golf 20/20, is telling for the differences it reveals among the recreational and professional sectors of the golf economy. Between 2005 and 2011, revenue from golf facility operations—including everything from the bucket of range balls you use to warm up, to green fees and cart rentals, to the hot dog you buy in the clubhouse after the round— decreased from an inflation-adjusted $31.8 billion (in 2011 dollars) to $29.9 billion. Similarly, revenue from equipment and apparel sales declined from an inflation-adjusted $6 billion (in 2011 dollars) to $5.1 billion. In that same period, tournament revenue—including television rights fees, corporate sponsorships, ticket sales, and merchandise at PGA Tour, LPGA, USGA, and PGA of America events in the United States—outstripped inflation and outran the recession, rising from $954 million in 2005 ($1.1 billion in 2011 dollars) to $1.2 billion in 2011. Total player endorsements rose from $265 million in 2005 ($300 million in 2011 dollars) to $320 million in 2011.
Willie Sutton couldn't have imagined money like this.
---
The DSM-IV defines a manic episode as "a distinct period of abnormally and persistently elevated, expansive, or irritable mood." While the members of the press who coined the word "Tigermania" in 1997 are unlikely to have considered the phenomenon in clinical terms, elevation, expansion, and irritability seem an apt description of golf in the years since: immensely profitable but prone to bouts of anxiety, optimistic and creative but easily distracted. Though suggestions of the game's impending demise are overstated, Woods's dominance has had important consequences for golf, not all of them unalloyed blessings.
The story of "Tigermania" is, in the final analysis, a tale of two sports. On the one hand, amateur golf seems healthy but static. The total number of recreational golfers at present is reminiscent of the mid-1990s, while the racial/ethnic diversity of participants has remained disappointingly flat. The one-time glut of golf facilities has been reduced. Rounds played, always subject to variations in the weather, are on the upswing from their post-recession nadir; sales of equipment and apparel, though far from exceptional, are not disastrous. Golf still attracts three to four million "new trials" each year, according to the National Golf Foundation's Greg Nathan, and still scares away many by requiring four or five hours for eighteen holes. Golf is, as ever, both tremendously difficult and tremendously addictive, a game for a lifetime that must sometimes be set aside to go about actually living.
On the other hand, the glitzy world of men's professional golf continues to bask in Tiger's glow, at least in the upper echelons. And with the advent of decades-long rights agreements, the PGA Tour, the USGA, and the PGA of America are likely to insulate themselves from any tumble in golf's television ratings as the sport searches for its next superstar: the Tour's current cable and network contracts end in 2021, the USGA/FOX agreement is locked in until 2027, and NBC's contract to broadcast the Ryder Cup, which is organized by the PGA of America, runs through 2030. (Indeed, the wave of extended, high-priced television rights agreements in all sports, from PGA Tour golf to the Olympics, shows few signs of subsiding.) "Tigermania" brought unprecedented amounts of attention and money to the Tour, the players, the governing bodies, the networks, and the sponsors, and a significant portion of that attention and money has been lavished, in turn, on charities, nonprofit organizations, and initiatives designed, as the sport's common parlance has it, to foster "the growth of the game."
As laudable as The First Tee, "While We're Young," Play Golf America, Get Golf Ready, HackGolf, FootGolf, and other efforts may be, the intended impact on the top-line measures, number of golfers and rounds played, is still in the future. Indeed, as the PGA of America's Ted Bishop told me, it is only recently that the sport has begun to acknowledge and combat the fundamental challenges to expanding participation by turning to amateur players for advice.
"Rather than come up with these 'Growth of the Game' initiatives and force feed 'em down the throat of the consumer, we figured it was time to listen to them," he said. "A lot of it was spurred by the fact that we weren't seeing any growth in the sport, and we felt like we needed a different approach."
The World Golf Foundation's Steve Mona agrees, citing an attempt, beginning five or six years ago, to repair the "fragmented" nature of the sport's governance by consolidating resources on the most successful programs.
"Very candidly, difficult times will cause people to band together better than prosperous times," he said.
---
Perhaps because I grew up in New England, where winter scarcely weakens its grip before the final putt falls, Masters Sunday features prominently among my golfing memories—never more vividly than the one that marks, for me, the last days of golf in the era before Tiger Woods. On that April weekend in 1996, with the opening of our home course still a month away, my father, my brother, and I headed to Waterville Valley, in New Hampshire's White Mountains, for a few days of skiing. Though much of the trip involved seeing who could sit longest in the snow banks around the hotel's heated indoor/outdoor pool before retreating to the water's warmth, my brother and I had become interested in golf the previous summer, after Dad set us loose with a shared collection of cut-down clubs, and so mornings on the slopes segued into afternoons relaxing in front of the Masters telecast on CBS. As we piled into the chairlift that Sunday, Greg Norman, his generation's most frequent victim of Augusta heartbreak, led rival Nick Faldo by a seemingly insurmountable six strokes. By the time we returned from the trails, in search of cheeseburgers, Cokes, and The Shark's back-nine victory lap, Norman had already coughed up most of his advantage. We watched him squander the rest in a dim and crowded pub, enveloped by mournful silence.
When the Masters concluded this spring, with Bubba Watson besting Jordan Spieth by three strokes, Sunday's final round was the first without Tiger Woods since Norman's collapse—yet another hinge point at which one period in golfing history seemed to be ending and the next seemed poised to begin. The theatrics of Watson and Spieth's back-nine duel, like Rory McIlroy's dominant major championship victories, Rickie Fowler's newfound consistency, and Sergio Garcia's recent resurgence, have reminded me that each of the game's superstars started out as just another golfer, struggling to hone his swing on the range. There will be no "next Tiger Woods," but neither will there be an imminent crash in television revenues or an amateur exodus from the game or a collapse of the equipment market or any of the other doomsday scenarios floated in the media, though modest corrections are likely to continue on all of these fronts as golf comes down from its manic episode and returns to something like equilibrium.
What there will be, I suspect, is regret.
Lost in the exuberance of the Woods years was the understanding that no one athlete, however iconic, can change the rules of the game. That Tiger neither succeeded in dismantling the sport's economic and racial barriers to entry nor single-handedly created the thriving "product" that is elite professional golf should only be surprising if we unthinkingly accept Woods's "transformative" brand as inextricable from his "transcendent" prowess—if we imbibe the myth of the star turn rather than consider its complicated reality. In the end, the fact remains that between 1996 and 2012, years in which Woods won 14 major championships, 74 PGA Tour events, and 10 Player of the Year awards, years in which the game's top professionals, sponsors, broadcast partners, and leading organizations benefitted handsomely and secured their prosperity for the foreseeable future, golf succeeded in adding an anemic net total of 300,000 players (1.2%) and 12.1 million annual rounds played (2.5%). By and large, the sources I spoke to in the course of my reporting adamantly opposed the notion that this constitutes a failure on the part of industry groups and the governing bodies, and each, not without reason, offered optimism for the sport's future. Yet the evidence points, at minimum, to an opportunity squandered. As it turns out, the question is not whether golf will survive the end of "Tigermania." The question is why, after Tiger, the sport won't be better off.
---
Matt Brennan is a freelance writer whose work has appeared in several publications, including L.A. Weekly, Medium, and New Orleans' alternative newspaper, Gambit. He contributes regular film and television criticism to Slant Magazine and Indiewire's Thompson on Hollywood! blog, and tweets about what he's watching @thefilmgoer. He lives in New Orleans.
Image by Jim Cooke, photo via Getty