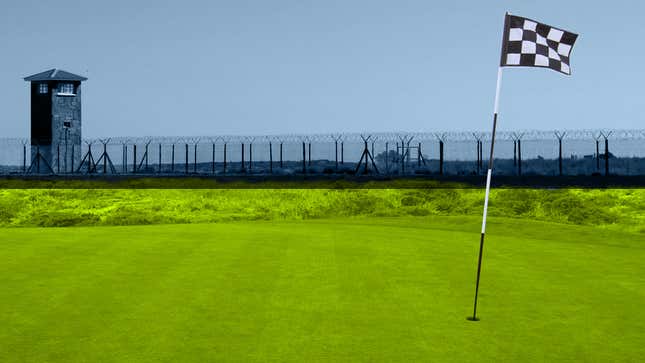 This piece was originally published in Tomorrow Magazine, which just published its inaugural issue. Go here to buy a copy, and read more stories here.
Bass' ERA stinks, but not compared to who he is off the mound | Worst of the Week Countdown
I'm driving a rented white Nissan Sentra, winding past a church and 250 homes near Louisiana's Lake Killarney on my way to play golf. The houses are small but tidy, with neatly clipped yards and recycling bins out front. Everyone waves at me as I drive by.
The scene is similar to that at thousands of gated-community golf courses across the country. Here, though, I'm required to answer an unusual question before I hit the links. "You don't have any guns, do you?" the security guard asks at the front gate. "All right, you're good to go. Pro shop's to the right."
I pay my greens fees and head to the first hole. The tee markers are white handcuffs, welded shut. Just past the lake, peering at me from the distance, are the eyes of six guard towers.
If ever there were a question about the ballooning scale of America's prison system, the Louisiana State Penitentiary provides an answer. It has its own golf course.
* * *
There is a correctional center in America for every man here at Angola prison: 5,300 and counting. Fifteen hundred are state or federal prisons, 3,000 are local jails, and the rest are a combination of juvenile centers and private detention centers. There are enough prisoners in the United States to fill every NFL football stadium at the same time, with 80,000 inmates left over.
The vast majority of these facilities will never be tourist attractions—America's prisons are warehouses for the production of premature death. Even the buildings are designed "to make punishment efficient as possible," geographer Ruth Wilson Gilmore has said. With the exception of a basketball game or a slow jog around the yard, their existence seems mutually exclusive with recreation or leisure pursuits of any kind.
Yet at Angola, the largest maximum-security prison in the country, more than 70,000 people a year pay to enter the gates for fun. Most go to see the Angola Prison Rodeo, where inmates have built a 10,000-seat stadium to house "The Wildest Show in the South" every Sunday in October and one weekend in April. Some go for the arts and crafts festival, where prisoners sell handmade items like birdhouses and matchstick replicas of space shuttles for as much as $500. I went to play golf. They sell a T-shirt in the nearby gift shop: "ANGOLA: A GATED COMMUNITY."
My journey to Angola began earlier this year, when I stumbled on a peculiar image while compiling satellite photos of every American prison, jail, and detention center for prisonmap.com. Next to the entrance to Louisiana State Penitentiary—one of the most notorious prisons in the country, the subject of songs and investigative reports and novels—was a Google Maps marker for "Prison View Golf Course."
Indeed, Prison View is a public golf course located inside prison walls—perhaps needless to say, the only course of its kind in America. The warden, Burl Cain, had the course built in 2001 to keep the guards around on weekends—"in case of an emergency," he told the Associated Press at the time. Operated by the Louisiana State Penitentiary Employee Recreation Committee, the course according to its website offers "a spectacular view of Louisiana's only maximum security prison." Ten bucks buys a round of golf for anyone who passes a background check.
* * *
Seen from above, the Louisiana State Penitentiary seems to sprawl endlessly. Much like America's broader archipelago of prisons, its total footprint is hard to fathom. At 18,000 acres, it is nearly as large as the island of Manhattan.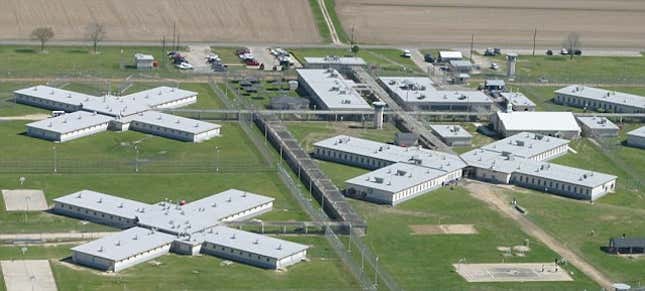 Isaac Franklin, one of the most prolific slave traders of the 19th century, bought the four plantations that now make up Angola—named after the homeland of the slaves who once worked its soil—in 1835. Four years after the 13th Amendment outlawed slavery "except as a punishment for crime," Franklin's widow leased the land to retired Confederate Major Samuel James, who swapped in a new labor force: inmates. From 1869 until 1901, James had a contract to lease every inmate in the Pelican State to private plantations, which made him one of the richest men in the South. Prisoners have worked the land ever since.
Angola never stopped resembling a plantation in other key ways. More than three-quarters of its inmates are black; as Robert Perkinson writes in his book Texas Tough, a history of America's prison system, "Nowhere else in turn-of-the-millennium America could one witness gangs of African American men filling cotton sacks under the watchful eyes of armed whites on horseback." Plantation prisons, he continues, "have preserved the lifeways of slavery in carceral amber."
That such a setting can become a site of public pleasure is a disturbing thought. But according to Peter Wagner, director of the Prison Policy Initiative, it's hardly a new concept. "Prisons used to be tourist attractions," he told me. "They were obscenely expensive and innovative things. When Charles Dickens came to the U.S. he wanted to see two things: Niagara Falls and Eastern State [Penitentiary]. That wasn't so weird a wish list."
* * *
The Prison View pro shop is a squat cinderblock building with wooden rocking chairs lined up neatly on a shaded porch. As I grab my clubs, a bald middle-aged man with a manicured mustache pulls up on a flat-back golf cart. He is wearing jeans and a thin, cream-colored vest that reads RODEO CAMP C.
"I'm Alphabet," he says. "We just cut the grass yesterday, so the greens might be a little fast. And we put down some fertilizer. That's why it's a little brown."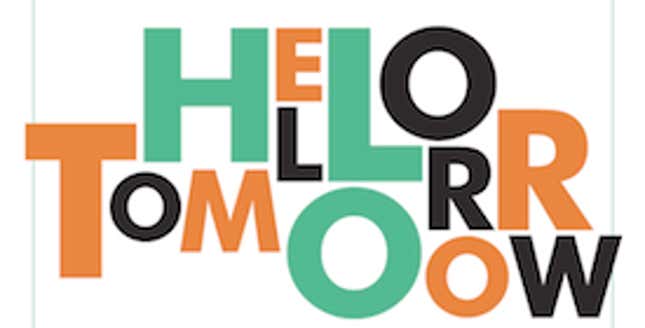 More From Tomorrow Magazine:
Alphabet is one of the original members of the 33-man team that built the course on a former bull pasture. The idea came from Warden Cain; the design from John Ory, the prison dentist, who told the Golf Channel that he taught himself how to create a golf course from scratch based on a book he picked up at Barnes & Noble, then recruited veteran prisoners with a history of good behavior. Alphabet, who is serving a life sentence for murdering his wife, has been the most dedicated groundskeeper ever since. His hours run from 6 a.m. to 2 p.m., but he often stays until 7.
"I was in the Marines," he says to explain his nickname, "and the first time the officer went to read my name he said, 'Your name has the whole alphabet in it!' So from then on I've been Alphabet." Turns out his name isn't actually that long—it's just Greek: Tsolainos.
Alphabet considers working on the golf course a privilege. Most of his fellow inmates toil in cotton, corn, or soybean fields while rifle-toting guards loom above them on horseback. The field workers are paid as little as 4 cents an hour, while Alphabet and the other golf course workers earn five times that. "I'd rather be out here than the alternative—trust me," he says.
Cain says working the course provides other benefits, too. "There's not any corn or cotton to pick in New Orleans," he told Golf magazine. "But if we train inmates in landscape architecture and maintenance of greens, they would be employable in that field."
That's a big would. More than 75 percent of the 5,400 prisoners at Angola, including Alphabet, are serving life sentences or are on death row. The average sentence for the other 1,000 is 93 years. It is unlikely that any of the 10 men who care for Prison View's greens will ever set foot outside Angola, Louisiana—let alone on another golf course. Golf has an ethos of mulliganism: Your ball landed out of bounds? Go ahead, hit another. For Alphabet and his fellow inmates at Angola, though, second chances rarely exist.
That contradiction highlights the increasingly hypocritical logic of American prisons as correctional facilities, particularly in states like Louisiana, where harsh sentencing laws have created a skyrocketing population of lifers and the highest incarceration rate in the world. According to Gilmore, the main difference between a state prison in the 19th century and one in the 21st is communicated by the middle term in the phrase "prison industrial complex." "The idea of 'correction' is out the window," she has said. "All that's left is punishment."
* * *
I strap my clubs to the back of a golf cart and walk inside the combination pro shop-snack bar. Pam, who recently moved from Michigan with her family for a job at Angola, is chatting with a man at the register. She has a sweet smile and reminds me of my mother.
Behind her, two inmates dressed in white are frying catfish. One of them has a tattoo under his eye and glances at the Olympics blaring from the television in the corner. I pay $20 for my fee and a golf cart and make my way back into the heat. Aside from the threesome already on the course, it's just me and the open fairway.
My drive soars off to the right. "The Farm," another of Angola's nicknames, stretches beyond the horizon in all directions. In the distance, I can see the outlines of the rodeo stadium, where five times a year prisoners become a public spectacle for the surrounding community. By riding a bull for the first time or surviving a round of "convict poker" (four men sit at a table; the last man sitting after a bull is released wins), inmates bring in money that constitutes an integral part of the prison economy. The golf course was funded primarily by rodeo concession sales, and because of its captive workforce, it cost just $80,000 to construct.
I cruise down the cart path toward the guard towers in the distance. I realize I still have my iPhone in my pocket. Cameras are defined as "contraband" at the Louisiana State Penitentiary, but no one said anything about cell phones. I sneak a couple photos, hoping to document the view Cain is trying to sell.
I notice a man plodding down the edge of the lake in my direction, dressed wearing the same uniform as Alphabet. "You're talking to the oldest guy out here," says Jim Forrest, stopping to chat on his way by. "I'll be 73 on Wednesday. Been here 36 years—that's half my life." A gloss of sweat hangs on his face.
"That there is Camp J," he says, pointing toward the guard towers. "The punishment unit. Most of us trusties come from Camp C, about 5 miles past the other side of that lake." He bends down to adjust his galoshes.
The prison is organized into six compounds, and everyone will tell you there's a hierarchy built in. At the top are the "trusties"—or the "felon aristocracy," as ESPN once called them—the 1,000 inmates afforded special assignments like golf course and roadside maintenance work after serving more than 10 years with good behavior marks throughout. The trusty system started at the Mississippi State Penitentiary, and, as historian David Oshinsky wrote in his 1997 book Worse Than Slavery, is rooted in the role of plantation slave drivers. "Trusty-shooters," as they were called, "watched over the regular convicts (known as gunmen, because they toiled under the guns of the trusties). Comprising about 20 percent of the prison population, the trusty-shooters lived apart from the gunmen, wore vertical stripes instead of horizontal ones, and carried .30-.30 Winchesters on the job." While trusties no longer carry guns, they still make up about 30 percent of the prison population—and in some cases they are still housed separately from regular inmates.
"I'm pretty sure 'trustee' with an 'e' is the kind that looks after your money. So we're 'trusty' with a 'y,' " Forrest says with a chuckle.
***
Moving through the course brings golfers closer to the most arresting element of the prison view: Camp J, the prison's disciplinary unit. The sixth hole brings the big reveal. At first, all you can see are circles upon circles of razor wire. Then several layers of chain-link fence. Beyond that, a nondescript building, home to Angola's highest-security prisoners.
Camp J houses the solitary confinement unit, known as "the hole," "the dungeon," or "extended lockdown," the official title. It is where Herman Wallace and Albert Woodfox—better known as two-thirds of the Angola Three, who were wrongfully accused of killing a guard after successfully organizing the first prison chapter of the Black Panthers—have been kept in solitary confinement for the last 40 years. In 1951, 31 inmates cut their Achilles tendons to protest the conditions of solitary confinement at Angola. Since then, the unit has been renamed, and more secure "offender recreation pens" have been constructed.
As I approach the green, I notice that the guard towers are empty. During a budget shortfall last year, Cain laid off 105 of his 1,200 guards and began breeding wolf dogs to patrol the camp's perimeter instead. I don't see any dogs, but as my cart pulls closer, the sound of cicadas and birds is drowned out by the buzz of table saws.
I see an outline of a man next to a wooden rocking chair: People are making furniture. The drone of Christian rock music surges over the din of heavy machinery. Flat buildings with small windows have "GAR-2" and "GAR-3," the names of cellblocks, printed on the sides. I look over and see Alphabet tending to the next hole, trimming weeds from an overgrown sand trap. Except for the golfers, everyone at Angola is working.
* * *
I sink my putt on the ninth hole and head back to the pro shop.
"How'd you shoot?" Jim asks.
"Not great," I reply. I think he can tell I'm not much of a golfer. I've sweated entirely through my shirt. I walk inside and order a catfish po'boy. Lewis, one of the guys in white, brings it out within minutes. The sandwich is divine: moist and delicately assembled. The snack shop experience feels like that at thousands of other gated-community golf courses across the country, until a glance at Lewis reminds me he will never leave Angola.
Seeing inmates up close is part of the appeal of prison tourism. Mary Rachel Gould, a communications professor at St. Louis University who has studied the Angola rodeo through the lens of performance studies, says some Americans have always longed to see what life is like beyond the razor wire—which "reinforces the power inherent in the position of 'free' non-incarcerated citizens." What could make a person feel freer than playing golf next to "a spectacular view of Louisiana's only maximum security prison"?
"It's a bit of a culture shock at first," Pam says, "but after a while you get used to it."
Josh Begley is a web artist studying Interactive Telecommunications at NYU. Follow him on Twitter @joshbegley. Image by Jim Cooke.