This afternoon, we'll see Manchester United play Liverpool in the English League Cup. Cool. After all, Liverpool upset United, 1-0, just 24 days ago in the Premier League. Just three days ago, Manchester City styled on the Red Devils in a 4-1 victory, and now people are asking questions of the defending Premier League champions. So, sure, there are plenty of semi-important underlying plotlines and implications, even though the League Cup is and should be seen as little more than a glorified scrimmage tournament for the country's elite clubs with Champions League ambitions. But really, we're just fooling ourselves. Today's match is about one thing: the return of Luis Suárez.
That's right, bitches. Suárez, Liverpool's standout striker and overall best player, is back after a really, really wild five months. First, he received a 10-match ban for biting Chelsea's Branislav Ivanović. Then he said something like, "Fuck this country and fuck this country's toxic, lying media; I'm out," before lobbying to move to a continental team. Then Arsenal came calling, and Suárez flirted with them for most of the offseason transfer window. And then £40,000,000 and a pound happened and everything that came with it, and then Liverpool manager Brendan Rodgers said something like, "Fuck Arsenal." Now, on September 25, Suárez is making his first appearance for the Reds.
Liverpool fans, whether they forgive Suárez for his part in the summer sagas or not, should rejoice. After what looked like an active but questionable transfer window, Liverpool got off to a better start than anyone could've hoped for this season without their leading scorer, winning their first three matches of the Premier League campaign without conceding a goal. Obviously their defense improved from the previous season, but more people instead raved about Liverpool's supposed fill-in striker, Daniel Sturridge, who has looked wholly unstoppable since last season, and Brazilian playmaker Philippe Coutinho, who is pulling the strings in a much-improved Liverpool attack.
But then Coutinho injured his shoulder nine days ago midway through a match away to Swansea. Liverpool drew. Turned out Coutinho needed surgery, so he missed Saturday's match at home to Southampton. Liverpool lost. Every team loses—in fact, every team outside of Everton has already lost in the Premier League—but Liverpool lost because they were unable to break Southampton down and seemed to lack many ideas coming forward. With Coutinho out for a while, Liverpool are desperate for a dynamic, creative player to score and create for those around him. Good thing they had a Suárez lying around.
G/O Media may get a commission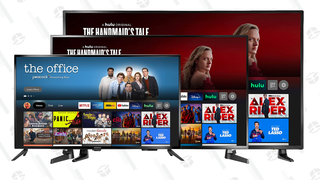 Up to 44% off
Prime Early Access - Insignia Fire TVs
Despite ourselves, we can't help but to like Suárez. There's something very punk rock about the racist, heathen prick. And though Liverpool supporters love to bring up Ewing Theory-type stuff whenever anyone mentions Suárez being the squad's best player (with reason, maybe?), there's not a single Liverpool supporter who would argue that the Reds are better off without him, even with his antics. And that's because the guy is a world-class talent.
Last year, Suárez was one of the top three or four players in the Premier League. He's laughably wasteful with his chances, but still managed 23 goals and five assists last campaign, a better tally than Premier League Player of the Year Gareth Bale.
Suárez is special, transcendent in a way that few players in the sport are. The goal of every forward, most midfielders, and these days, many outside backs is to cause havoc for opposing defenses. But for most players, causing havoc is merely an outcome of playing well. For some players, like Lionel Messi, Cristiano Ronaldo, Marco Reus, Mesut Özil, and Suárez, causing havoc is their game. They're so good that they always create chances, always create trouble for opposing back lines. The question is how many, and how many their team will convert.
Along with being extremely talented, Suárez is frighteningly dogged on both sides of the ball, and can score from anywhere. He alone breaks through in almost every match, which is why Rodgers and Liverpool owner, John W. Henry, fought so hard to keep the player, even when he wanted to go. It's also why Liverpool legend Robbie Fowler's recent veiled threat, "I don't think he'll get many more chances but I don't think he will be doing anything remotely as silly as he has," sounds hollow as shit.
Liverpool have more or less been playing out of their minds since like March, and they've impressed at times even without Suárez. But even though certain players are flourishing in his absence, the only question regarding Liverpool has always been how those players will fit in when Suárez comes back. Today against Manchester United, we'll finally see.
Photo Credit: Getty Images