We can all agree that the big takeaway from the pre-contract José Mourinho has reportedly signed with Manchester United is the simple fact that, after a few months on the sidelines, no doubt stewing over the calamity that was his final season at Chelsea, our man Mourinho will almost certainly be back in his natural habitat of the Premier League sooner than later. However, we shouldn't overlook the strange terms included in the reported contract, since they imply that something is very rotten in Manchester.
Here is the Guardian translating the El País report that outlines the specific contractual language:
"If United do not sign the final contract [with Mourinho] before 1 May, they must pay £5m; if by 1 June he's still not signed, they shall pay another £10m," read the report. "May is the key, because it's the month in which the vast majority of the signings of players are closed and the plans formed."
Now, what the hell does this mean? Why would United bake in such punitive terms in the contract, especially when you'd imagine that, as one of the few super-elite clubs in the world, and seemingly Mourinho's only realistic option to manage another super-elite club—after what he said about Manuel Pellegrini's post-Real Madrid job, there's no way Mou could move to his own personal Málaga—not to mention his longstanding, tear-soaked desire to succeed Alex Ferguson, the Red Devils would have all the leverage in these negotiations.
And yet, as the Guardian later hints at, things in Manchester are more fraught than they appear:
El País claim that the clause has been included because senior figures at Old Trafford, including Sir Alex Ferguson and Sir Bobby Charlton, are not entirely convinced that Mourinho is the right man to succeed Louis van Gaal. The report also states that Real Madrid are also interested in hiring him to replace Zinedine Zidane but Mourinho would prefer to move to United.
G/O Media may get a commission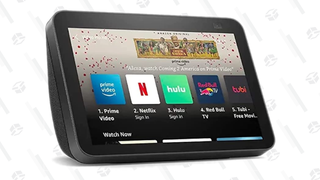 This is the best evidence we've seen so far to legitimize the backroom power struggle theory we speculated on and laughed at last month. There really is, by all appearances, significant discord between the soccer people at United, headlined by Fergie and Bobby Charlton, and the money men, led by Ed Woodward. So not only do the two sides still disagree on Mourinho's fit with the club at this late a stage, but someone—presumably Woodward—was either so worried about the threat of losing Mourinho to Real Madrid or so unconcerned with reaching a consensus with the Fergie and Charlton faction that he unilaterally signed Mourinho to a pre-contract; and not only that, Woodward then added a couple clauses to the agreement that would basically hamstring his opponents in the boardroom, ensuring that if Woodward was overruled on his choice of manager, it would cost United an outrageous £15 million for no good reason.
This, you can see, is a farce through and through. Any hopes of an eventual reconciliation between Woodward and Sir Alex now seem predicated on Fergie signing off on Mourinho's hiring. However, Sir Alex has to feel like he's been backed into a corner here, and if we know anything about Alex Ferguson, it's that he's not exactly the type to shy away from confrontation. A more likely scenario is that the two groups continue to battle over the power to name Louis van Gaal's successor, with either side winning or losing significant hand depending on the outcome.
And don't expect it to stop there; unless one side leaves the club entirely, this in-fighting will continue on into the next manager's tenure, threatening to further hinder the team's attempt to slog their way out of the post-Ferguson quagmire. Not to mention what a genial and deferential personality like Mourinho's will add to the mix.
Basically, while Mourinho-to-United has appeared a foregone conclusion for months now and is arguably a sound decision in a vacuum, the closer we come to realizing this inevitability the clearer the picture of turmoil and backbiting at Old Trafford becomes. Which is to say, we can't wait to see where it all goes from here.
[Guardian]
Photo via AP