The writers at Deadspin asked their moms and dads what they thought of the site in 2015. Here are their unedited responses.
Ley's Mom:
I thought the growth of the website last year was fairly significant – it was much more so this year! Frequently seeing and hearing news and other media outlets cite to Deadspin's stories and postings attests to the credibility you all have built up over the last few years. I am not sure the established media actually respects Deadspin, in fact they probably resent you all – but they do now acknowledge the site on a regular basis as a source for stories they cover. You guys often get there first – that makes me proud!
Drew's Mom:
They did a fabulous job.
Drew's Dad:
Better than a Georges Duboeuf vintage. I'm in as long as they take care of my boy.
G/O Media may get a commission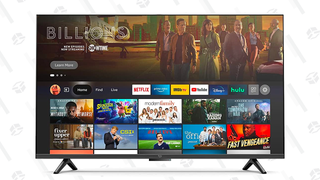 22% off
Amazon Fire TV - 50" Omni Series 4K - Early Access Deal
Leslie's Mom:

What I think of Deadspin?

I am engaged by the human interest articles on Adequate Man
Burke's Dad:
Deadspin in 2015 continued to awe and amaze me. From the writers to the video guys to your loyal readers/commenters it was certainly an interesting and entertaining year. I can't really think of one highlight, because it seems that every day I say to my wife, "Honey, you gotta see what's on Deadspin today." Well-done and good luck for 2016.
Harvilla's Mom:

Hey Rob!

Here's my response to your question:

"What did I think of Deadspin this year? Oh, I'm sorry, I don't have much time for TV."

Hope your sense of humor is still intact!

Dad's response is coming your way soon!

Love you!
Harvilla's Dad:
Deadspin has been my primary source of sports news in 2015. I learned so much, but can you please stop reporting about Johnny Manziel. Is it not depressing enough to be a Browns fan?
Patrick's Dad:
While Deadspin often seems like much ado about sporting, I love the irreverent tone and muckraking tilt.
Diana's Mom:
Good choice of topics. They always end up on national news. I would like to see some of the website redesigned. For example a print icon to make articles easy to print and a search box when trying to search for your articles. As always great job by you.
Diana's Dad:
Their up there !!!!
Samer's Dad:

Deadspin is my quick and instant tool to glance at sports news. I like you write of sports news, and don't care for gossip published. There is room to improve political news reporting. I was a fan of the Patriots till recently, when I read Tom Brady "supports his friends"! The truth is he lacks the courage to stand for what is right. I would like to suggest that "he and his friend Donald could go to hell, as far as I am concerned"!
Draper's Mom:
Beth Custer, Beth Orton, one plays clarinet and the other writes. Charles Bukowski and William Burroughs, I remember Bram explained the difference between them, but now I forget. And I just learned that some people confuse Thomas McGuane and Norman Maclean, although I can't really think who either of them is. I'm turning into my father who always called the Poison Cookie Hole, the Purple Onion, when I was too young to have any idea what or where the Purple Onion was. Oh wait, this isn't about me, this is about Deadspin and what I thought about it this year. Really, I don't know anything about sports, although Kevin tells me Deadspin does have some stuff that isn't sports, and I think that means he also reviews Trader Joe's food.

I googled the hell out of Deadspin and I still can't figure out where they got the name, and really isn't it the same as Deadball, Miscaster, Offscore, Offjock, Spinstop, and Tronball, whatever any of that is? I do know that Draymond is our family's favorite player; this surprises me, because the one time I passed the TV and they forcibly pointed him out to me, he looked much too young to have been called "Draymond the Dream" by David Letterman 20 years ago. I think Deadspin would benefit by having more stories explaining that type of thing. Also, Deadspin needs more adorable cat pictures.
Photo: Keystone View/FPG/Getty Images