As most of you have probably already seen this morning, Knicks forward Antonio Davis ran into the stands last night in Chicago to "protect his wife from an intoxicated fan." Davis said, "I saw him touch her, and I know I should not have acted the way I did, but I would have felt terrible if I didn't react. I felt I had to act."
Davis didn't throw any punches and, other than the television-gold money shot of Davis standing on the scorer's table, nothing really happened. And for an even more in-depth report on nothing happening, a Deadspin reader happened to be sitting a few rows behind Davis' wife and files the following report:
Just got back from the Bulls game. Was sitting around antonio davis' wife. A fan behind her was taunting Antonio Davis during the game, and his wife took offense. She asked the man to stop, Antonio's kids were at the game, etc. The fan said he has a right to say whatever he wants. At this point some security comes over, and another fan stands up to tell the wife to "Sit down and shut up." She immediatly walked over to him and started pointing in his face, which caused the fan to grab her finger. It was at this point Antonio Davis jumped the scorers' table and went up to the fan. There was no confrontation, he barely even looked at the fan. He merely made sure his wife was OK, and the situation was handled with security.
We kinda think this is pretty much the end of the story. Davis went in the stands, which requires an ejection, and he got one. He didn't start wildly punching people; he just went to check on his wife. This is a guy who watches college basketball games with his mother-in-law. This is no Ron Artest (or Stephen Jackson, for that matter.)
Antonio Davis Goes Into The Stands To Confront Fan [Sports Assassin]
Antonio Davis Is A Good Man [The Airing Of Grievances]
G/O Media may get a commission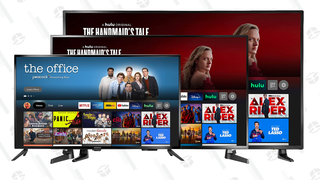 Up to 44% off
Prime Early Access - Insignia Fire TVs
(Note: Our favorite part of this has to be the two jackasses waving their arms for the camera when they realize Davis is behind them. Yes, yes: You're on The TV. Good for you. We have a feeling they used the "we were just on The TV!" pickup line at United Center area bars until about 2 a.m. this morning. Then it was time to give up and go home.)