The AP reports that Dwyane Wade has agreed to a one-year, $20 million contract. What the hell?
Outwardly, both Wade and the Heat are calling the deal a win-win. It gives the Heat some salary cap flexibility for next season, and Wade a pay raise from the $16.1 million he was due to make this season. But on the terms of the negotiations as they played out, it seems like Wade took a clobbering.
Ramona Shelburne reiterated on SportsCenter that Wade was looking for a long-term deal after opting out, something in the range of $45 million for three years, but the multi-year deals the Heat offered capped out around $10 million per season. From there, the deal makes a little more sense: if Wade makes $20 million this coming season, he has three years (if he has three years left in his knees) to out-earn the other half of a four-year, $40 million contract. Surely Wade can command at least $6.3 million per year; that's basically a mid-level deal. But an extra year of wear on an already beaten-up shooting guard means even that is a risk.
Wade is in a tricky place. He's still productive when he plays, but because he's 33 and sat out 20 and 28 games the past two seasons, he really can't be paid like a top-10 player for much longer. This puts him in exactly the opposite position as the other big-time free agent signing one-year deals, LeBron James.
James signed a one-year, $20.6 million deal last year, and he'll likely sign another for $22 million this year, then sign a long-term one under the new, giant salary cap in 2016. But they aren't straight one-year deals; they're actually two-year contracts with an opt-out after the first season. This lets LeBron operate from year-to-year, but puts an extra year of salary in his back pocket in case he suffers catastrophic injury. But if the Cavs could sign James to a five-year deal tomorrow for the very most money they could throw at him, they obviously would. The 1+1 structure is a part of the broader pile of money Cleveland is anxious to throw at him.
G/O Media may get a commission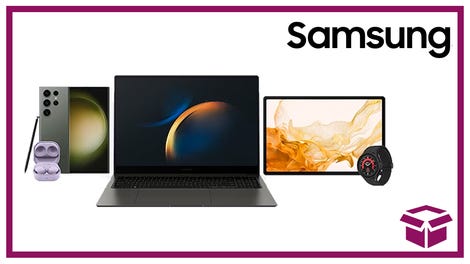 24 hour deals
Discover Samsung - Daily Deal
Wade's relationship with the Heat is the flipside of that. He's left money on the table over the course of his career—$25 million since 2010, by one accounting—but the Heat obviously aren't going out of their way to make good right now. Sure, a 1+1 would be ideal for Wade if he's looking to take a one-year deal to get to the new cap, but that's a two-year, $40 million contract if Wade opts in—basically what the Heat were offering for twice as many years. (It would also add the possibility that Wade and the team don't agree on a longer-term deal next summer and he simply opts in, eating up the 2016 salary cap space the Heat have been hoarding.) Because the real incentive for a "1" for Wade is frontloading, and because the NBA limits decreases in pay the same as increases (7.5 percent of the first year of the deal, meaning the lowest a second-year salary could go would be $18.5 million), a 1+1 doesn't work. Either it would be way more two-year money than the Heat are trying to allot to a sexagenarian, or the first year of the deal would drop low enough that a short-term deal wouldn't make sense.
So what happened here is Dwyane took a very big risk by going into a one-year deal with no cover fire, and had to precisely because the Heat think he's too risky over that year to commit to the next.
Photo via AP