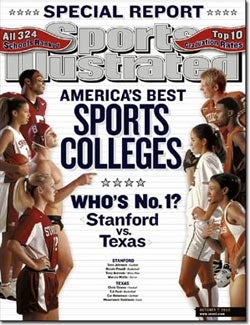 If you haven't read Sports Illustrated lately, well, never fear: Slate's Josh Levin has taken care of that for you. And it didn't take him very long. Those of us who remember curling up with an SI for a good hour-plus of intelligent reading probably don't even recognize the magazine anymore; instead, they're more concerned with informing us whether Jason Isringhausen believe the kids should be with Britney or K-Fed. What happened?
Levin blames the influence of ESPN: The Magazine, which is probably true, which is depressing, if you've ever tried to make it through an issue of ESPN: The Magazine. (Mostly.)
Sports Illustrated is allowing market research to masquerade as editorial judgment. Perhaps it's effective from a business standpoint—the mag has maintained its huge circulation lead over ESPN the Magazine, and a recent industry survey showed an increase of 14 percent in readers between ages 18 and 24 the last two years—but it's making the magazine an inferior product.
We can't think of a more damning critique of SI in recent years than to say that it saw ESPN: The Magazine and thought, "Jeez ... look at those guys! We have to get hip like those guys!"