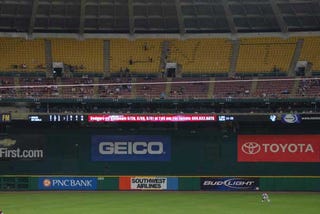 Last night, at RFK Stadium in DC, the Washington Nationals hosted the Atlanta Braves in a game that counted an official total of 21,258 fans. (To which we say: Yeah, right.) With the upper deck almost entirely empty — we know how this goes — one dastardly fan decided to try to construct a word out of empty seats.
At first, our spy at the game tells us, it appeared he was trying to make a big "VT," an inspiring gesture on a grand scale. But that's not the word he was going for: He was going for the world famous "C-Word."
He made it, but ushers shut him down quickly thereafter. Pity.