The love triangle—or possible misunderstanding—involving NFL free-agent running back Brennan Clay, his wife Gina D'Agostini, and Cowboys halfback DeMarco "Spray Tan" Murray has played out slowly since the end of November, offering enough twists and turns to confuse even those who know the involved parties personally. In the interest of helping you keep track, we've tried to pull everything together in a timeline. The most important thing we learned? Brennan Clay needs to delete all his social media accounts and then throw his phone in the nearest body of water.
Jokic? Embiid? The NBA MVP is obvious... right? | Keep it a Buck(et)
Oct. 7
The Chargers, looking for a running back, work out Brennan Clay, Cierre Wood, and Ronnie Brown. The team signs Brown.
Nov. 18
Clay shares an article about cheating and relationships to his Facebook.
G/O Media may get a commission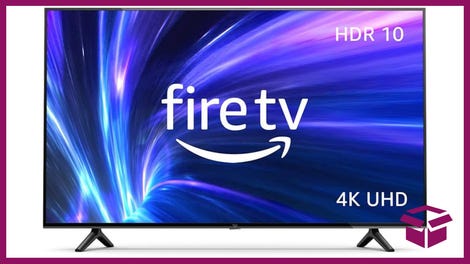 42% Off
Amazon Fire TV 50" 4K Smart TV
An excerpt:
Sure, sex is cheating, and maybe the most hurtful cause, but have you ever stopped to think that you're being cheated out of your relationship everyday? Lack of communication, attention, passion, intimacy — even lack of love. Why are we OK with this, and all the communication shortcuts that have become so common?
Nov. 28
According to D'Agostini's divorce filing—more on that in a second—she and Clay separate. The official wording is that they "ceased to live together as husband and wife on or about" that date.
Nov. 29
Clay apologizes for a now-deleted post on Facebook—we don't know what was said—and says he's going to travel to Oklahoma.
Nov. 30
Clay goes on Twitter to accuse D'Agostini of having an affair with Murray, his former teammate at Oklahoma.
Dec. 1
Clay tells TMZ that he's filing for divorce. (There is no record of this filing in Dallas County Family District Court.) He also says he found D'Agostini's old phone with more than 50 inappropriate texts and photos between Murray and D'Agostini.
Dec. 4
Clay goes on Twitter, again, to post a few alleged sexts between D'Agostini and Murray. He claims that the conversation is from Oct. 5, the day he took a flight to San Diego for his Chargers workout on Oct. 7. In it, the phone's owner talks about no longer having a "roomate [sic]," because "the Chargers called." The other person in the conversation is listed under "Spray Tan," and has a 702 area code, which is assigned to Las Vegas. Murray is from Las Vegas.
Dec. 6
Clay attends the Oklahoma State-Oklahoma football game and takes a photo, mentioning that he has "much less baggage" this time.
Dec. 11
D'Agostini files for divorce in Dallas County Family District Court. The grounds are "discord or conflict of personalities between [D'Agostini] and [Clay] that destroys the legitimate ends of the marriage relationship and prevents any reasonable expectation of reconciliation." Note that D'Agostini initiated the divorce, directly conflicting with what Clay told TMZ.
Dec. 21
Clay tweets this.
Dec. 23
Clay tweets an undated photo of D'Agostini and himself doing ... something. In the tweet, he apologizes and talks about not having all the facts.
So here we are, with a strange photo of the (possibly) happy couple (possibly) taken by a mysterious third party, (possibly) ongoing divorce proceedings, and a whole lot of evidence that you should (definitely) never use Twitter or Facebook.
A happyish ending, but for one last mystery: a source who claims to be close to Murray—we know, we know—insists that this was all a misunderstanding. In his telling, the Cowboys back and D'Agostini had their fling before she was ever with Clay, and the phone Clay found was very old. That doesn't explain why "Spray Tan" and the phone's owner were talking about a man getting a call from the Chargers, but if Clay ever finds out, we can be sure he'll put it on the Internet for everyone to read.
Photo: AP