I love that you love your cats, but your cats hate you.
Jaya Saxena and Jess Zimmerman, co-authors of the book Basic Witches, joined me to talk all about your cats. We also have a first for the Cleancast: a giveaway! One listener will win a copy of Basic Witches and a tote bag, courtesy of Quirk Books. To enter the contest, email, tweet or comment here and tell us what you would sage. Don't say the White House! Get more creative with your answers. Jaya, Jess and I will coven up and pick a winner on Sept. 5.
Here's what Jaya, Jess and I covered in my 84th episode:
Removing cat (and dog!) hair on furniture, clothes, bedlinens, etc.;
How to clean pet dander from furniture to reduce the presence of allergens;
Tips for reducing shedding and hairballs in the first place;
Eliminating the cat pee smell from a vacuum cleaner and other items that can't be cleaned with liquid products;
A listener tip on the method she SWEARS by for removing cat pee smells and stains from carpeting and upholstery;
What to do about a snotty cat (a mucus-y cat, not one with an attitude problem).
As promised, here's the "recipe" for removing the cat pee.
And here's that Reddit AMA with the vacuum repair man.
G/O Media may get a commission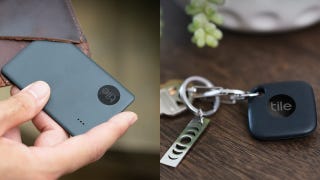 Up to 35% off
Tile Item Trackers
Over in the bonus episode, we're talking about the eclipse, Grudge Cubes, and how I organize my enemies list, because of course my enemies list is organized.
You can subscribe to Ask a Clean Person: The Podcast in Acast, iTunes, PlayerFM, Stitcher and all the other places you'd expect to find podcasts. For bonus episodes and all sorts of other cool rewards, head over to Patreon to help underwrite my show. Got Qs for the pod? Email Jolie with the subject line CLEANCAST.