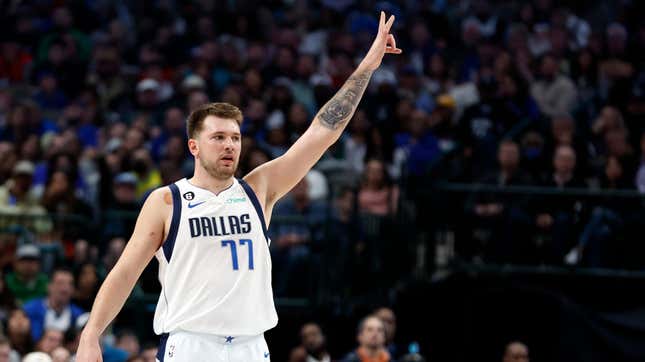 Wednesday was a relatively slow offensive night for the NBA. Kevin Durant was the league's best performer and all he could manage was a season-high 44 points on 68.1/50/100 shooting splits, five assists, and four rebounds. With the way that NBA players have been lighting up the scoreboards, especially since Christmas, his performance last night will be largely forgotten before the start of the NBA on TNT's first Thursday night broadcast of the season.

Is 60 > 71? Debating Luka Dončić and Donovan Mitchell's record breaking games
On Dec. 27, Luka Dončić recorded arguably the greatest statistical triple-double of all time with 61 points, 20 rebounds, and 10 assists. LeBron James turned 38 years old on Dec. 30, and that evening he tallied 47 points, 10 rebounds, and nine assists. On Monday, Klay Thompson scored 54 points, and the following day, Giannis Antetokounmpo scored a career-high 55 points while also tallying 10 rebounds and seven assists. It was his third-consecutive game scoring 40-plus points.
Damn, I almost forgot that DeMar DeRozan scored 44 points on Monday. However, I do have a good reason. That same game the Cleveland Cavaliers defeated the Chicago Bulls in overtime — 145-134 — and Donovan Mitchell scored 71 points on 64.7/46.7/80 shooting splits while also dishing out 11 assists.
While the 2022-23 NBA individual offensive explosion has peaked over the last eight days, the pyrotechnics have been visible all season, with 88 players scoring 40-plus points. A player scoring 40 points is worthy of consuming all local media attention for 24 hours. A 50-point night might be remembered for decades. This individual scoring spree, punctuated by the last few days, has people who pay attention to the NBA wondering why this season.

The best explanation that I have heard comes from @statcenter, who tweeted out that 19 players are attempting more than four pull-up 3-pointers per game compared to only four players five years ago.

Of course, an outstanding NBA perimeter player, who can pull up from three at any moment during the shot clock, has the opposing defense at his mercy. It's why, prior to the turn of this decade, James Harden was putting up some of the greatest statistics ever seen from a guard who wasn't Michael Jordan with hair.

Still, that doesn't account for Antetokounmpo imposing his will on defenses who know that his jump shot is the weakest part of his game, or DeRozan scorching the Nets with contested mid-range jumpers in the fourth quarter of the Bulls' 121-112 victory on Wednesday, when the opposition knows that he struggles from the most efficient place to shoot — the 3-point line.

Personally, I don't need an explanation.

Antetokounmpo was phenomenal on Tuesday and DeRozan was great on Wednesday in the fourth quarter, just like Anthony Edwards was in the Minnesota Timberwolves win and Dejounte Murray was during the Atlanta Hawks victory against the Sacramento Kings.

DeRozan, Edwards, and Murray didn't put up 50, but they dominated when it mattered most. They couldn't be stopped as they were the game's top fourth-quarter scorers while their teams recorded wins. The plays that they made were just as impressive as the ones from the superstars who recently dominated the stat sheets.

So while this season, just like other recent ones, the NBA is going to set record highs in several offensive metrics, don't complain about the era that shuns hard fouls and allows zone defense. Just enjoy the show. Antetokounmpo continuously asserting himself as an immovable object, Mitchell darting past defenders like they're cones in a conditioning drill, James fighting age like it tried to punk him in a school hallway, and Edwards using his youthful athleticism to squeeze out a victory for a poorly constructed team.

There's nothing wrong with being curious about why these offenses are humming like six-figure automobiles, just be sure to take some time to enjoy the show.