It's not a hard and fast rule, but you can usually tell just how selfish and stupid a pitcher's decision to throw at a batter is by looking at his catcher. Go back to yesterday's boxing match between Bryce Harper and Hunter Strickland, and notice how Buster Posey had no desire to step out from behind the plate and protect his pitcher.

Posey explained himself after the game, and wasn't apologetic. "Those are some big guys tumbling around on the ground... it'll be a little dangerous to get in there sometimes," he said. You don't have to strain too hard to read between the lines: I wasn't about to get hurt over that big idiot's beef.
And what exactly was Strickland's beef, anyway? As far as anyone can tell, he was mad about the fact that Harper rocked his shit two times during the 2014 NLDS. In case you have forgotten, Harper really lit him up in Game 1:
And Game 4:
It's been almost three years since Bryce bashed those homers, and Strickland hasn't faced him since, hence the assumption that yesterday was about Strickland exacting revenge for... what exactly? Being exposed as a subpar relief pitcher?
G/O Media may get a commission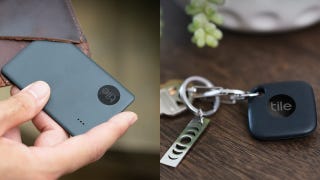 Up to 35% off
Tile Item Trackers
After the game, Strickland wouldn't admit that the pitch was intentional, but he did allude to the 2014 dingers when he was asked what his intentions were:
"To go inside," Strickland said. "Obviously, I've left the ball over the plate a couple times to him, and he's taken advantage of that. Mostly to go inside, and obviously I got it in a little bit too far." Strickland didn't go so far as to say the pitch was completely accidental, and brushed off the idea that maybe he should apologize to Harper.
So, yes, it sure looks like Hunter Strickland threw a 98 mph fastball at Bryce Harper because Harper took him deep nearly three years ago. That is, to steal a piece of a line, clown shit.
Red-assed scrubs like Strickland will always be free to fire baseballs at far superior players and bait them into brawls with little consequence—who is going to miss Hunter Strickland for five games?—and one thing that prevents this from happening more often is a scrub's sense of shame. Strickland doesn't have one, apparently.