Hey, I'm some lady. I'm filling in for that guy you like, who is on vacation, which means that he is most likely drinking rum out of a hollow fruit and riding a horse on a beach somewhere right now (romantic!). Speaking of segueing into talking about horses, my main beef with horses is how fragile they are. I've been watching a lot of Animal Cops: Houston lately, and what I've learned is that literally anything is a great reason to shoot a horse in the head. Oh, my horse fell down. It will never recover. Shoot it in the head. Oh, my horse is really hungry and it has a rash. Shoot it in the head. Oh, my horse got mud on it. Shoot it in the head. Great idea, humans-choose that fancy ladyboy animal made of spun sugar and cobwebs to do our strenuous physical labor. Horses. Jesus Christ. What a bullshit animal.
To the letters!
PE9:
How did Drew Magary trick you into doing the Funbag?
Oh, man. This is a great story. Back in '82, Drew Magary was working as coat boy at the Sixth Avenue Inn in downtown Seattle. My dad was playing the piano in the bar and my mom came in for a drink with her sister. Drew Magary saw something there between the handsome piano player and the fetching young nurse-a lingering glance, a whispered aside, a blush-and decided to do something about it. Play cupid, if you will. During a break between sets, Drew Magary (that scamp!) chloroformed my dad in the coatroom and stole some of his sperm. As coat boy, he had easy access to my mom's jacket pocket, and it was a snap for him to slip a little liquid surprise in there for her to find when she got home. Yadda yadda yadda, squirt squirt squirt, one thing led to another, and nine months later I was born! When I was growing up, Drew Magary regularly hung around outside my middle school to let me know that I was fat and that I had a harelip and no one would ever love me. A lonely, friendless child, I had no choice but to take comfort in books about wizards and develop a weird, bitter, alienating sense of humor. Finally, after Drew Magary paid my college tuition and helped me lose my virginity (to take the edge off that bitterness, you know), I emerged into the world fully formed: a professional writer! A few months ago, I asked Drew Magary to take care of my hamster for a week while I went to adult fat camp. While I was gone, he "accidentally" flushed it down the toilet and replaced it with a nearly identical new hamster. Like I couldn't tell the difference! When I got back (3 and a half pounds lighter, thank you very much!), I confronted Drew Magary about what was obviously not my hamster. He just stood there, swaying and staring at me with his beady little eyes. Suddenly I realized that it wasn't Drew Magary at all, it was a giant pile of hamsters wearing a long coat! The real Drew Magary came out from behind a curtain and laughed. "I will fucking kill all of these hamsters one by one with my bare hands," he said, grabbing me by the throat, "if you don't fill in for me when I go on fucking vacation." How could I say no? Oh, that Drew Magary. Classic long con.
No, actually he just e-mailed me and I said yes. NEXT!!!
My friend Aditi:
YOU ARE TAKING OVER THE DEADSPIN FUNBAG?!?!?!
Bro. That is not something I should be reading on Deadspin.
G/O Media may get a commission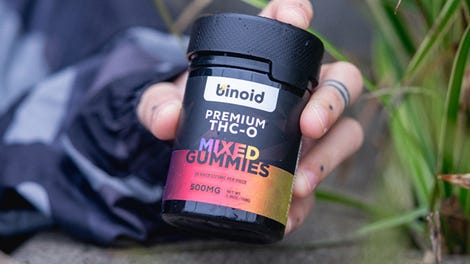 25% Off + Free Shipping
Binoid THC-O Gummies
Don't worry, man. Did you read that last thing I wrote? About the hamsters and the sperm? That was fucking weird. I'm not certain that I'll even be employed through the rest of this Funbag I'm currently writing. Definitely not taking over anything.
Brendan:
Is talking into a banana like it's a phone ever NOT funny?
No. Obviously. Stupid question. Banana phone is the funniest thing of all things. Try again.
Brendan (again):
What three historical figures would you like to speak with on a banana phone? I'd want to talk to these two:
I'm sorry, Brendan, I missed the part when this became the Brendan-answers-his-own-question-bag. I mean, I can see how you might think that smug orangutan and skeptical dog on a book tour are pretty awesome, IF you've never heard of A HIPPO AND A TURTLE WHO ARE BEST FWIENDS
Amateur hour over here. To answer your question, for my three historical figures I would choose a hippo and a turtle who are best fwiends and also Dr. Martin Luther King, Jr.
Brendan(AGAIN):
What would you talk about (you can only talk about bananas)?
I would talk about bananas.
Russ:
Here's my question. So, my girlfriend and I have been together for a few months. We've both been tested and she's on the pill, so we've decided to forego using condoms. Awesome, right? Of course it is.

But barebacking does have one significant drawback - cleanup. With a condom it's easy; you just toss it in the trash, mess contained within. But when you're going at it sans raincoat, there's always the issue of spillage, someone's (depending on who's on top) awkward waddle to the bathroom, and a significant increase in the amount of towels to be laundered.

Assuming I can't keep a spittoon by the bed (because that defeats the purpose and awesomeness of busting inside), what's the best way to deal with this?
From what I've been told, sexy intercourse is when a man puts his penis inside a woman's vagina and moves it around until stuff comes out. So your question is…how do you not make the stuff come out? Because the stuff gets all over you and her and your entire apartment and a little out the window? But isn't the stuff coming out the best part? And just how much sperm are you sperming, anyway, Russ? Are your lovemaking sessions like a Brooklyn streetcorner in the summer in a nostalgic music video about how great it was to be a kid in the '70s? That's an open-fire-hydrant reference, by the way. As far as I can tell from television, Brooklyn in the '70s was just miles and miles of open fire hydrants with kids playing in them in slow-motion. Is your penis like that? I hope not. For the kids' sake.
Anyway, my first idea is that you try to make it feel less good when you put your penis in your girlfriend-by snapping a binder clip on there, for instance. Or having your girlfriend get a tattoo of an uglier face on her actual face. Who wants to intercourse that!? Not me. Not me, Russ.
My second idea is diaper with a hole in it.
My third idea is fucking nut up and put a towel next to the bed like a normal person. Are you 11? Here's how this works: After you have thrusted to completion, use the towel to wipe off both your penis and her vagina. Then place the towel lovingly under your girlfriend's butt-parts and wait 2-3 minutes for the remainder of your gift to gently cascade out of her hole(s). The final step is to throw the towel on the floor. Pro tip: Make sure to keep this towel out of reach of household pets, for it is like the catnip of towels for animals that like to eat towels covered in semen (which is all animals). Most importantly, have fun and always believe in yourself!
HALFTIME!:
Wally:
Which of the following events would you rather have occur in relation to an otherwise-happy marriage that lasts until your death?

a) Your husband has a six-month affair with the same woman. Assume this is about 10-15 years into the marriage, you find out about it, but it somehow does not lead to divorce.

b) Your husband is completely faithful to you your entire life, but he is alive at the time of your death and so overwrought with the grief of losing you that he continues to have sex with your embalmed corpse for six months.

Assume in both cases about 6-8 people ever know about it, some close friends and one or two trusted family members.
This question is amazing because the answer is so obvious and yet so personally revealing. I would 100% marry the corpsefucker. I, Lindy West, am a corpsefuckerlover. Because first of all, FLATTERING!!! Glad to know my boobs will still look great even after rigor mortis sets in. And really, who cares what happens to their body after they die? I don't believe in heaven, because hahahahahaha, so it's not like I'd be sitting on a cloud with Kurt Cobain looking down on my husband fucking my withered corpse-vagina. And even if I was, who cares? It's really kind of sweet. I just hope my husband doesn't nut all over the place like Russ. Gross.
Cameron:
I know that the person who left the warm chair you are sitting in got his start as a commenter on Deadspin but I thought perhaps you could provide your thoughts on something. Every time I look at commenter's "handle" I make immediate judgements on that person. For example, today, in my weekly trip to Jezebel to determine exactly how horrible I person I am because of my gender, I noticed a commenter with the "handle" of "drunkexpatwriter." Good God could someone be more obnoxious? "LOOGIT ME! I am a writer, and I'm drunk, clearly I am Hemingway's natural successor! What, you have never lived overseas? I have, as you can tell by my name that I am unafraid of the world and live a more enriched life than you, along with being drunk, and a writer!" Ugh, makes we want to punch the nearest hipster in the face. Do you wretch at times when you see obnoxious handles in comments to your writing?
Yeah, it's weird how people act like "expat" is a job. They'll just say "Oh, I'm an expat," like that's a legit sentence. What do you MEAN you're an expat? You mean that your job is to sit around in Spain drinking wine and wearing horrible man-sandals and writing in your leatherbound journal? Is "expat" hiring? Because I am already a total asshole, and I can easily invest in some linen shorts if that's what it takes.
Alan:
At his introductory press conference as the Toronto Raptors head coach, Dwane Casey was quoted, "We want our offence to be unpredictable," by a Canadian newspaper (the Globe and Mail).

Dwane Casey is an American and when he says "offense" he means "offense" and not "offence."

If I go north of the border do my colors automatically become "colours"? I don't think so.
Yes. I mean, are you really asking? I work for a newspaper (high-five, dying industry!), and I can give you a real answer if you really want. The answer is that every publication has its own house style guide (at my newspaper, for instance, we mainly use Chicago style, but with tons of modifications since we print words like "front-butt," and the proper hyphenation of "front-butt" isn't covered in the Chicago Manual of Style), and it's the responsibility of the copy department to keep the text in compliance with that style guide, or at their discretion to deviate from it on a case-by-case basis. Therefore, in a Canadian newspaper they use a Canadian style guide with Canadian grammatical conventions. FUCK, THAT WAS BORING. I'm so sorry, you guys. Blame Alan, not me. Would it help if I said "front-butt" again? Or, as they say in Canada, "back-vag"?
My mom:
Did you get the wheels aligned on your car yet?
No.
My mom:
Hhhhhhhhhhhhh. You know you're just going to wear your tires out, right?
Moooooooooooom, I'm working right now. How did you even hear about this blog? How do you even know what a blog is? I have to go. I love you.
Wally:
How in the hell did the glass eye industry ever get off the ground? Are there really people out there who actually prefer a glass eye to an eye-patch? Is it safe to assume the people who want a glass eye over the eye-patch are simply WAY more boring human beings?
I have often thought about this exact same thing. Not because I think eyepatches are so great -I mean, I do, but if everyone had an eyepatch then eyepatches would cease to be special, and that would be bullshit - but because an empty eye socket is such prime real estate. Think about it! You could put ANYTHING in there! And you're going to go with a thing that looks exactly like your regular eyeball? Snooooooooooze. Other things you could put in there that would be better than a fake eyeball: A glittering ruby. A laser pointer. A tiny set of false teeth. Bugs. A Cadbury Crème Egg (for later). An actual robin's egg (for incubation-AND THEN A BIRD FLIES OUT OF YOUR EYE). Now that I think about it, glass eye manufacturers are literally ruining my life.
Lindy:
Can I keep a domesticated fox as a pet?
Great question, Lindy! You sound really pretty and nice. As a matter of fact, you CAN keep a domesticated fox as a pet! If you have $6000 you can buy one from a Russian that has specifically bred it to be docile and obedient. Or, if you don't mind living in a house permeated with oily fox musk, you can simply capture a fox from the wild and take it home for infinite snuggles! Hope that was helpful!