The Colts have tried to downplay whatever's wrong with Andrew Luck's health. On Sunday, coach Chuck Pagano said he was OK. On Monday, Luck declared himself "fine." On Wednesday, Pagano casually read off his injury list—mentioning Luck eighth. For the last two days, Luck has been officially "limited" in practice, though in reality he "took practically no reps."
With the Jaguars game 48 hours away, it's becoming harder to downplay. The Colts have signed two quarterbacks during the week—Alex Tanney, who was put on the practice squad, and Josh Johnson—and it appears that Luck isn't participating at all in practice today.
All the Colts will say is that Luck's throwing shoulder is sore, an injury apparently suffered during last week's win over the Titans. (When asked on which play it happened, Pagano quipped, "pick one of them.") He looked in discomfort by the fourth quarter, wincing when backup Matt Hasselbeck tapped him on the chest:
G/O Media may get a commission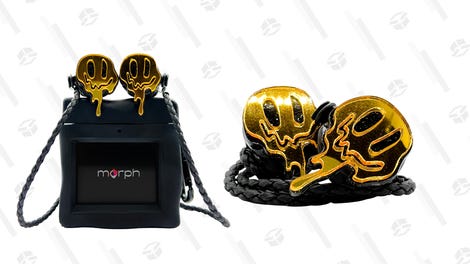 morph audio
Morph Earphones
Luck is big and sturdy—he hasn't missed a game dating back to his freshman year of college, and had never appeared on an injury report before this week. If there's question about his status, he must be in real pain. He'd have to be, for the Colts to consider sitting him: Indianapolis is 1-2 and really can't afford to drop more games in the early going, especially with their next two coming against divisional opponents.
But the Colts' problem is bigger than a game and not solvable by sitting Luck. He's gotten little protection from his offensive line, being hit hard and often, and it's getting to him. He's turned the ball over eight times, and even before the Tennessee game some around the league were speculating that he was playing hurt. His injury could easily be the product of an accumulation of hits rather than any one thing that happened on Sunday, and rest will help, but it won't fix the offensive line cobbled together by embattled GM Ryan Grigson.
Maybe it's nothing. Pagano said Wednesday that he had "supreme confidence" that Luck will play. But it honestly might make sense to sit Luck if his injury really is just general pain and soreness. The Jaguars game is winnable without him, and just four days after that the Colts have a date with Houston. A short week followed by the Texans' pass rush is not a recipe for healing. Give him the time he needs to get right—even if it's one or two games—and go from there. The Colts still have playoff aspirations, but without Luck they have nothing.