Yesterday, defending Premier League champions Manchester United faced the league's last place team, Sunderland, in the first leg of the League Cup semifinal. After losing the first two matches of 2014 (at home to Tottenham and to Swansea), United were fighting to not lose three straight for the first time since 2001. But–let's not bury the lede here–United lost.
This was an important match for United, for the same reason it was an important one for Sunderland. Halfway through the season, both sides are already out of the Premier League title race. Barring a barrage of miracles, United will also be ousted from the Champions League before it's all said and done. The League Cup remains the last viable chance either club has at lifting silverware this year. Though the League Cup is all but disregarded by most of England's top clubs as little more than an opportunity to rest their starters and showcase their youth, the victors are rewarded with an automatic berth to the Europa League. A League Cup win would be a coup for Sunderland. For United, 11 points behind first-place Arsenal and five behind fourth-place Liverpool, it would serve as a consolation prize for what many are calling the worst title defense in the history of the league.
This is ridiculous. This is United. This shit doesn't happen. A lot of the blame has been placed on David Moyes, who took over for legendary manager Sir Alex Ferguson at the start of the season. But he was Fergie's handpicked heir; he's not going anywhere. So the question then is how United's profound, sad badness can be fixed, or even if it can be fixed.
The biggest problem United have is that this side, once one of the best in the world, is now old and slow and worn down as fuck. Ferguson will go down, deservedly so, as the best manager in the history of the sport, but his biggest failure at United was failing to adequately replenish the side ahead of his retirement. Paradoxically, it might've also showed Fergie's greatest stroke of genius, and last big gamble. In his final year last season, Ferguson bought striker Robin van Persie from Arsenal, who led the Red Devils to the title with 26 goals and eight assists in 35 Premier League games. RVP did whatever he wanted on the pitch, and his excellence papered over a lot of cracks.
Van Persie has spent much of his career on the training table, and after an almost injury-free campaign last year, is injured again. United hero Wayne Rooney has killed this season, with nine goals and assists each in 16 Premier League matches. But his style means he always picks up knocks throughout the season, and was unavailable for the League Cup match. Those are United's two playmakers. Outside of 18-year-old Belgian starlet Adnan Januzaj, who sliced Sunderland up yesterday, they don't have much else going forward.
G/O Media may get a commission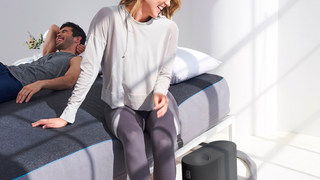 Eight Sleep Pod Cover
In the back, United's defense has always been staunch; a few years ago, it was arguably the best in the world. In 2008, when United won the Champions League, Nemanja Vidic was arguably the best center back in the world, and he and Rio Ferdinand formed the sport's best partnership. Frenchman Patrice Evra was one of the best left backs in the world. Those days are behind us, though. Vidic is always injured. Ferdinand has had his struggle staying on the pitch, and even when he's on, he's but a shadow of himself. Evra is diminished, as well. Yesterday, we saw a perfect example of this trio's regression on the squad.
United are stuck between two worlds. They're largely a side of fossils, guys like quadragenarian Ryan Giggs, whose experience and ability has been calcified by age, and youngsters like Tom Cleverley, Johnny Evans, who have developed into decent squad players, but aren't good enough to be counted upon. The mixture of age and inexperience first burned them in the 45th minute yesterday, when Sunderland scored in injury time to take the early lead.
Ex-United project John O'Shea played a poor ball into United's half, which was deflected into the air by United midfielder Michael Carrick. There was no danger, but center back Evans, deputizing for Ferdinand, jumped through the back of Sunderland's Steven Fletcher about 45 yards from goal.
It wasn't a particularly bad foul, and it wasn't in a particularly dangerous place. It was, however, committed during a dangerous time. The problem with fouling at the end of halves is that there's not much time for teams to get to get back down the pitch if they clear. With no fear of a counter, Sunderland could throw their whole squad forward, and had seven players waiting for the incoming free kick. More players in the box means more players to track, more chaos, and more opportunities to make a mistake.
Seb Larsson whipped a ball into the back post, where most of Sunderland's players were lurking. Sunderland and ex-United defender Wes Brown seemed to be marked by United winger Antonio Valencia at the top of the box, but made a curling run around the back. Valencia never even noticed. Brown had acres of space to compose himself and knock the pass back across the face of goal to another ex-Red Devil, Phil Bardsley, who looked to be marked by Evra. Evra had turned and stopped to watch the ball when it sailed over his head. When Brown passed with his first touch, Bardsley was free to tap it in.
It was terrible defending, but luckily, Sunderland are also terrible, which is why just seven minutes after halftime, Cleverley guided a corner kick onto Vidic's head for the equalizer. But 12 minutes later, United lost the lead again after conceding a penalty.
Cleverley was labeled the next Paul Scholes early in his career; it's since become obvious that he is not. He's not a great player, or really that good of a player, and he'll never win his side a match. On his worst days, though, he can lose them. Whether or not you think Cleverley's foul was worthy of a penalty (it was a soft foul, and Sunderland substitute Adam Johnson went down easily, but Cleverley both pulled the winger and then hip-checked him. It would've been called anywhere else on the field, though it's also unclear if the foul took place inside or right on the edge of the box.), his real sin was allowing Johnson, one of the fastest players in the league, to run right past him and then turn inside toward goal. Johnson's run looked exciting, but he had no help, and it was ultimately supposed to be no more than a fishing expedition. United had men back in the box, and Cleverley should've shepherded Johnson toward an awaiting Evra. But he defended the faster player poorly, got turned, and ended up conceding the game-winning penalty. United went on to lose the first leg, 2-1.
Both of these goals were off mental errors by Moyes's players, but the manager's at fault for United's woes, as well. On paper, Moyes was and is the perfect replacement for Ferguson. Like Fergie, Moyes made his career on creating and managing overachieving sides whose sum was more than its whole. But where Ferguson's genius was in his tactical adjustments and inventive attacking play, Moyes's squads are willing and able to grind out points by defending for 90 minutes, frustrating teams, and executing when an opportunity showed itself. That worked at Everton, who have long had a dope back four and one of the top goalkeepers in the league in Tim Howard, and not a whole lot going forward. United don't have the wherewithal to defend anymore, and Moyes hasn't adjusted to the hand he's been dealt.
United have always had transcendent wingers, from George Best to Ryan Giggs to David Beckham to Cristiano Ronaldo. Ferguson's tactics were often tailored to these stars. United under Ferguson were always among the league leaders in crosses per contest. United's contingent of wingers today, though, are pretty meh. Januzaj is far and away their most dangerous player when van Persie and Rooney are out. But Valencia? Ashley Young? Giggsy? Nani? These guys are various degrees of disappointing, and they're all wasteful. That's why, as Sky Sports pointed out in a great piece, United have recorded more failed crosses than any team in the league. And yet, they still attempt over 26 crosses a match, also more than any other team in the league.
Moyes needs to change his side's tactical approach, because they're largely giving the ball away when they get in wide positions. It's obvious that they have to play through the middle. Unfortunately they have no one there. Carrick is a great holding midfielder, and RVP and Rooney are still one of the best central attacking combinations in the world. But there isn't anyone to link the two to create a spine. Cleverley can't. Neither can Darren Fletcher. And through half a season, it would appear that Marouane Fellaini, whom Moyes brought over from Everton for £28.5 million, isn't the guy, either.
To right this wrong, Moyes needs to bring in a central midfielder who can dictate play and link defense with attack, in the mold of United greats like Scholes or <strike>Robbie</strike> Roy Keane. He needs a strong, creative midfielder who can win points through his influence. Unfortunately, this is another area where Ferguson let Moyes and United down, with the (now) inexplicable, reprehensible sale of young French superstar Paul Pogba to Juventus. With Pogba gone, most options will be, like Fellaini, expensive risks.
But they need one. They also need a proven center back, like one of either Neven Subotic or Mats Hummels from Borussia Dortmund, who presumably can always be coaxed into selling. They need to think about replacing Evra, and if they're going to cross the ball, they need someone who can, you know, cross a ball.
Because otherwise, United will keep trotting out lineups like yesterday. With de Gea starting in goal, the defending champions started Evra, Evans, Vidic, and Rafael. In the midfield with Januzaj were Giggs, Cleverley, Carrick, and Valencia. Danny Welbeck started up top. That lineup doesn't scare anyone. Teams like Spurs, Swansea, and even Sunderland truly believe they can beat United home or away a mere five months after the champions launched their title defense. People aren't afraid of United anymore, who have already lost four matches at Old Trafford. During Ferguson's reign, teams knew United would find a goal in the 75th, 85th, 95th minute, before United even scored. Fear gave way to mistakes which led to goals, and dread turned into self-prophecy. The fear past United teams instilled in opponents was arguably their greatest advantage. Unfortunately, until they fix their flaws on the pitch, the storied United mystique will be the hardest thing to recover.