This is an existential question that should be on every Sharks fan's mind today: is it even a choke if everyone's expecting you to choke?
There's no universally agreed-upon definition for choking, but it involves the sphincter-clenching pressure getting to a team late in a game or series or season, and said team losing when they were expected to win. So it is possible for the Sharks, facing game 7 in a series they were up 3-0, to choke, if, by doing so, they live up to their expectations and recent history?
Since the lockout, San Jose's won their division four times, the conference twice, and even captured a Presidents' Trophy. All they have to show for it is a single lousy conference finals sweep, and a knack for blowing leads and falling to lower-seeded teams (and moments like the video above). With a loss tonight, it happens again. An epic choke, right? Well, that depends on whether the Sharks were supposed to win.
The stars seemed aligned to make this year's choke in the conference finals again: facing an aging Detroit team, having a roster full of scorers and a Stanley Cup-defending goalie. But yet most everyone picked the Wings from the beginning. We have learned from the past that San Jose is doomed to repeat it.
When the Sharks were up 3-0, I would have called this ending a choke. But 3-1, when they could already feel their anuses puckering? By that point, it was Detroit's series to lose. At 3-2, it was a done deal — Detroit would take the last two. And now that it's 3-3, everyone's already looking forward to Wings/Canucks aka USA vs Canada 2.0 (seriously, just wait). And yet, 3-0 comebacks happen in hockey with surprising frequency. It happened last year. The Canucks themselves nearly fell victim just two weeks ago. So a 3-4 series loss wouldn't be continent-shattering: just the Sharks doing what the Sharks were destined to do.
G/O Media may get a commission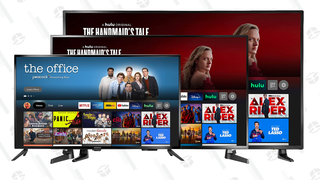 Up to 44% off
Prime Early Access - Insignia Fire TVs
And who knows? San Jose could totally win tonight. Hockey.