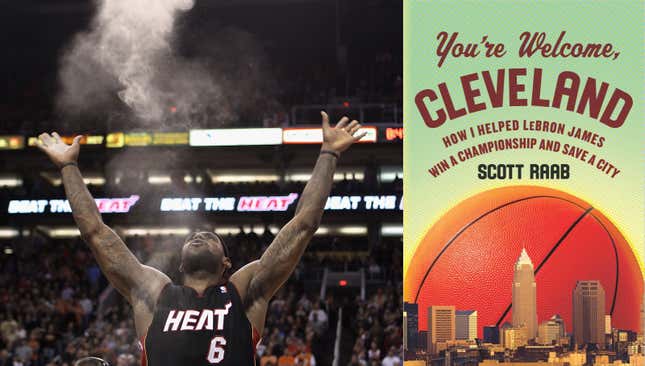 The following is excerpted from You're Welcome, Cleveland: How I Helped LeBron James Win a Championship and Save a City, by Scott Raab. The book is available now on Amazon.
Does Jimmy Butler have the best NBA Finals origin story? | Agree to Disagree
If I went too far when LeBron James left Cleveland for Miami back in 2010, it's not for me to judge. I didn't burn his jersey—I didn't have one. But Judah did, and I told him to toss it in the trash rather than burn it—fires scare me. He was 11 years old then, and already he had seen all of his favorite players, each and every one, depart Cleveland. Now LeBron.
I had no T-shirt. No ring. No words of hope to tell my son.
What I had was a book to write. I'd spent that season, 2009–2010, following the team, credentialed by the Cavs. It was LeBron's walk year, and GM Danny Ferry and coach Mike Brown were also in the final year of their contracts. Last season's team had won 66 games, tops in the league, the year before, but lost to Orlando in the Eastern Conference Finals. Now it was win or else.
There were portents from the start. On draft day, the Cavaliers signed the aged Shaquille O'Neal, and Michael Jackson died. Also Farrah Fawcett. Then the Cavs drafted Christian Eyenga, a twenty-year-old from Kinshasa—nobody in the press room had ever heard of him—and Danny Green, whose name, thanks to Cleveland's legendary crime boss, the Irishman, Danny Greene, was greeted with chuckles from the old-timers in the media room.
The season ended with Game 5 against Boston in the second round of the 2010 playoffs. The Cavs were heavy favorites, but the series was tied at two wins apiece when LeBron had a horrid game, at home. He wandered as if entranced, hit three of 14 shots, was booed off the court as the Celtics won by 32, 120-88. It was a scourging loss. At the postgame press conference afterward, LeBron seemed as bitter and angry as the fans.
"I spoil a lot of people with my play," he said at one point.
It ended two nights later, in Boston, in Game 6. On the final night of his seventh season in the wine and gold, LeBron ripped off his jersey on his way through the tunnel and flung it away.
On July 8, 2010, LeBron took an hour of prime time to announce that he was leaving Cleveland for Miami. I was far from the only idiot who felt personally betrayed. Having straddled half a century of Cleveland sports like a bear at stool, I went large. I used The Decision to frame and vent decades of misery, Cleveland's pain and my own, and I damned a young baller—a young African American man who came up hard in West Akron—for the sin of not being my Moses, and called the book The Whore of Akron.
Jesus. What an asshole. But what the hell: I at least wanted my words to leave a mark. I knew he had every right to leave, to make the call about what was best for him and his family. I myself left Cleveland in 1984, to go to writing school. Nobody offered me $100 million to stay put—my last job in Cleveland was as a nursing-home night watchman—and the hopes and dreams of a nation of fans weren't dashed when my first wife and I stuffed our shit into a U-Haul, drugged the cats, and hit I-80 to Iowa City. I don't recall spending an hour on ESPN nut-punching my hometown. And to this day, I doubt that I could haul down 20 grand as a writer working in Cleveland. He was the Chosen One, not me, a native son who'd spent seven seasons saying he felt our pain and wouldn't go chasing rings. Then he did.
I watched The Decision, saw that young putz in his checkered shirt reveal his treachery to Jim Gray, withered crone; saw Cleveland trashed again, on national TV; saw the burning jerseys and the cops patrolling underneath the regal banner lest the hordes descend with torches and pitchforks.
No hordes, not in Cleveland or New Jersey. I sat with my wife, seething the entire hour, blood curdled, outraged, and when my boy came home from the mean streets of Glen Ridge, I delivered him the news.
"Fuck LeBron," Judah said.
O noble son! Delectable fruit of my loins! It took me back to one of his first sentences, spoken in Strasburg, Penn., when steam locomotives, not Cleveland sports, were his mother's milk. He spotted an SUV in a restaurant parking lot, adorned with a New York Yankees spare tire cover on its ass.
"Fuck Derek Jeter," he said.
My son took no pleasure tossing his wine-and-gold LeBron jersey into the kitchen trash. I took no pride in it. The greatest player I had ever seen was gone, and fury, cold or hot, felt foolish, weak. Yet it had to be done. I had advised Judah long before that he could and should find his own, non-Cleveland teams to worship and adore—as long as it wasn't the fucking Yankees—and I believed that I believed that. But when I held him for the first time, sprung from the womb, eyes lit by the world, cradled by the racist visage of Chief Wahoo tattooed on my arm—from that day hence, he was a member of the tribe.
No man is truly author of his fate: No son, no father, not even LeBron James, who left town trailing Cleveland from his Nikes like a smear of dog shit, headed for South Beach.
I alone was left to tell the tale.
I did things no so-called journalist would do. I motherfucked him on Twitter. For the Heat's first trip to Cleveland, I offered $500 to the Cavs' media VP to let me stand between LeBron and the chalk he'd toss pregame. For the Heat's next Cleveland visit, I shaved my head and scrawled QUITNESS thick and red on my skull.
All this came quite naturally to me—I'd been a thuggish fan since my mittens—but I didn't skimp on the reporting. I stayed in Miami for a week or two at a time during Heat home stands, going to games—the team had yanked my credentials, so I bought tickets—and trying to understand why in the world anyone in his right mind, especially a young, wealthy icon and a man of color, would abandon Akron and Cleveland for Miami.
I learned exactly why—I couldn't resist Miami despite its warmth and beauty—and this, like LeBron's excellence, only fueled my rage. Hunkered down in Cleveland for much of the season, I watched my team and my hometown gutted, bleeding out.
Had LeBron left behind a championship banner, I would've bid him farewell with more gratitude than sadness. The only questions lingering would've been where and when to plant his statue.
No ring, no statues. Instead, he fled to Miami cackling about how easy winning titles would be now that he was not a Cavalier—not three rings, not four, not five—counting them out to the roar of his new, sun-addled subjects.
It was a long and ugly season. I stuck it out to the end, in Miami's arena, cheering as LeBron fell apart and the Heat lost the NBA Finals to the Dallas Mavericks. It felt good for an hour or two, and then it struck me that Cleveland fanhood had reduced me to an impoverishment so ghastly that the only pleasure I could take was in someone else's woe.
I wrote the book that I was born to write. I wrote about his schmeckle, I wrote about his mom, I wrote "FUCK LEBRON" in block capitals above my name when I signed copies—though I signed the copy I left with the sentry at his mansion gate, "Thanks for making this book possible."
I went as hard and as long as an old kike at the keyboard can go, because that's what Cleveland taught me. Had we stepped onto the court, with cash on the line and one basketball, what respect or mercy would LeBron have offered me?
---
From You're Welcome, Cleveland. Copyright 2017 Scott Raab. Excerpted with permission from Harper, an imprint of Harper Collins Publishers.

The Stacks is Deadspin's living archive of great journalism, curated by Bronx Banter's Alex Belth, who also runs Esquire Classic. Follow us on Twitter,@DeadspinStacks, or email us at thestacks@deadspin.com.