Bless Nick Kyrgios for doing so much without ever really seeming to care. I'm not referring to those especially dumb, fringe cases—the forehands sliced for no reason, or the shameless tweeners during high-tension rallies—although he does plenty of that. I just mean just the way he hits the average ball.
The best sports movies according to Toheeb Jimoh
His footwork often looks stoned and lackadaisical, leaving him out of position and forced to compensate a lot with his arms. He'll be lashing at a forehand off his back foot while leaning away from it; he'll be slapping a backhand with his legs pin-straight, walking distance apart. You won't expect much from a stroke that lazily prepared, but then all of a sudden you're hearing a pistol pop off, and watching something yellow fly across the net and skid off the court. These shots seem unfair—unearned, inexplicable, thunderbolts flung from a hand off-screen. It's hard to know what to attribute them to, except a surplus of athleticism and a tireless whip of an arm.
Here's Kyrgios on a totally average point, a little livelier on his feet than usual, crushing the ball on both sides and eventually losing on an error, but the commentator's response is still perfectly apt: Mamma mia.
As compelling as his game is to watch on a screen, it must be infuriating to stare at from across the net. That was the obvious takeaway from Novak Djokovic's 12-word postgame presser:
How do you feel?

Not great.

Sometimes you seemed upset with Nick, we know he's an irreverent player—

He had a big serve. He deserved to win. Congrats.
The tone of his voice says much more than those words alone, so listen to the whole conference for yourself—it's all of 25 seconds long.
G/O Media may get a commission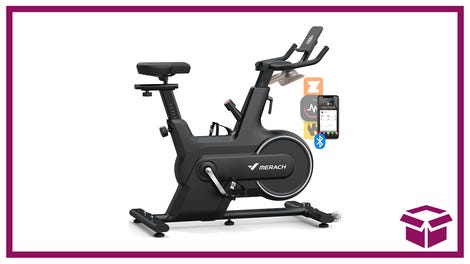 14% off + Coupon
Merach Indoor Cycling Bike
With this 7-6(9), 7-5 win in the third round of the Mexican Open, Kyrgios has now beaten Rafael Nadal, Roger Federer, and Djokovic in his first career matchups against each. That's why there's so much bluster around him, why viewers follow his every asinine move: The 21-year-old could be the top player in the world, if his mind would permit it. Mental game aside, there are no obvious deficiencies to exploit, and lots of weapons to fear. Last night, the most useful one, as Djokovic grumpily conceded, was Kyrgios's serve: 25 aces in two sets, winning 81 percent of his 1st serve points. Kyrgios also proved his worth in those long, grinding rallies upon which Djokovic built his career, displaying some uncharacteristic patience as he waited to lure out the errors.
Here's a fun narrative arc: For the last decade the men's game was controlled by three dudes flagrantly obsessed with winning tennis matches, clutching Gollum-like to the top ranking for years at a time. The next generation might be headlined by a petulant slacker-genius who beat all of them on his first shot, and can't even figure out if tennis is what he wants to do with his life.