Last December, the University of Houston terminated its contract with Contemporary Services Corporation after the company's security guards assaulted Cougars fans attempting to celebrate their team's AAC championship. UH athletic director Hunter Yurachek stated he was "disappointed and angered" by the incident, videos of which illustrate CSC employees shoving, tackling, and punching jubilant students while other CSC personnel stand aside, allowing the fans to rush the field in celebration.
It was a revealing look at how the physical territory of sports is protected, and at how many things can go wrong with the contractors and low-paid, trained-in-a-day security guards hired to do the job. Employees of CSC, which markets itself as the "world leader" in stadium security, will work many of the biggest upcoming events on the sports calendar, including the NBA playoffs and the Final Four—though, notably, not the Super Bowl. (In 2006 the NFL ended its deal with CSC to provide Super Bowl security, citing cost as a factor.)
Every major sports league in the U.S. has employed CSC. The company has worked 10 Olympics, four presidential inaugurations, and three papal visits. Their yellow jackets are ubiquitous and instantly recognizable at most large public events.
But with that ubiquity comes a number of complaints. Since 1991, CSC has been sued in federal court at least 21 times on claims ranging from personal injuries, civil rights violations, and assault and battery. While it's impossible to draw a direct comparison, their closest competitors, Elite Services, has been sued five times in a similar timeframe.
G/O Media may get a commission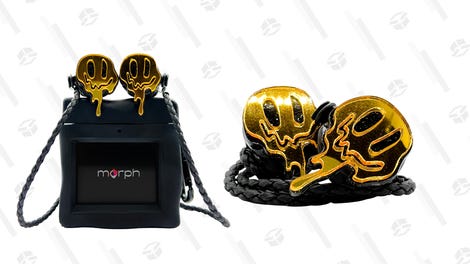 morph audio
Morph Earphones
Most of these lawsuits resulted in out-of-court settlements between CSC and the plaintiffs. Taken together, they provide a glimpse of just how fine the line is between keeping order and abusing power, and how, to sports promoters, fan safety is just another cost center to be weighed against profits.

---
On November 16, 2013, USC upset fourth-ranked Stanford at the L.A. Coliseum. The Cardinal were en route to another Rose Bowl; the Trojans, meanwhile, had just fired Lane Kiffin amidst a disappointing season. The 20-17 win sparked USC fans to rush the field. This happens everywhere, always, after victories of this magnitude, and there's not much security or the team can do to keep a tide of rowdy college kids off a field they want to occupy, at least after the initial wave gets through. And—at least in football—the fans rarely pose much threat to person or property, save the goalposts.
Landon Cohen—a USC sophomore at the time—was one of these fans who leapt over the Coliseum rail to celebrate. But rather than joining his classmates at midfield, he was having his head slammed into a wall after a CSC employee tackled him "like a linebacker destroying a defenseless receiver," in Cohen's words.
You can see the tackle in the first three seconds of this video, right in front of one of the two yellow banners hanging on the wall.
Cohen told Deadspin that the security guard lay on top of him for up to 10 seconds, screaming at him to "stay the fuck down" and not to move (not that he could move, with the much larger man on top of him). The guard then stood up, walked away, and watched as other fans scaling the Coliseum rail trampled Cohen, he says.
It landed Cohen in the emergency room with a torn knee ligament that left him unable to walk for a month, he says; his lawsuit against CSC would later be settled for around $5,000.
---
Before a 2005 Eagles game, Moacir Lopes and his wife Jennifer drank at McFadden's, a bar across the street from the stadium. Court paperwork states Lopes was a business invitee at the bar, where he got a bit drunk. As they entered the stadium and attempted to make way to their seats, security personnel ordered Moacir Lopes to "keep quiet."
CSC employees forcibly escorted Lopes out of the seating area. After initially holding him, a different group of security guards then "negligently and carelessly shoved [Lopes] into the back seat of a golf cart, causing his head to slam against one of the poles of the cart," according to the filed complaint. CSC handed Lopes over to Philly cops, who recognized his shortness of breath and nausea. The complaint alleges he went to the hospital, and was discharged back into police custody two days later.
This left Lopes in a holding cell to wait arraignment, barefoot, and clad only in his hospital gown. (We asked Philadelphia cops for the arrest report; they haven't provided it to us yet.) Lopes alleges his pleas for continued medical assistance went unanswered; the family's lawsuit names CSC, McFadden's, the city of Philadelphia, and the Philadelphia Eagles Stadium Operator as co-defendants.
Lopes claimed he sustained a substantial list of injuries:
"Plaintiff husband has sustained injuries including but not limited to post-tramautic stupor and coma, left parietal subarachnoid hemorrage, injury to nervous and muscular systems, resulting in headaches, nausea, weakness in his extremities, sensitivity to light and dizziness, some of which [he] claims are permanent and have caused a serious impairment of bodily functions and mental and emotional distress."
CSC denies everything; the company claims Lopes himself was sufficiently negligent, that his injuries were pre-existing, and that he provoked the incident with security guards. Despite this, CSC settled with Moacir and Jennifer Lopes in 2008 for an undisclosed amount.
---
At a Tennessee Titans game in 2011, Marcia Richardson claims she was tripped by a CSC security guard after an argument over whether or not she could bring in her bag (a promotional giveaway from the prior week's game). Richardson's suit alleges she fell and smacked her head on the concrete.

While her husband went to help her, she claims the guard who had caused the fall never looked down to help, and she alleges she was walked over and stepped on by other fans. Richardson suffered dental fractures and broke her patella in the fall. CSC denied that Richardson was hassled at the gate, as well as all the accusations of negligence. CSC settled out of court with Richardson.
---
More than half the suits against CSC stem from confrontations at concerts and clubs. In 2012, Albert Elhiani filed a suit against CSC (among others) for a New Year's Eve incident wherein a bouncer at Pacha NYC employed by CSC allegedly beat him up in a darkened corner of a nightclub and used anti-Semitic epithets:
The bouncer grabbed Elhiani and dragged him into an obscured area in the nightclub, where he grabbed Elhiani's throat and yanked the necklace off Elhiani's neck. He threw Elhiani to the floor while screaming profanities and racial slurs at Elhiani, [such as] "filthy Jew."

[...]

The bouncer, a man physically larger than Elhiani, overpowered Elhiani as he repeatedly kicked Elhiani in the torso and abdomen...[Afterwards,] He dragged Elhiani's limp body through the hallway, leaving Elhiani alone on the ground and all but unconscious.
Elhiani alleged emotional trauma, in addition to physical injuries. CSC denied wrongdoing and claimed that an unknown third party was the one who actually beat Elhiani up—and that if their security guard did hit him, it was in self-defense against "plaintiff's assaultive conduct." Elhiani and CSC dismissed their case without prejudice, which is usually a sign that a settlement was reached. [Waiting on word from his lawyer if there was a settlement.]
But none of these incidents drew as much public attention as December's fiasco in Houston. The structure of that incident was similar to what Landon Cohen says happened at USC: the fans that got past the first line of security weren't touched, but the unlucky few who were caught were made examples of. CSC claims these were the actions of a few bad seeds, and responded to UH terminating its security contract with the following statement:
Contemporary Services Corporation (CSC) is aware of the events that occurred following today's University of Houston football game. Training is provided to CSC employees for responding to such situations. Any actions by CSC personnel that contradict our training, CSC's other requirements, or the law, are not condoned by CSC and will not be tolerated. We are currently performing an investigation of the events and will take appropriate action based on the outcome of our investigation.
Court records show that this is a typical defense by CSC: that when employees cross the line, it's because they've gone rogue and aren't representing the company's standards. CSC has a high employee turnover (they are straightforward on their website about the fact that security jobs are part-time), which makes sense given the difficulties of the job and the accompanying low pay. According to their own site as well as former employee reviews on Glassdoor, employees are paid minimum wage or close (getting a raise to $10 an hour requires an extra class), and do not always receive the amount of training CSC claims. (I've reached out to CSC regarding this claim, but I have yet to hear back from them).
As the biggest private-event security contractor in the country, CSC is emblematic of larger problems in an industry that promotes cost-efficiency above nearly all else. But don't blame the contractors; that's what their clients want, too. All told, the lawsuits say less about CSC and more about how organizers cut corners on fan safety, occasionally to the point of irresponsibility.
Stadiums need to keep fields, concourses, and courts secure, and it can't be done without anyone ever getting hurt. But the more dramatic instances of violence and negligence seem preventable, even at the scale at which CSC operates. Whether the answer is more rigorous employee training or higher pay, security guards shouldn't be mercilessly wailing on college football fans or causing lengthy, expensive hospital stays. So far as the main reason they are is the bottom line, these incidents are more a function of the system's design than an aberration.
Image by Thomas B. Shea/Getty Images.