Just a few hours after reports came out that the Cleveland Browns were cleaning house, USA Today released a rather strange report about Johnny Manziel partying in Las Vegas. Manziel is sitting out the Browns' season finale against the Steelers with a concussion today. Here are the relevant, and very specific, details from the report:
Johnny Manziel, who will sit out the Cleveland Browns' regular season finale Sunday due to a concussion, was seen Saturday dining and gambling at Las Vegas' Planet Hollywood casino, according to employees and patrons who interacted with the embattled quarterback.

Manziel, who Browns coach Mike Pettine said still must address off-field problems that resulted in a stint in rehab last year, paid cash for a meal at a restaurant in the casino, according to Tina Samira, a waitress who served Manziel and his guests at Heart Bar at Planet Hollywood.

Manziel also sat down at a blackjack table and a casino employee examining his photo ID exclaimed, "We've got Johnny Manziel with us tonight," according to John Hornacek, a 43-year-old casino patron who witnessed the exchange.
Okay, so we have the casino he was at, and the names of a waitress and a purported fellow gambler. This is a decent level of detail, and yet no photos or videos have surfaced yet. Johnny Manziel is wandering around a casino on a Saturday night getting pointed out by casino employees and nobody in the casino puts it on Facebook? It's not dispositive, but it's a little weird.
Browns PR and Manziel's agents haven't said anything about the report. The Cleveland Plain Dealer reported that the Browns have been concerned about Manziel's behavior lately, and their Mary Kay Cabot confirmed that Manziel was at the practice facility at least part of Saturday.
After the USA Today report came out, Manziel defended himself via Instagram with a photo of him and his doggy. After posting it, he added a geotag placing him in Avon, Ohio.
G/O Media may get a commission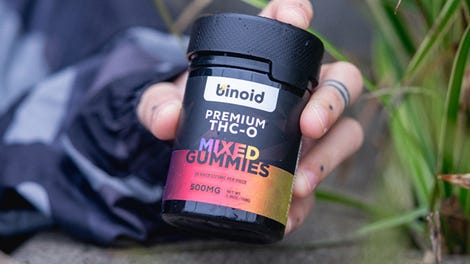 25% Off + Free Shipping
Binoid THC-O Gummies
Certainly seems like someone is full of shit here. You can contrive scenarios where Manziel escapes practice and passes over Cleveland's gaming rooms to head out to Vegas, then hightails it back right away, or where there's an elaborate cover-up involving the Browns and forged geotags, but it all seems a bit much, especially in the absence of Snapchats of Manziel listening to Future on the casino floor. If you know anything, though, email us at tips@deadspin.com.

Photo via Getty