If we've learned anything about Octobers the last few years, it's that the month tests, stretches and hones every aspect of loyalty fandom. Typically, we pretty much just tell our friends that we'll see them sometime in November. It's a stressful time.
Therefore, to adequately preview the madness that is the baseball playoffs, we've invited some of our favorite bloggers for each of the eight playoff teams to write about their teams, similar to our NFL Season Previews. No sport has better individual team blogs than baseball, and these writers are some of our favorites.
These will be running all day today, and we very much hope you enjoy them.
Up right now: The New York Yankees. Your writer is Alex Belth.
Alex Belth is the author of Stepping Up: The Story of All-Star Curt Flood and His Fight for Baseball Players' Rights and the editor of Bronx Banter. He also writes for SI.com. His words are after the jump.
——————————————————————
The Yankees have the largest payroll in the game, and it isn't even close. It should come as no surprise, then, that they finished the season with the best record in the American League (and tied with the Mets for the best record in baseball). Yet, after losing star players like Godzilla Matsui and Gary Sheffield early in the year — not to mention All-Star second baseman Robinson Cano for six weeks — the Bronx Bombers became, if not exactly underdogs, then at least not exactly the favorites anymore. Melky Cabrera replaced Matsui, while Bernie Williams and a cast of thousands took over for Sheffield in right, Randy Johnson struggled and Carl Pavano continued to be more of a punchline than a pitcher.



At the end of May, Red Sox ace Curt Schilling said, "Who's playing for (Gary) Sheffield? Who's playing for (Hideki) Matsui? That's a drastically different team. That's not a knock on any of the guys they're running out there, but we're talking about All-Star caliber players — Hall of Fame caliber players — that they're playing without...We've got to take advantage of them now."
G/O Media may get a commission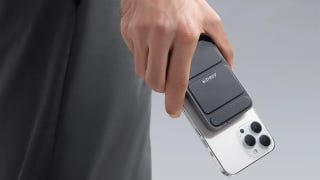 15% off
15% off Anker Top Ten Products
Take charge
Treat yourself to a portable power bank, a magnetic wireless battery for iPhones, or even a solar generator. There is a reason these are in the top ten. For instance, the Anker 747 Power Bank is a 4-in-1 charger utilizing USB-A and USB-C to be capable of charging up to four devices at once. Great to take with you when traveling and in need of keeping your phone, laptop, and even Nintendo Switch powered on.
By the time the Yankees swept five games from Boston late in the summer, Schilling said, "It ended the way it was supposed to end. They played a lot better than us over the course of the season." More to the point, Schilling added, "I don't think we opened the door for them as much as they kicked it in."
The midseason acquisition of Bobby Abreu was huge for New York, and both Sheffield and Matsui have returned just in time for the playoffs. While the Yankees are without a bonafide ace, second-year sinkerballer Chien-Ming Wang won 19 games, and legendary closer Mariano Rivera had another fine season. The starting staff is good but not great, and the bullpen is by far the best out there, but the Yankee offense is, well, downright offensive.



Moreover, the Yankees have been a team that has been accused of being "joyless" over the past few years. The addition of Johnny Damon has gone along way in changing the atmosphere in the clubhouse; Damon has become the most reliable Yankee quote since David Cone. Damon is both goofy and a gamer. He smiles a lot. So does Derek Jeter, who is a legitimate MVP candidate, and the Yankees' version of Heckle and Jeckle, Cano and Cabrera. Even the much-maligned Alex Rodriguez, who was merely the best offensive third baseman in the league again, has seemingly lightened up in recent weeks.



One thing is for sure: This has been an enormously satisfying season to watch from a Yankee fan's perspective. The team is exceedingly likable — not a Kevin Brown or Kenny Lofton to be found. It's easy to overlook the regular season and act as if reaching the playoffs is something of an entitlement. But that would be missing the point. Even though the Yankees have all sorts of economic advantages, that doesn't guarentee them jack. This year's squad has given Yankee fans a lot to be proud of.
Of course, the Yankees are favorites again to win it all, and if they don't make it to the World Serious, their season will be considered a disappointment. My feeling is that if they can make it past the first found, they will be tough to beat.