A couple of months before Yasiel Puig announced himself with three hits and a game-ending Scud missile launched from the warning track in right field in my hometown of Los Angeles, I found myself in his: Cienfuegos, Cuba.
Cienfuegos is a beautiful, sleepy city on the southern coast of the island. They call it the Pearl of the South because of the low-slung French colonial architecture. There are pristine beaches and mountains and rivers nearby, but the main entertainment in Cienfuegos itself is just walking around and looking at stuff.
So we did a lot of walking around: rambling up and down the malecón, winding aimlessly through the grid-like streets. The city was especially quiet in the evenings. We could hear the play-by-play of the local baseball team, the Elefantes—Puig's old team—coming out of every window on every block. The televisions glowed through curtains. The voices of the announcers buzzed in the heavy air like distant mosquitos. Kids played stickball on the corners. At first, it was idyllic. Then you thought about it for a moment and realized that there was nothing else on TV, nothing else to do.
The kids who played stickball on our corner didn't have a ball. The pitcher flung plastic bottlecaps at a batter wielding a piece of PVC pipe. If you could smash a bottlecap onto the roof across the street that was a home run. We stopped to play one day because the smallest kid in the group, a little boy named Brayan, shouted MATTKEMP MATTKEMP at me. It turned out that I was wearing a Matt Kemp shirt. (The shirt is now Brayan's — it was supposed to be a gift, but he insisted on giving me a small notebook, a team photo of the Elefantes, and a snapshot of him and his favorite baseball player, the recently defected José Dariel Abreu, in return.)
We spent a few hours hanging out with Brayan and his friends. Brayan was 12, Manuel 15, Yadiel 17, and Yasel (no i, just Yasel) also 12. Brayan was precocious—he bragged about leading the street in homers with 40 on the season, and said he played real baseball, second base at a field nearby. As it got darker and darker out, the game moved gradually under a streetlight. A José Martí mural was painted onto the building behind home plate. It kind of looked like Martí was playing catcher. When it got too dark to play, we stood chatting in the street. The neighborhood drunk, a middle-aged man named Jonas, who sold used books on the sidewalk nearby, stumbled over genially and started speaking to us in Russian. Everybody over a certain age in Cuba speaks Russian, he explained.
G/O Media may get a commission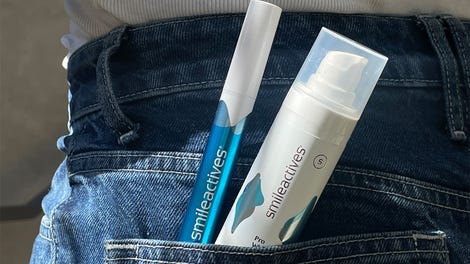 58% off
Whitening Powerhouse Pen & Gel Duo
We told him we were American and we talked baseball. They didn't get to watch major league games, but everybody in Cuba loved the World Baseball Classic because it was a chance to see big league players. Seattle outfielder Michael Saunders, who batted .727 in four WBC games for Canada, was a superstar. They knew who Eric Hosmer was. It was unfair, they said, that Cuba did not get to suit up players who had defected. Jonas shook his head. The national team was not really representative of national talent.
Everything is skewed in Cuba by lack of perspective. The national vision of American baseball is based on word of mouth, events like the WBC, and years-old PlayStation games. As a Dodgers fan, I couldn't help but ask about Puig, who had just come off an insane spring training and been sent down to AA. I asked if he was as good as Oakland outfielder Yoenis Céspedes. Jonas laughed, and the kids lit up. "Puig is going to be a superstar," he said. "It's not even close."
A few months after Puig made his debut, with every game he plays still opening itself up like some brand new, unexpected gift, I feel like the isolated one. Despite our various advantages in communications, Americans are nearly as removed from Cuban baseball stars as Cuban fans are from major leaguers. Puig may only now be learning the blessed and sacred unwritten rules of American baseball, but we are only learning now what the Cuban game has to offer.
---
Eric Nusbaum lives in Mexico City. He is a co-founder of The Classical and his work has appeared in Deadspin, Slate, Outside, The Daily Beast, and The Best American Sports Writing. You can reach him on Twitter @ericnus.
Image by Jim Cooke/Eric Nusbaum