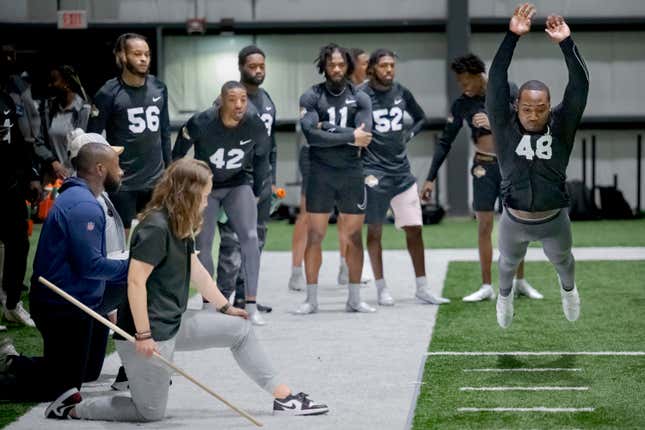 Every year around this time, football fans get bombarded with numbers, scores, and facts about a player's athleticism based on their combine drills. "This guy ran a sub 4.6 40!" "Did you see so and so's vertical?" "Joey Donuts over there has enormous hands!" Blah, blah, blah, blah, blah. Too often these statistics are given with no context and we're led to believe that certain players are great because of the numbers they put up. Those drills might not even matter given their position.
What is the least important NFL Combine drill?
What is the least important NFL Combine drill?
Everybody loves to talk about how fast each wide receiver is at the combine, but when was the last time one of those insanely fast receivers actually turned into a star in the NFL, hm? John Ross? Bust. Rondel Menendez? Who? Jerome Mathis was an All-Pro once… as a returner. He had six career catches as a receiver. In general, 40 times don't really seem to be a factor in predicting a receiver's NFL future. That being said, there are some drills that have been indicative of certain positions' success at the NFL level. To determine which drills provide this correlation, we looked at the top-10 players at each position in each drill since 2010, and occasionally further back, thanks to some data from Pro Football Focus.
Obviously, not each of these drills is foolproof. While hand size might be a decent measuring stick when trying to project a quarterback's future (spoiler alert), we've still got guys like Joe Burrow and Derek Carr doing well for themselves. It's important to remember that these are just trends and as much as we'd like to be able to tell how good a player will be based on their combine scores and measurements, that's a pipe dream and we'll never know for sure. With that, let's talk about it.