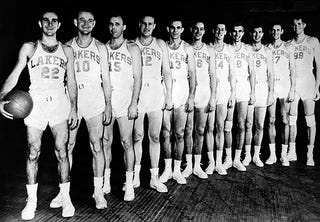 A few days ago, ESPN's Outside the Lines did another of those features in which everyone puts on his Concerned Face and talks very gravely about Serious Things. Like, for instance, why there aren't more white dudes in the NBA.
And not just any white folk, mind you. White Americans, a "group that's never been smaller" in the NBA. (You may leave the room now, Steve Nash.) Outside the Lines seems to think the lack of white American ballplayers is a matter of profound concern for the NBA, which is a league by and large run by white Americans, coached by white Americans and marketed to white Americans, and whose white American commissioner once hired a white American political consultant named Matthew Dowd in a transparent effort to win back fans in Middle America — which is to say, white Americans.
You can watch a teaser for the video here, but you'll probably get an idea of what we're dealing with when I tell you that the piece opens with some B-roll of Kyle McAlarney — self-described "consummate backup point guard" — working very hard in a lonely, echoing gym. There's a pretty bar graph or two. There's Mark Schwartz making his Concerned Face and firing some heat at poor Wayne Embry, who bumbles into saying that the NBA's legalization of the zone was a sop to the white kids. And then there's someone, I can't recall who, suggesting that white players like McAlarney don't get a shot because they're unfairly stereotyped as bad defensive players, which, if you're like me, is roughly the point where you threw the remote at the television.
The implication here is that Kyle McAlarney would be in the NBA if it weren't for the pernicious stereotype about white players and defense. There are several problems with this, the most obvious of which is that the stereotype doesn't exist (slow and unathletic, maybe, but that's not the same thing), and even if it did, well, it would shrink in comparison to the enormous pile of happy code words invariably ascribed to white guys: scrappy, gym rat, team player, hard worker, fundamentally sound, plays the right way, etc. I don't pretend to know why there aren't more white Americans in the NBA, and I don't particularly care. This isn't a Serious Thing. (Baseball, with its dwindling population of black Americans, has a Serious Thing, if only because it spent half a century doing everything it could to earn black Americans' indifference.) For OTL to go rummaging around the dark recesses of the league's psyche for some sinister explanation to a piece of demographic trivia isn't just wrongheaded; it's a rite borrowed from the Church of the Aggrieved White Male (Bishop Glenn Beck presiding). The story reaches its absurd apex with McAlarney saying, in all seriousness (I quote from memory):
I'm trying to pave a way for myself ... and for guys like me.
Kyle McAlarney: the Jackie Robinson of white American basketball players. At last check, he was playing for the Fort Wayne Mad Ants of the NBA's D-League, scoring 9.3 points per game.
OTL Promo: Kyle McAlarney [ESPN]