Unless you are a big Milwaukee Bucks fan or a basketball nerd who lives on the internet, it's very likely that you have not yet been properly introduced to Giannis Antetokounmpo. It's time for that to change, because he is the most exciting rookie in the NBA.
Who?
Giannis Antetokounmpo, the 6-foot-9 small forward who hails from Greece and is currently playing through his rookie season on a miserable Milwaukee Bucks team. He's—
No, I know. What I'm asking is how the hell are you supposed to say that name?
Oh, right. It's actually not that hard to pronounce—it sounds almost exactly like it's spelled—but you need to take your time and say it slowly, unlike these people:
OK, so, all together now: YAHN-is anh-teh-toe-KUHN-po. Got it? If not, don't worry, you can just call him The Greek Freak.
G/O Media may get a commission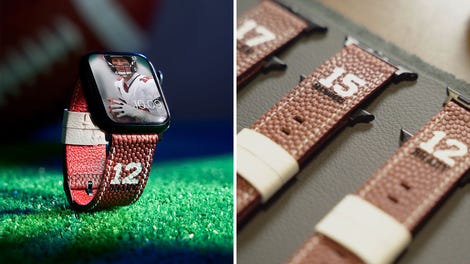 Official NFL PRODUCTS
Official NFL Apple Watch Bands
The Greek Freak. Got it. OK, so why am I supposed to care about the Milwaukee Bucks' rookie small forward?
There are so many reasons! We'll start with this one:
That happened on Saturday night, when Giannis—who just turned 19 years old on December 6—put up 13 points, 11 rebounds, five assists, two steals, and two blocks in 38 minutes against the Thunder. But forget the stat line, can we just marvel at this block for a little bit? Unless Nightcrawler or Mr. Fantastic just signed a 10-day contract somewhere, I can't picture another NBA player pulling off a play like this. Here's a dude bouncing off a screen above the three-point line, loping to the rim in just four steps, and then rising high enough to cap a Kevin Durant floater before it reaches the top of its arc—all in the blink of an eye. Shit like this isn't supposed to happen on a basketball court, and rookies who have never played high-level basketball aren't supposed to be the ones doing it.
Wait, what do you mean he's never played high-level basketball?
What I mean is that he really shouldn't even be in the NBA right now. Giannis isn't one of those European prospects whose skills were honed in a top-flight basketball academy while playing against top international talent. Before coming to the NBA, Giannis was playing for Filathlitikos, a professional club in Greece's second division, or what essentially amounts to the Greek D-League.
In February of last year, Draft Express understandably tabbed him as a guy fit to be drafted and stashed in a European league for a few years in order to allow his game to develop. The Bucks took him with the 15th overall pick, and four months later he was making professional talent evaluators who have accumulated decades of basketball knowledge make statements like this:
Whoa buddy, let's not get ahead of ourselves here. He can't really be that good, can he?
Well, maybe. The good news for Giannis is that the Bucks are absolute garbage this year, so they said "fuck it," and put him in the starting lineup about a month ago. Since then, he's shown some legitimate flashes of brilliance. The eight points and six rebounds per game that he's been averaging since being inserted into the starting lineup aren't eye-popping, but those numbers obscure what a unique player Giannis is.
First, there are his physical gifts, which are just absurd. He's 6-foot-9 (and still growing) with a 7-foot-3 wingspan and gigantic hands. It's those damn arms that will make you do a double take. Watch one of his games, and you're bound to see him make at least one drive to the rim that most players would have to finish with a crafty move in order to avoid getting their shot blocked, but Giannis just stretches those ridiculous arms to a place that other humans can't reach and throws down balls that have no business being dunked.
Even though he's got the length of one, Giannis isn't a lumbering giant on the court. He's one of those rare, potentially mold-shattering players whose game combines the brute force of a power forward with the fluidity of a guard (he used to play point guard on his Greek team). He's big and springy enough to play above the rim, he's fast enough to outrun entire teams on the fast break, and he's skilled enough to handle the ball and create offense for himself and others—it's no accident that he's dished four or more assists in a game eight times this year—on the perimeter.
Take a minute to watch this highlight reel from this weekend's game against the Thunder, and you'll see what I mean:
And we haven't even gotten to what right now is Giannis's most deadly skill: his cutting. He has shown a preternatural ability for knowing exactly when to cut toward the basket and a knack for finishing at the rim. According to Synergy Sports, he's attempted 25 shots on cuts to the rim this season, converting 19 of them. His soft hands make him a great target for any guard looking for a cutter, and his size makes it almost impossible for any defender to stop him once he gets into the lane.
What you are seeing in those clips is the same thing you see in that absurd block against Kevin Durant: instinct. Despite being so young and inexperienced, Giannis plays like someone who just knows how to play basketball. This is what David Thorpe was talking about when he mentioned the "hunters' spirit." Giannis doesn't have to think; he just goes, quickly, to where he needs to be, and he wrecks shit when he gets there.
And as you might expect, Giannis is also a beast in transition. He's got 21 transition buckets on the year, and all but five of them were dunks. As for those dunks, well, they are gorgeous. Here's a sampling:
Of course, there's plenty of rawness in Giannis's game—he sometimes looks like a skittish deer when dribbling at full speed and he is without a reliable jump shot—and we've seen plenty of players with similar physical gifts flame out before (miss you, Anthony Randolph), but there's real potential here. Remember, this is a 19-year-old kid who has never played against talent that is anything close to what he's seeing in the NBA, but he's already putting guys on posters and leaving scorch marks all over the court.
Well, fine. But can he play any defense?
He can! His size and length alone make him well-suited to hound ball handlers and disrupt passing lanes, and he's adept at flying in from the weak side and blocking shots in the paint. He hasn't really played enough for his per-minute numbers to tell us a whole lot, but what he's accumulated so far is impressive. According to Basketball Reference, Giannis is averaging one steal and 1.2 blocks per 36 minutes, which puts him in pretty good company among the league's other small forwards. (For comparison's sake, Josh Smith averages 1.6 of each per 36 minutes.) Milwaukee's overall defensive rating also sees an uptick when Giannis is on the floor; the team's points allowed per 100 possessions is a dreadful 107.7 overall, but improves to 101.7 with the Greek Freak on the floor.
And just as he has on the offensive end, Giannis has shown good defensive instincts. Not many of his steals have just fallen into his lap; rather, he's gotten them by jumping passes at the right time and deploying his ridiculous length as a defensive weapon:
It's very hard to sneak passes past a smart player who's quick as hell and has a 7-foot-3 wingspan.
OK, so he can play, but does he have any personality?
Oh I don't know, would a player without any personality do this?
Off the court, Giannis is as shy as you would expect any 19-year-old playing pro ball in a foreign country to be, but he's also got a bit of an edge to him. He seems to understand that he's got the potential to be an absolute killer in this league.
Take, for example, his postgame interview after his first career start against the Knicks. The interview starts with Giannis doing standard rookie-speak, but then one question causes him to perk up a bit:
Q: You played with a lot more attitude tonight. What was the reason for that?

A: The reason was Carmelo. I respect him. He's one of the best players, but he can't come out and start bullying my teammates and me, like talking to me all the time. I tried to not react and you have to respect him. If he does it all night you can't focus on your game so you have to respond and tell him something to stop. When I go out there I don't care who you are, for me it's just a jersey.
There's more than a little imperiousness coming from Giannis as he delivers that answer, mixing in a few shrugs and facial contortions that seem to say, if only slightly, "Carmelo Anthony? Who the fuck is Carmelo Anthony? I'm Giannis Antetokounmpo." And then, in the next breath, he's back to being the wide-eyed rookie:
Yeah, of course he's going to get in my head because, like, last year I was watching from the TV. And now, I'm just going against him.
He also blogs.
He blogs?
He blogs, adorably. He's been writing periodic dispatches about his first year in the NBA for a Greek NBA site. Brewhoop.com has done the lord's work by translating his posts into English, so go there to read them all, but here are a few choice selections:
One very beautiful moment for me was when we traveled to L.A. to play against the Lakers. Unfortunately, Kobe did not play since he was injured again. From the second I set foot in Staples Center I was looking for him. I wanted to see how he looks like from up close. How tall is he, how he moves. We are talking about one of the best players of all time. When the game started, in a timeout, I saw him on the bench. He had that killer look, even though he was in his 'civilian' clothes on the bench. I also have that look! Nah, kidding!

I did not have time to see someone famous on the side court, but I was almost seriously injured. Not long before the game was over, and when I was in the air for a rebound, Williams footstooled me [Greek expression, you get the point]. I fell on the floor very hard. Everyone was asking me if I was OK. It hurt a lot and I tried not to show it. On the bench, Coach Drew came and asked me: "Are you going to shoot the free throws or should I send someone else?" I told him: "Of course I am, who else?"
And:
My life in America: I prefer to spend most of the hours with my teammates, because I am bored alone at home. It is nice before, during, and after the workouts. We are having a nice time as a team. I feel part of the Bucks family. They all embraced me and I like that very much. When, finally, I have to go home, then I usually play Playstation. I bought a PS4 just for the 2K14. And of course I'm playing myself, and it's so much fun. Other than that, I go to the movies or for a dinner. Also, I speak every day with my family in Greece, either by phone or Skype. I miss my parents and my brothers, but there is nothing I can do so I am slowly adjusting.
Now, would you like to watch another interview in which Giannis eats frozen custard, talks about what an incredible parallel parker he is, and gushes about the Gucci shoes that Larry Sanders bought him? TrueHoop's Kevin Arnovitz has you covered.
OK, this guy seems pretty great. I'm—
Hold on a sec, we're not done yet.
We're not?
No! I haven't even told you about his too-good-to-be-true, rags-to-riches backstory.
Oh! Well then, proceed.
Back in June, the New York Times sent a reporter to Athens to write a brief profile on Giannis as he prepared for the NBA draft, and it presents his life as a pitch-perfect Horatio Alger story:
Like other immigrants to Greece, his parents struggled to find work. Adetokunbo and his older brother, Thanasis, would help out by hawking watches, bags and sunglasses. In doing so, they jeopardized their roster spots because they were missing practices. They also missed meals.

"Sometimes, our fridge was empty," said Adetokunbo, who turned 18 in December. "Some days, we didn't sell the stuff and we didn't have money to feed ourselves."

The good days brought "just enough," he said, to make the rent, pay a water or electric bill, or buy food.
We're all cynics here on the internet, but a journey that begins with hawking handbags and watches on the street and ends with a posterization of Kendrick Perkins is one that should brighten any NBA fan's day.
OK, you've sold me. Anything else I need to know?
Nah, just try to get used to the fact that your new favorite player is a Milwaukee Buck.