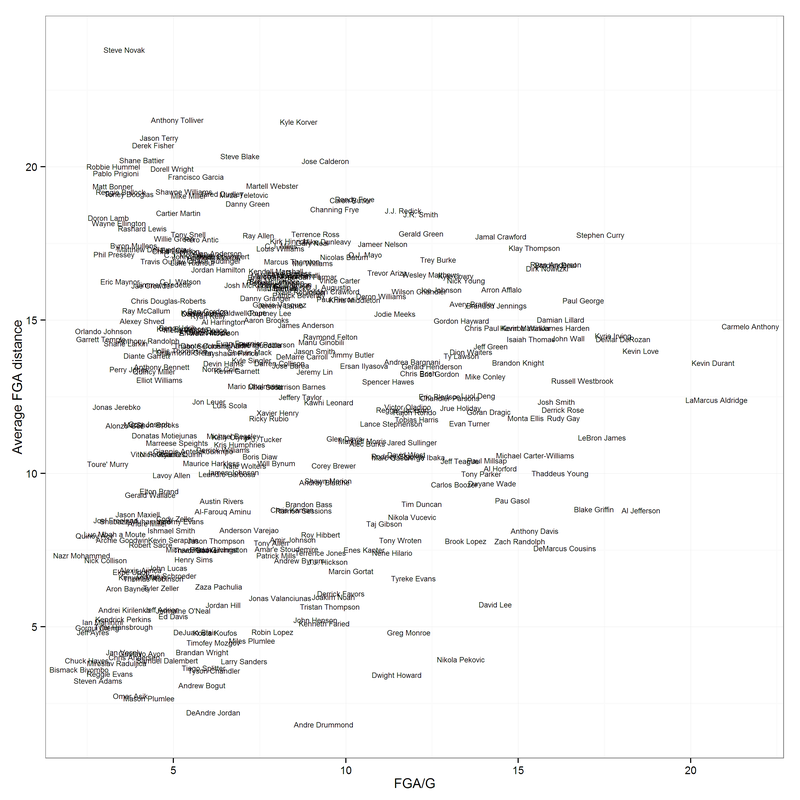 Our friend Ed Kupfer from the Houston Rockets made another fun chart, this time plotting the average distance of field goal attempts (based on play-by-play data) against shots taken (min. 100 FGA). So, who shoots from the deepest?
(You'll want to click "Expand" above or open the image in a new tab to see everything.)
The answer, without much surprise, is Steve Novak. He's taken 104 threes to just 19 two-point field goal attempts (and, erm, five free throws—but he's 5-5!). He's followed by Anthony Tolliver, of all people, with Kyle Korver, Steve Blake, JET, and Fish, who has been in the league since the Enlightenment, and will remain long after the fall of the American Republic, following close behind. These are all limited players, and what we're really seeing with them here is what percent of their shots are threes. But as you go down the line, you can see Steph pop out from the pack.
Most of the best, most efficient players—LeBron, Durant, Love, CP3, Bosh—are in the 10-15-foot range, which just means they're playing a more balanced game. You'd have to look at two-point and three-point attempts separately to see who's really dropping BOMBS, and which wing players are only going to the hole.
There are a few other curiosities on the list. Nikola Pekovic, Greg Monroe, and Dwight Howard being the only guys on the list with more than 10 FGA per game and an average shot distance of less than five feet; Josh Smith, Rudy Gay, Derrick Rose, and Monta Ellis are all bunched together, right between Russ and LeBron; the Bismack Biyombo-Reggie Evans-Stevan Adams-Omer Asik-Mason Plumlee cadre of putback artists in the bottom left, and so on. My favorite is the ascending evolution of big man along the bottom of the chart, from Andre to Dwight to David Lee to Boogie to Blake and Al to LaMarcus, then sometimes-fours KD and Carmelo—and Kevin Love floating above the line.
While you're gawking at this thing, go ahead and follow Ed. We don't post everything he does, but he's a very good NBA nerd follow.