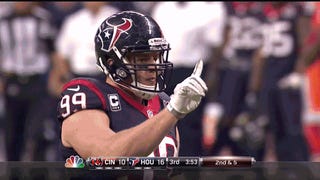 So, 23 years now, and a guaranteed extra 365 days (at least) on that 8,400 day playoff winless streak for the Bengals. Yikes! They sure do suck. Matt Schaub played just OK but still completed 29/38 passes, Arian Foster ran for 140 yards, and J.J. Watt continued to be a sort of revolutionarily good defensive end. Watt showed how he's altering the game on one of his deflections, for which he gave the Mutombo finger wag you see above.
The rest of the game was mostly derping from both sides, which initially seemed promising for the Bengals. This interception by Leon Hall in the second quarter put the Bengals up 7-6 and made Matt Schaub look more or less how he's looked over the past few games: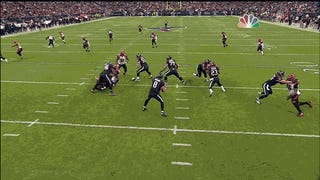 Then the Bengals reverted to doing Bengals things. This muffed punt by Brandon Tate, which left Cincinnati starting from its own 11, sums the ineptitude up fairly well. The Bengals didn't convert a single third down and amassed only 207 yards of offense. That doesn't win playoff games, even wildcard games.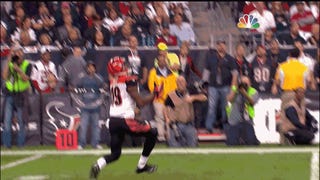 And there went Cincinnati, out in the first round for the fourth time in eight years. Godspeed to the Texans, who escaped a close game with a Bengals team that was executing very poorly, and is headed to New England.