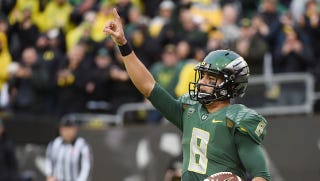 After a round of blowouts to kick off the conference championship games, it would appear only a single spot is up for grabs in the inaugural College Football Playoff. No. 1 Alabama and No. 2 Oregon sealed their bids with convincing wins over Missouri and Arizona respectively. No. 3 TCU would also seem to be in after a 55-3 shellacking of Iowa State.
No. 4 Florida State has the upper hand on the last spot. The Seminoles are, of course, undefeated. But they've been sliding in the rankings after a season of close calls. Seemingly only a loss could keep them out of the playoff at this point, but the Seminoles may have their hands full with No. 11 Georgia Tech's option offense.
No. 5 Ohio State is desperately looking to represent the Big Ten in the playoff. The Buckeyes went undefeated in conference play, only losing to Virginia Tech early in the season. Ohio State seems to be in trouble however, as the Buckeyes will start their third quarterback of the season against No. 14 Wisconsin tonight with freshman sensation J.T. Barrett out for the year. Perhaps a big win over the Badgers vaults Ohio State past the Seminoles?
No. 6 Baylor has an extremely interesting case for one of the final four spots. The Bulldogs Bears beat TCU head-to-head, but the rest of their credentials are lacking. An absolute beatdown of No. 9 Kansas State could sneak Baylor back into TCU's spot, but it's hard to see the Bears getting back in, unless Florida State and Ohio State both lose.
So, what do y'all think? Who is going to get into the final spot? And are you guys happy with the way this new system has played out? Discuss.
Photo via AP