AJ Daulerio's Cultural Oddsmaker runs every Friday. Email him to let him know what you think.
During the trade deadline, you can really see the true personality of most general managers come out — how their mind works, their vision, their souls. Take the recent Julio Mateo "trade" for example. Given that Mateo was accused of beating the shit out of his wife last May, the Mariners decided to ditch him. However, the Philadelphia Phillies still went out and embraced this PR nightmare. With Mateo's background, the messy Brett Myers situation from last year (which they also handled poorly) comes back into focus as well. Thing is, they seemingly don't care. GM Pat Gillick's response to how seriously they take the issue of domestic abuse can be summed up thusly: "We take it very seriously...when our bullpen isn't decimated by injuries."
However, it's little unfair to knock the Phillies, given the fact that Gillick hasn't set his team up for the amount of backlash that could potentially befall the Seattle Mariners' brass. Both Chuck Armstrong, president of the Mariners, and general manager Bill Bavasi went on record as stating that the reason Julio Mateo was cut was because of the abuse. Mateo was suspended for 10 days and demoted to Triple-a while awaiting trial. Armstrong even went as far to tell Seattle Times columnist Jerry Porter that even if it was a franchise player involved in the same situation, the result would've been the same; the Mariners, he said, are committed to upholding the righteousness of a franchise.
Let's not forget, however, that Mateo has denied the charges against him. Kind of.:
"That's a lie. They can't prove that. I didn't do anything. They said she had a black eye. What I know is that was not true. The way it was put in the newspaper, it did not happen that way."
G/O Media may get a commission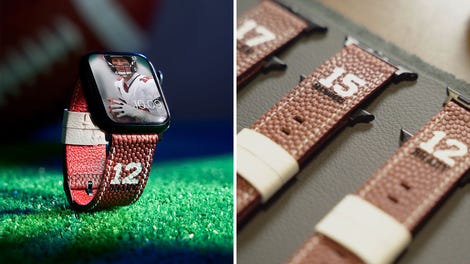 Official NFL PRODUCTS
Official NFL Apple Watch Bands
See? And to further demonstrate, he punched the female reporter in the face.
What Armstrong is doing is setting a precedent for his team that, although noble, seems unrealistic. Especially if Felix Hernandez's girlfriend gets mouthy one night and he, you know, shakes her a little to shut her up. Is he also getting booted, or just some anger-management counseling in the offseason?
Everybody's human. We all make mistakes. Even the front office guys with the painted on smiles that sign the checks. And one day, a suit will fall.
So this week, I'm spit-shining my wingtips, putting on my Gordon Gekko mask and placing odds on the first MLB general manager to veer off the path of righteousness.
Greed. Good. More.
J.P. Ricciardi: 4/1
Ricciardi had his "trustworthiness" questioned by Torontoians after B.J. Ryan's arm blew up, suggesting that J. P. was aware of the risk and forged ahead anyway. That only scratches the surface of his oiliness; if you probe a little deeper, you'll find that Ricciardi is a full-blown mobster. Once he's audited by the IRS, there'll be allegations of racketeering, extortion and a bunch of other charges you'll usually find attached to the names of Italians with buckets of money. Don't be surprised if you find the Jays' affairs officer Matthew Shubert hanging in a meat locker before all of this goes down.
Omar Minaya: 3/1
Although he's one of the more elegant looking GM's in the major, don't be fooled by appearances. Underneath that corporate polish there lies the soul of a Dominican. Remember his full name is Omar Teodoro Antonio Minaya y Sanchez, and any person with the single letter 'y' in their name is a shifty individual up to no good. As is a man with Sanchez in their name. And Antonio. If you enter Minaya's office right now, you'll find it filled with machetes and cocaine.
Theo Epstein: 2/1
The fair-haired boy of Boston has avoided salacious controversy, even though he's a young dude who not only plays in a band, but also happens to be GM of the most revered group of Red Sox in history. Put anyone else in that situation with less guile, and they're likely to be plastered all over the front pages of the Globe once a week with their teeth attached to the nipple of BC's finest co-eds. But Theo's kept his private life remarkably private — take his surprise wedding last January as a case in point — so there has to be incriminating evidence he hasn't cleaned up somewhere along the way during his tenure. Most likely there's a Wild Things-style tape safely locked away some where in Peter Gammons' house.
Ken Williams: 1/4
Even when he's in a good mood, White Sox GM Ken Williams still appears like he's only one step away from slapping somebody. He's the epitome of the Angry Black Man, and his temper will surely get the best of him in the next year, ending all the goodwill accumulated from winning the World Series with the White Sox in 2005. I'm leaning towards a Winter Meetings dust-up with Erin Andrews, as he'll be seen on camera threatening her: "Woman, if you don't get that microphone outta my face, I will cut you."