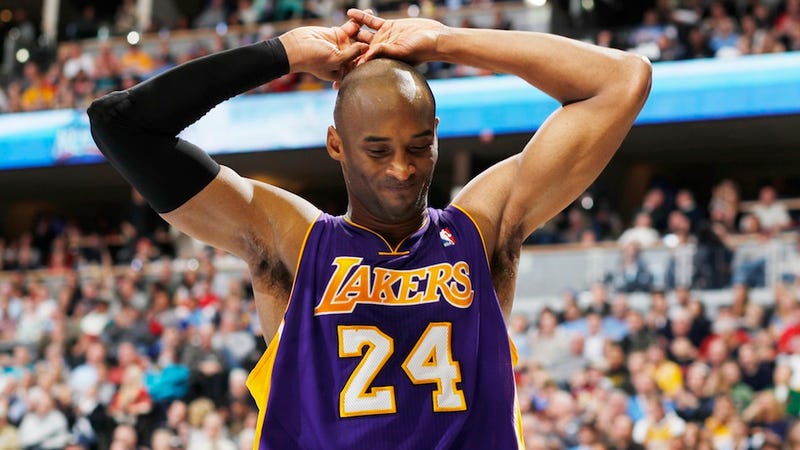 Older teams have run the same strategy for years to deal with the NBA's 82-game grind: go through the motions in the regular season, make sure you're healthy and rested for the spring. But these Lakers, built to win in the postseason, wouldn't even be in the playoffs if they started today. They're 10th in the West, and nine-and-a-half games back of the Clippers in the Pacific. It's now 2013, and L.A. needs to hit that extra gear—if they even have one.
After a home loss to Philadelphia, Kobe Bryant is wondering too. He was frank when asked why the Lakers can't seem to engage the turboboosters on command.
"Because we're old as shit. What do you want? We just got to figure out how to play when we don't have that energy. We got to change things up a little bit defensively. We got to figure out what we want to do offensively, figure out what we want to do on nights when we don't have those legs or have that energy.

"You just saw an old damn team. I don't know how else to put it to you. We're just slow. You saw a team over there that was just younger and just had fresher legs and just played with more energy, and we were just stuck in the mud. I think individually we all have to figure out how to get ourselves ready each and every game to have a high level of energy. That's all that is."
Barring experimental German blood-spinning, here's an idea to keep old legs fresh: don't hire a point guard and coach best known for "seven seconds or less." (Mike Brown's quasi-Princeton offense, which favored constant motion and passing, wasn't much better for a team that would prefer to spend these cold months on autopilot.)
With Steve Nash back, the Lakers' offense has looked more lively. But even if they find a comfortable pace, they've already dug themselves a sizable hole. If they don't want to face the West's elite in the first round—or miss the playoffs altogether—they're going to have to expend more energy than they'd like over their last 51 games. That doesn't bode well for a team that was hoping not to have to try this early in the season.