On Monday night, the Colorado Rockies lost to the Blue Jays. Despite getting a strong effort from starter Jorge De La Rosa, the Rockies just couldn't muster any offense—they went 0-for-8 with runners in scoring position—and eventually fell 2-0. Tuesday, they scored three runs and lost. Wednesday, two runs, another loss. Last night, one run, another loss still. The Rockies are familiar with losing games this way, mostly because they are familiar with missing Troy Tulowitzki, their franchise player who cannot stay healthy.
Tulowitzki was sidelined officially for four to six weeks last Friday with a broken rib. You probably don't care about the Colorado Rockies, so you may not have noticed that Tulowitzki has missed a lot of games over the last five years. Since his impressive 2007 debut—24 homers, a .291/.359/.479 batting line, a close second in Rookie of the Year voting—he has missed a total of 246 games, mostly all due to injury. That's about 30 percent of all the Rockies' games in that span.
It's Colorado's loss, as it would be with any team whose best player can't stay healthy. But it's also baseball's loss. Troy Tulowitzki is the only great all-around shortstop left in baseball, which once had so many of them. He's the last of a dying breed, and he can't even die on the field.
---
Not too long ago, the shortstop position was where the game's most impressive stars shone. The position was patrolled by the likes of Alex Rodriguez, Derek Jeter, Nomar Garciaparra, and Miguel Tejada, capable athletes who could hit for average and power, run, throw, and field. They did just about anything imaginable on a baseball field, all of it with startling ease. And they did it all while playing the field's most demanding position. They were the rarest breed, the point-forwards of MLB.
But that crop of shortstops didn't give way to very many descendants. The revolution that was supposed to happen never did; the era of the superstar shortstop is over.
Since 1990, the average OPS for shortstops hasn't been much punier than it is now. In 2012, MLB's shortstops put up a .688 mark. To date in 2013, they sit at .677. Those are the fourth- and fifth-lowest marks of the last 24 years, outdone only by a three-season stretch from 1990-1992. The shortstop position is regressing to its slap-hitting roots. And this trend shows no signs of stopping.
Where did the dynamos go? Some just flamed out. Angel Berroa hit 17 home runs his rookie year, and 29 in the rest of his career. Hanley Ramirez, once the heir to the slugging shortstop throne, appears to have settled into a state of managed decline. (He is, though, off to quite a start since returning from injury: He's hitting .372/.391/.605 through 16 games.)
Other star shortstops were shuffled elsewhere. Defensive deficiencies were sometimes at fault—hello, Miguel Cabrera and B.J. Upton. Positional logjams did in others. J.J. Hardy's presence in Baltimore moved Manny Machado to third base, and Adam Jones, another Oriole, converted from shortstop while in the Mariners organization so that Yuniesky Betancourt could continue doing whatever the hell it is he does for a living. ("I understood that moving there would make things quicker for me because the guy they have at shortstop now [Yuniesky Betancourt]—he's just unbelievable," Jones said then, hilariously.) And because of Elvis Andrus, Jurickson Profar, the Rangers' dynamo with the career .816 minor-league OPS, is headed to left field.
All this leaves Troy Tulowitzki alone as the game's last great, do-it-all shortstop, as the one guy who can hit 30 homers, post a .900-plus OPS, and also do this: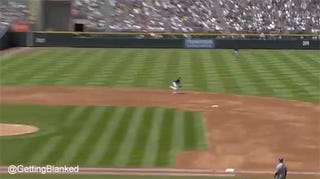 ---
Anyone who can do all that ought to be a household name, every Little Leaguer's favorite pro. Tulo isn't. Four of seven years he's missed big time. He instead starts to seem like an allegorical cautionary tale—well, no one can have it all.
It looked like that was finally going to change this year, when Tulowitzki stormed out of the gate with 16 homers and a .347/.413/.635 batting line. This would be his best season yet, the one that would earn him an MVP—he's finished in the top 10 three times—and force even the most casual fan to appreciate his rare combination of skills.
Instead it's the same old song. Jonathan Herrera, a five-foot-nine veteran with a solid glove and a .278/.330/.333 career line, now mans short for Colorado. And baseball fans across the nation have to pretend that Ian Desmond and Asdrubal Cabrera are worth getting excited over.