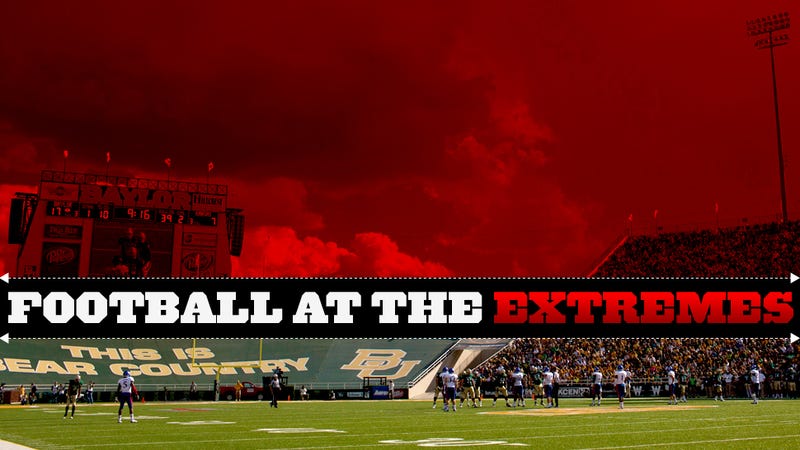 In football, which operates on a tight cycle of coaching innovation and theft, it's rare to see enormous outliers. The college game is littered with coaches who found one legitimate schematic advantage, rode it for a year or two, watched it become the norm, and fell back to the pack once they could no longer distinguish themselves. You can no longer count on one hand the number of teams that run an "Air Raid" scheme, or dabble in a no-huddle offense. The "packaged plays" innovation that Chip Kelly popularized is catching on in much the same way. Early adapters reap the spoils, but if they don't continue to learn, they wind up more like ex-Michigan head coach Rich Rodriguez—yesterday's innovator clinging to yesterday's fashions.
Then there's Baylor's Art Briles, rolling into this weekend with an undefeated record at a perennial doormat, with an outside shot at a national championship should Florida State or Alabama slip up.
The difference between your run-of-the-mill wunderkind football coach—say, Texas Tech coach Kliff Kingsbury or Clemson offensive coordinator Chad Morris—and Briles is largely a matter of what we'll call Football Things. Everyone involved in the sport in any way has to negotiate a certain amount of cognitive dissonance between long-held football shibboleths and the underlying truths of the game. The arguments can be simple: "Establishing the run is important if you want to win a football game." (The truth is that teams run because they're winning). Or complex: "Does the fact that this team with a terrible running game is good at play-action passes mean that the skill of the running game actually doesn't matter?" (Inconclusive. Anecdotally? No, it doesn't matter. )
We all start from that shared collective knowledge of football and let that understanding infect the questions we ask. Because we have become so used to our surroundings, our eyes glaze over when we see a running back plowing ahead for four yards on three carries while a team with a one-score lead tries to eat clock. That is a Football Thing. When a team faces a long third down and runs a screen that has little chance of gaining a first down without a catastrophic fuckup, that's a Football Thing. When a team is driving late in the fourth quarter and elects to kick a field goal on fourth-and-short even though the conversion would practically end the game, that's a Football Thing. Football Things aren't necessarily glaringly flawed ideas in terms of short-term payoffs, but if you add them up over time, the numbers aren't in their favor.
But most coaches are a product of Football Things. And no matter how many innovative schemes or neat plays they draw up, they remain that way.
Art Briles's success is based in part on a large inheritance—he didn't invent every concept he's using, though what coach ever did?—but the chief reason behind it is his willingness to push the successful trends of the day to their logical extremes, to take chances well outside the scope of accepted football protocol. To put it simply: He doesn't believe in Football Things.
---
Baylor's offense, by any objective measure, is ridiculous. Last week the Bears were without three of their top weapons, receiver Tevin Reese and running backs Lache Seastrunk and Glasco Martin, so they tapped the breaks in scoring only 63 points against Texas Tech at a neutral site. Football Outsiders' Fremeau Efficiency Ratings carries both opponent-adjusted and raw measures of offensive efficiency. Baylor has not played a tough schedule, so it's only sixth in opponent-adjusted efficiency. (All these numbers are through games of Nov. 16.) In raw efficiency? It's in first place by over .200, or the same difference between seventh-place Alabama and 17th-place Washington. The Bears have converted a first down or touchdown on 85.4 percent of its drives, first in the country. They are first in Explosive Drives, which denotes the percentage of drives their offense had that averaged 10 or more yards per play. More than a third—36.5 percent—of all Baylor drives average 10 or more yards per play.
Where does all this stem from? Well, as Chris Brown noted in his recent brilliant-as-usual profile of Briles, it starts with philosophy.
"We do not try to go to the body to set up the knockout shot," Briles said at a recent coaching clinic. "We try to score on every snap."
Football Thing devotees will tell you that you've always got to mix in the long ball. You can't make it the sole point of your offense. You certainly don't want to always throw deep, because you'll end up in a lot of third-and-longs, and you'll be predictable. Bill Connelly has been fiddling with a statistic that measures how well individual receivers have performed. Baylor wideouts Antwan Goodley and Reese (since injured) shook out as the No. 1 and No. 2 threats in the country, as of the last update. The big reason? They were No. 2 and No. 3 in yards per target, behind only Texas A&M's Mike Evans.
But notice that, unlike most aerial assaults of the past few decades, Baylor actually isn't passing that much. As Matt Hinton pointed out on Monday, of the 10 all-time best offenses measured by yards per game—a list that the Bears top for now, by the way—Baylor easily has the most prolific rushing attack. Only four of those 10 offenses averaged more than 230 rushing yards per game. One is 2005 USC. The other three are 2011 Baylor, 2012 Baylor, and 2013 Baylor. The best chance to score may not be Goodley over the top against a given defense. It might be getting a matchup with Seastrunk or Shock Linwood against a safety, where one missed tackle sends them to the races.
There's nothing exceedingly fancy about what the Bears' offense is doing; they're just combining all the latest concepts with the willingness to take calculated risks that go against the mainstream. They run packaged plays. They run no-huddle almost exclusively. They don't care about time of possession. Baylor's closest call all season, a 35-25 escape from Manhattan against Kansas State, involved the Wildcats running for 327 yards and chewing up nearly 40 minutes of clock. Didn't matter. By no-huddling all the time, Baylor is showing supreme confidence in its offense. It won't come through on every down, but Briles's philosophy is about creating small advantages that he knows will assert themselves in the long run, the way the house knows the percentages are ultimately on its side. And, in Manhattan, that's precisely what happened. Baylor scored two touchdowns in the fourth quarter to take the lead and salt the game away.
---
One of the major points of Brown's piece is the wide splits the Baylor wide receivers take. Having your offense do this means you're essentially trading out-breaking route concepts for geometry. As a result, defenses have a lot more ground to cover, and that extra ground means the safeties have to take wider splits, the cornerbacks are forced to the edges, and the middle of the field becomes much more important. This is a boon not only to the passing game, but to the running game. Here's an example Matt Waldman used in his Futures piece on Seastrunk. This is from Baylor's game against West Virginia earlier in the year.
Notice how the wide split of the receivers creates bad tackling and pursuit angles for defensive backs against Seastrunk. The linebackers become vitally important; miss a tackle, and Seastrunk has open space downfield and blockers to work with because no receiver has run his way out of the play. Once Seastrunk is past the line of scrimmage, nobody has a prayer. It's not just that he's a talented back—though of course he is; it's that this particular set has a high potential to create a big play if he can make a tackler miss.
Nothing the Bears do is completely foreign to other offenses. The difference is the degree to which they do it. Other teams will run packaged plays in which the aim of some of the reads isn't anything more ambitious than snagging four or five yards and setting up second-and-short. Baylor runs packaged plays in which the aim is deciding which one offers the highest chance of ending with a Bears player in the end zone.
---
My favorite Briles quote comes from his pre-season interview with Spencer Hall. Hall asks him where he starts working when he realizes he has fewer resources:
The mind. Without question. Everything's about your mental attitude, and how you approach it, and how you get to where you wanna get. You have to understand that the field may not be equal from a lot of different standpoints — resources, facilities, support, fan support — but all those things, if you let them filter in, you lose sight of your focus. Our focus has always been that we're gonna be the standard, we're gonna do what we do and do it as well as anyone does it, and we're not gonna have any excuses or comparisons along the way. That's our motto: no excuses, no comparisons, and no compromises.
That is an intellectual quote from a man who will not be trapped by his circumstances, from someone who sees the field around him as it's changing and tries to anticipate where things will go from there.
Baylor has produced Robert Griffin III, Kendall Wright, and Terrance Williams, among others, in recent drafts. The school isn't bereft of talent, but it also isn't a football factory. It'd be impossible to build a successful program there out of just one scheme or wrinkle. Briles is doing more than riding a gimmick. For Baylor to rise out of the Waco dirt, the very concept of football had to be carefully considered; it had to be stretched to its extremes.
If you're an analytics nerd, this is especially satisfying to watch. You're used to seeing unconventional ideas ignored or belittled at best condescended to in the mainstream. At Baylor, the idea has its day.
On Saturday, Baylor trounced another Air Raid offense, Texas Tech, and it was like looking at the same species in separate stages of its evolution, the Red Raiders (yesterday's innovators) with their "traditional" spread and the Bears with their wiiiide splits. It's the difference between a team that believes in an offense, and a team that believes in the idea behind the offense.
There's real bliss in watching this unfold—in watching a thesis work its way to a conclusion. When you see a coach like Art Briles finding success at the limits of football, it validates a lot of the thinking that we have put in to trying to find the real "book" of the game, underneath all those Football Things. Briles isn't a pure outsider by any stretch of the imagination—he climbed his way up from the Texas high school football ranks and has worked a long time to get to where he is today—nor is he a theoretician. He's a guy laboring under externally imposed limitations that both require and allow him to experiment; what makes him unique is that he's both brave enough to do so and smart enough to do it well.
---
Rivers McCown writes for Football Outsiders. Image by Jim Cooke; original photo via Getty.