Over the weekend, the Boston Globe published a story about Tom Brady's dealings with Best Buddies, a nonprofit dedicated to helping intellectually and developmentally disabled people that Brady has lent his time and image to. The Globe discovered that Best Buddies has been making regular payments to Brady's personal charitable trust, the Change the World Foundation Trust, to the tune of $3.25 million since 2011.

How you feel about this probably depends on how bothered you are by rich people deciding how other people's money should be spent. Change the World gets almost all of its funding from Best Buddies, and gives a lot of that money to institutions that are of personal interest to Brady. These include the University of Michigan, the private high school that Brady graduated from, and two schools that Brady's children have attended.
Obviously, the Globe's story elicited cries of "Nawt news!" from Brady fans around the country, and today Sports Illustrated's Michael McCann mounted a defense of Brady's arrangement with Best Buddies. McCann argues that this story isn't a big deal because the transactions between Best Buddies and Change the World are perfectly legal and because the money being given to Change the World is still being spent on good causes:
Third, most or all of Change the World's donees could be viewed as engaged in pursuing positive acts for society. Take the donation to Brady's high school. On the surface, a donation to a private high school might not seem like the most humanitarian act imaginable, but that same donation might help the school offer a scholarship to a financially needy student. In addition, Change the World has also donated to what can clearly be considered charitable causes. They include the Dana Farber Cancer Institute, which researches new treatment options and potential cures for cancer, and Foundation Rwanda, which pays school tuition for children born from rape during the 1994 Rwandan genocide. Brady also declines to draw any salary from his charity.
This is fine, but it fails to account for the motivations and desires of the people who donate money to Best Buddies in the first place. It's fair to assume that anyone who makes a charitable donation to Best Buddies is doing so because they want to support a specific cause—helping intellectually and developmentally disabled people—and not because they are hoping some of their money will end up paying for a new water fountain at one of Tom Brady's kids' schools. Yes, a person donating to Best Buddies could easily look up the charity's 990 form to see exactly where it spends all of its money, but that seems like a lot to ask of people who are giving money to a charity that has a pretty specific cause.
A Brady defender could here say that Best Buddies makes back every penny they send his way many times over due to Brady's work for them, and that would be true, but this utilitarian argument overlooks that Best Buddies would be even better off if Brady did all the work for them he does now and they didn't send any money the way of his charity at all. (He could make up the difference. He makes a lot of money.)
G/O Media may get a commission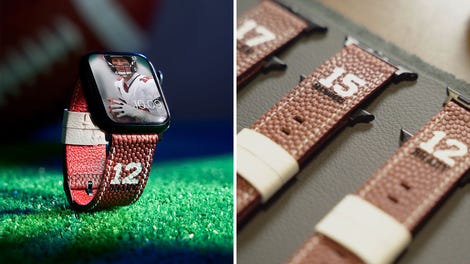 Official NFL PRODUCTS
Official NFL Apple Watch Bands
It's probably too much to say that Brady has set up some sort of sham charity in order to enact a pay-for-play situation with Best Buddies, but it's perfectly accurate to say that he and Best Buddies are taking some liberties with other people's money. That's worth reporting on, and it's not really worth defending.