Whenever I tell a New York Yankees fan that my new book, The Captain Class, is a profile of the greatest team leaders in sports history, they inevitably say some variation of the same thing.

"Oh, so there's probably a whole chapter on Derek Jeter."
Let's get one thing out of the way. Derek Jeter was not one of the greatest captains in sports history. To be blunt, he doesn't even belong in the conversation.
This isn't some scorching take I scribbled down on a bar napkin four rounds in. To come up with an objective list of the most effective captains in sports history, I first set out to identify the most dominant teams of all time. This step, alone, took years. But at no point during my research did I find even a shred of evidence that the Yankees, during Jeter's 12-year captaincy, had any argument for being included.
G/O Media may get a commission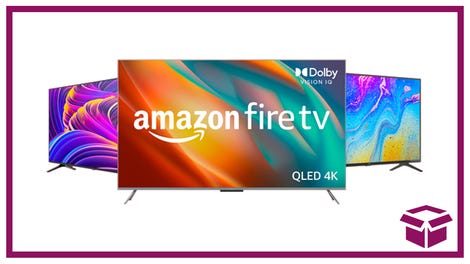 Ooh. stunning.
New Amazon Fire TVs
Jeter was not the only celebrated captain who didn't make the final cut. Michael Jordan, Tom Brady, Wayne Gretzky, Roy Keane, and several other boldfaced names were conspicuously absent, too. At least those guys came close. Derek Jeter didn't.

When the Yankees named him captain in 2003, the fans were delighted. Jeter was a perennial All-Star. His sublime swing would help him amass 3,465 career hits, placing him at No. 6 on the all-time list. Not only that, he was a tall, handsome bachelor who dated singers and starlets, hosted Saturday Night Live and owned an enviable portfolio of endorsement deals.
What many people forget, however, is that Jeter did not become captain until after the team's dominant run from 1996 to 2001, in which it won the World Series four times in six seasons and came within two outs of adding a fifth. He took over the team after several clubhouse stalwarts, including Paul O'Neill, retired or left to play elsewhere.
Before retiring in 2014, the teams Jeter led had compiled a regular-season record of 1136-808—an admirable 58.4% win rate—and had made nine postseason appearances. That's good, for sure, but does it put him in the realm of the elite?
Here's the truly baffling thing about Jeter: The Yankees only made it to the World Series twice under his stewardship, winning it once. The San Francisco Giants, Boston Red Sox, and St. Louis Cardinals each won at least two titles over that span, and four other teams matched the Yankees with one title. The best thing you can say about Jeter as captain is that his team ranked among the top 25% in baseball.
There's another crucial piece of context to factor in, here too—money. It's true that Jeter's captaincy coincided with an aggressive new MLB luxury tax that forced the Yankees to surrender a chunk of their revenue to support the league's poorer teams, but the Yankees still had more than enough left over to maintain a sizeable spending advantage. In fact, according to payroll figures over those 12 seasons, the Yankees outspent the No. 2 MLB team by more than $1 billion.
All of that money, and Jeter's supposedly brilliant leadership, produced the same trophy haul as the Florida Marlins.
The elite captains I studied had seven common traits. They were rarely stars and were often decidedly average athletes (see Barcelona's Carles Puyol). They could be surly (Jack Lambert of the Pittsburgh Steelers is a good example) and were rarely charismatic (see Tim Duncan of the San Antonio Spurs). Most were support players who didn't score much and carried water for their teams (Carla Overbeck of the U.S. women's national soccer team, for instance). They did not hesitate to challenge authority (Maurice Richard of the Montreal Canadiens comes to mind) and sometimes did unsportsmanlike things in the name of winning (Mireya Luis of the Cuban women's volleyball team once hurled so many vile insults at an opposing team during an Olympic semifinal that a brawl broke out after the match).
Above all, they were maniacally focused on the team's goals to the exclusion of everything else (see Bill Russell of the Boston Celtics).

Derek Jeter had some of these qualities. He was certainly committed to playing hard. But he was not a humble support player who shunned the spotlight. Quick, name one time Jeter spoke out against management or the league, or tested the limits of the rules.
Even when Alex Rodriguez—a better shortstop by all responsible metrics—joined the Yankees in 2004, Jeter never offered to surrender his position. In later years, when statistics showed that Jeter's glaringly substandard defense (No. 82 overall in the league) was costing the Yankees runs, Jeter vowed to work on improving his range—but again, he didn't budge.
So why do people consider Jeter an exemplar of leadership?

In the late 1990s, the Yankees franchise was estimated to be worth about $200 million. The Yankees began making aggressive moves to build out their empire. In 2006, they broke ground on a new ballpark built with more than $1 billion in loans and public subsidies. In Jeter's final season in 2014, the total enterprise value of the team's various businesses grew to an estimated $5 billion.

The Yankees used their considerable war chest to amass a team of superstars that, by 2008, earned in a year roughly what the team had been worth a decade earlier. Wherever they played, giant crowds turned up. They became the greatest circus in American sports and Jeter was their green-eyed ringmaster.
During his farewell season, enemy teams presented him with gifts as their fans wildly applauded. As fervently as they might have reviled the Yankees, everyone revered Jeter. Even though the Yankees missed the playoffs in 2014, he posted the second-highest "Q" score of any American athlete. President Obama invited him to play golf.
That's when it hit me. The veneration for Jeter's leadership had nothing to do with how captains used to be judged. It wasn't so much a reflection of his team's achievements as a sign of what professional sports had become—an entertainment industry fed by television billions in which winning took a back seat to putting on a good show.
Whenever I ask people why they think Derek Jeter was a great captain, they'll say it's because he played the game "the right way." In a sports era sullied by dopers, loudmouths, and narcissists, he was the ultimate rarity—an acceptable role model. He even launched a charitable foundation to help kids avoid drugs and alcohol.
What he lacked in championships as a captain, he made up for by selling tickets and t-shirts and entertaining people. His presence was essential to his team's popularity and financial success.
On Sunday, the Yankees officially retired Jeter's No. 2 in a lordly ceremony at the stadium. The tone of the proceedings, and the slick tie-ins his sponsors rolled out for the occasion, attested to what the Yankee captain has always been: the quintessential company man. He has shown such fealty to the Steinbrenners, and such sincere respect for the great players who came before him, that when the Yankees closed down the old ballpark, they asked Jeter to give a speech.
Reporters who covered him were amazed by his uncanny ability to avoid putting his foot in his mouth. "In a city full of writers waiting to pounce, he never uttered something he regretted," wrote sportswriter Pete Abraham. Jeter, Abraham concluded, "is every bit the professional and abidingly decent person you would like to think he is."
Brian Cashman, the team's general manager, once said: "If you had a daughter, you'd want her to marry Derek Jeter."
It would be cynical to declare that Jeter represents the triumph of flash over substance. He was, in fact, a great baseball player and an admirable person. But the truth is that Jeter was the perfect Yankee captain for his era because the Yankees of his era were not the never-quit Yankees of George Steinbrenner. They cared less about winning championships than building a commercial entertainment enterprise inside a giant luxury-packed family fun dome. The fans, for whatever reason, were largely cool with that. They were content to drink Belgian beer and root for their celebrity shortstop.
In case you're wondering, there was one Yankee team leader who made my list of the all-time greats. It wasn't Ruth, DiMaggio, Mantle, or Mattingly. It wasn't Lou Gehrig, either—this person wasn't even named captain during his career.
It was a stumpy, mumbling little catcher named Yogi Berra.
Sam Walker is the founding editor of the Wall Street Journal's sports section. This piece is adapted from his new book, The Captain Class: The Hidden Force That Creates the World's Greatest Teams, to be published on May 16 by Random House.