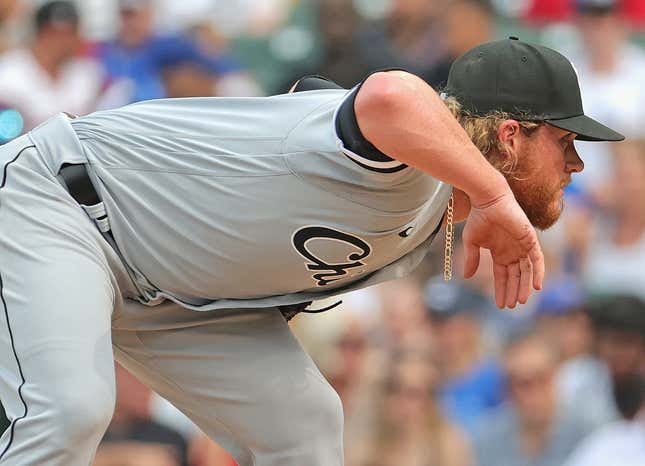 Unless you actually talk to a White Sox fan here in town, things are pretty serene for the Pale Hose. They still have a dominating lead in the AL Central with no one actually trying to catch them, and seem pretty certain to have a date with the Astros come the division series, with every chance of starting it on the South Side. They're just about healthy, with Eloy Jimenez and Luis Robert returning in recent weeks, and Yasmani Grandal not too far away.
Talk to White Sox fans though, and they'll tell you the sky is falling, Carlos Rodon's IL stint erodes their advantage in the playoffs, Yoan Moncada is responsible for the city's violence, and Tony La Russa will still fuck it all up in October (the last part could be absolutely true). One bone of contention making the rounds of late is that the Sox haven't been great against teams over .500, going 20-25 against them while mauling the league's flotsam. That can mean anything, and the baseball season has an element of "when you catch them" that can't be ignored. What it means for their playoff prospects probably isn't significant, as self-contained as five-game and seven-game series tend to be.
The other shpilkes-inducing factor of late has been the back end of the bullpen. The Sox acquired Craig Kimbrel from across town so as to give La Russa even less decisions to make when it really counts. Hand the eighth to one of Liam Hendriks or Kimbrel, hand the ninth to the other. La Russa basically invented this style of bullpen-management, so even if he's not that coherent come October, someone in the Sox dugout can just convince him it's still 1988 and Eckersley is out there to signal for. Sox fans will still be clutching various stress-balls or beer cans come the sixth and seventh innings come any playoff game, but the end should be sorted.
Should be. Because Kimbrel of late has not impressed when not pitching in the ninth inning. Friday night he was yanked out of the 8th inning in Tampa as he was crumbling, though Tim Anderson came to the rescue later in the game. Last night, Kimbrel gave up the lead in the 8th inning on a wild pitch, and Anderson wasn't around to pull his ass out of a sling. The Sox lost 2-1.
Focusing merely on Kimbrel's eighth inning outings with the Sox this year is an extremely small sample. Yes, he's had these two hiccups along with his debut, where he coughed up a lead to whatever circus clowns the Cubs were trouting out that day, but he's had six outings that came in the 8th where he's given up three hits combined and struck out 10. It's just in stark contrast to when he's come out in the ninth this year all season: 36 appearances in the 9th, 0.00 ERA, eight hits, 56 Ks, 11 walks. He's been untouchable. 8th inning? 5.59 ERA, nine hits in just nine innings.
So the easy-to-reach-for solution is flipping Kimbrel and Hendriks. After all, Hendriks was only a closer in Oakland for a season and a half and is much more recently experienced at coming in earlier. Kimbrel has been a closer for a decade now.
At the same time, should it really matter? The old argument against not defining your bullpen roles and just saving your best reliever for whenever the most important inning came about was that relievers liked defined roles. It allowed them to prepare accordingly. Which made some sense, as no other athletes are quite the creatures of habit/weirdos that baseball players are. This has become less and less of a thing as time has gone on, and practically non-existent now come the playoffs. So raise the stakes enough, and players can get over their rituals for a short time.
But this isn't that. La Russa hasn't asked Kimbrel to bail a starter out of a bases-loaded jam in the 5th or 6th. It's the eighth. It's 10 minutes or 15 minutes earlier, at most. Whatever it is Kimbrel does before taking the mound, he can't move it up 10 minutes? Take your shit in the 4th inning instead of the 5th?
It feels like it's become a self-fulfilling prophecy, something that relievers have just convinced themselves of. My routine has to be slightly different, hence I can't be the same pitcher. And it's not like Kimbrel or Hendriks will care about this much in October when both will be asked to get five or six outs in a game, possibly the same one.
Some relievers will tell you that going without the juice of the 9th inning affects them, but this sounds like another reach. Kimbrel came into a tie game on the road against a team desperately trying to stay in the playoff race in front of a crowd that's only just been let back into games. If that's not enough juice for you man, try a second coffee during the day.
In the end this won't be a thing, given the Sox lead and how things change in October. It's still funny that, these days, 10 minutes can make such a difference.