Just about six months ago, the NFL had a particularly rough week with players being charged with driving while intoxicated. Lions DT Nick Fairley, Jacksonville wide receiver Justin Blackmon and Vikings fullback Jerome Felton were all charged with varying degrees of driving while intoxicated in the span of six days. Giants guard David Diehl, followed hot on their heels the next week. At the time, the NFL seemed primed to take action.
The NFL has, of course, taken notice of the recent spates of arrests of its players for driving under the influence. CBSSports.com has learned the league will soon communicate with clubs to be particularly vigilant about cautioning everyone — not just players but all team employees — that this is a dangerous time of the season for potential DUI offenses.

"This is the time when we need to be very careful," said one person familiar with the league's thinking, "when guys break mini-camps and incidents tend to spike. We want to make sure everyone understands that. Not just players but everyone."
Six months later it's clear that it's not as easy as the league cracking down on teams and offenders. Even three weeks later it was clear—when yet another Detroit Lion was arrested on DUI charges.
In the CBSSports.com article, Mike Freeman would go on to discuss the now-declawed Safe Rides program that the NFL developed to avoid the very situations discussed above as well as the Josh Brent alleged intoxicated manslaughter from Saturday. It was a free, anonymous service that the players were encouraged to use after a night of drinking instead of driving themselves. Seems like a no-brainer, but the service was not heavily used. Some speculate that player paranoia—that the teams would use the service against them—played a part in its lack of success.
G/O Media may get a commission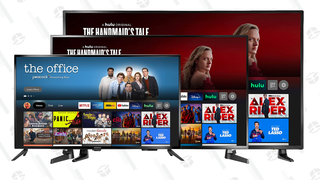 Up to 44% off
Prime Early Access - Insignia Fire TVs
In 2009 the NFLPA took over the service, in part due to those privacy concerns and quickly replaced it with another service. NFLPA Director of Security Tim Christine indicated the original service was slow to respond and not available in all NFL cities, so it was replaced with the union's version—run by a private investigative firm—for which the players pay $85 per hour. Many teams also provide their own version of the Safe Rides program at no cost to the player. Though the team and union versions may be more widely available and quicker, players are not exactly lining up to hop in those cars, either.
Nate Jackson once explained that NFL players were encouraged to live in the suburbs rather than the city because there are too many distractions in the cities. Best to just avoid them altogether and live with all the other wealthy folk on the outskirts of town. Sound advice, perhaps, but it clearly doesn't stop players from getting to the city and, more importantly, it clearly doesn't prevent players from driving to the city in the first place. Jackson describes the damned if you do, damned if you don't decision players feel they have to make.
But living in the burbs made it tougher for me to get home when I was drunk, and increased the likelihood that I'd end up driving. It's no problem leaving your car downtown and taking a cab if its easy to come back and get it the next day. But when you're 30 minutes from home with a meeting the next morning, well then, there's a choice: Do I risk getting a DUI or risk being late for meetings? It seems easy. But If I wake up without my car, I may be late. Nearly an unforgivable mistake in the NFL.
It's hard to envision, then, a version of the Safe Rides program that would be successful. It's not just that the players are making the decision to drive drunk, thus ignoring a helpful service freely available to them. Bad decisions are being made all along the way but only that one gets dissected—because it is the last one.